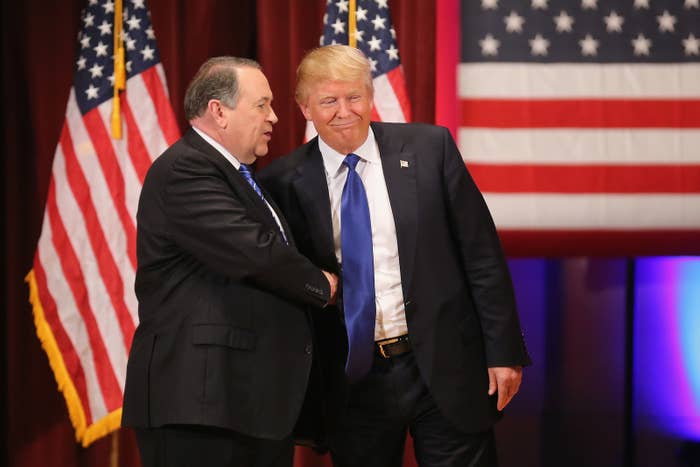 Former Arkansas Gov. Mike Huckabee said in a radio interview on Friday that establishment Republicans should be happy that they are not being executed by angry voters.
"Who made it possible for Obama to have the Iranian deal, full funding for Obamacare, Planned Parenthood funding? Republicans did that," Huckabee, a Trump surrogate, said on The Sean Hannity Show.
"And they're getting what they justly deserve, they're getting spanked," he continued. "And they need to be happy they're only getting spanked and not executed, because there is seething rage out in the country for those who have fought to help some of these guys get elected, and they get there and they surrender to Obama and people are sick of it. And I think that's why we've seen the spirit of this election, and frankly Donald Trump gives me great comfort. I tell people, 'I don't have any hesitation going out there and genuinely supporting Donald Trump.'"
Huckabee also attacked Mitt Romney for his opposition to Trump, falsely claiming that he was the first governor to bring same-sex marriage to America and marched in gay pride parades (the Massachusetts Supreme Court struck down the state's same-sex marriage ban when Romney was governor, but he opposed the ruling).
"I find it especially off-putting that he is the one who has led the 'Never Trump' movement, and I just feel like that he has really soiled himself by taking such a harsh position," Huckabee said.