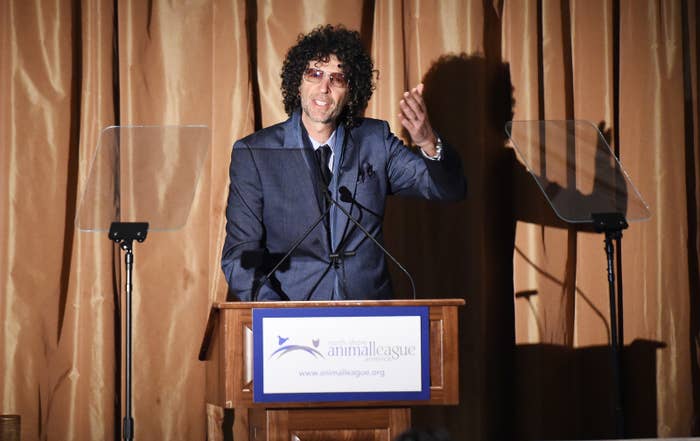 Radio host Howard Stern discussed for the first time on Wednesday the interview he conducted with Donald Trump in September 2002 in which Trump expressed support for the war in Iraq.
Stern discussed the interview on his radio program in the context of his name being mentioned by Trump at the presidential debate. The radio shock jock said Trump was "kind of for the Iraq War" on his show, but noted that Trump now says he wasn't for it.

"I was up late watching the debate," Stern said. "I hung in until about 10:30 almost, heard my name mentioned, and I went to sleep. It was kinda thrilling. Yeah, oh yeah. Well, it always comes up because, you know, Trump was on our show years ago and said yeah, you know, he was kind of for the Iraq war, us going into Iraq. He was saying he really wasn't for it, and so they were forced to mention my name. Yeah. It was cool. Good promotion."
"They should have said Sirius satellite, too," he continued. "Now I can check that off on my bucket list. I've officially been mentioned in a presidential debate. It was weird. I was laying there in bed watching it with Beth, and she was half-asleep already. She did wake up when she heard "Howard Stern," and I was giggling. I thought maybe sex would go down because I was mentioned, but she was too tired. I mean, I don't think she was looking for it at that point."

During the debate, Clinton noted Trump's support for the war on Stern's show in 2002, when he said, "Yeah, I guess so. I wish the first time it was done correctly," when asked if he supported the war.
Trump has vigorously claimed to have opposed the war before it began, despite no evidence to support his claim. He first came out against the war months after it started. He told Stern in April 2004 that the war was a mistake.
CORRECTION
Donald Trump mentioned Howard Stern's name during the presidential debate. An earlier version of this post said Hillary Clinton mentioned Stern.