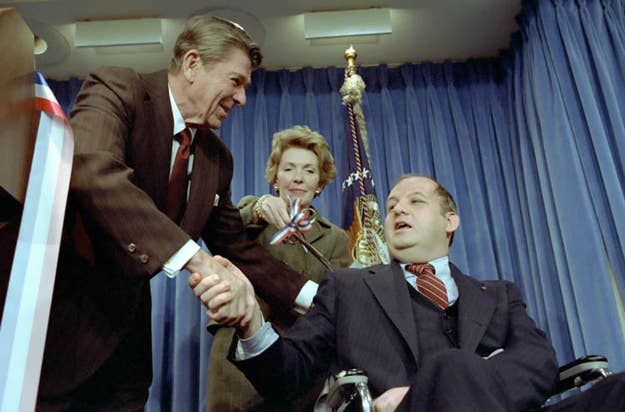 In 1994, former President Ronald Reagan's health was still good enough for him to, occasionally, participate in politics, and his agenda that year was clear: Helping President Bill Clinton pass the Assault Weapons Ban.
Reagan had been an ardent supporter of stricter gun laws after his presidency for intensely personal reasons, as he wrote in a 1991 op-ed in the New York Times entitled "Why I'm for the Brady Bill."
"'Anniversary' is a word we usually associate with happy events that we like to remember: birthdays, weddings, the first job. March 30, however, marks an anniversary I would just as soon forget, but cannot," he wrote. "It was on that day 10 years ago that a deranged young man standing among reporters and photographers shot a policeman, a Secret Service agent, my press secretary and me on a Washington sidewalk."
As the assault weapon ban vote neared, Reagan — who as president had signed 1986 legislation loosening restrictions on guns — wrote a letter with former Presidents Ford and Carter to the House of Representatives urging them to vote in favor of the ban.
"We are writing to urge your support for a ban on the domestic manufacture of military-style assault weapons. This is a matter of vital importance to the public safety," the letter said.
"While we recognize that assault weapon legislation will not stop all assault weapon crime, statistics prove that we can dry up the supply of these guns, making them less accessible to criminals. We urge you to listen to the American public and to the law enforcement community and support a ban on the further manufacture of these weapons," the letter said concluding.
The vote on the assault weapon ban was contentious and barely passed the House of Representatives. At least two members of the House of Representatives credited Reagan with influencing their votes. The bill passed 216-214, a margin of two votes.
Congressman Scott Klug, a Republican from Wisconsin was an opponent of the assault weapon ban and the day before the vote stated his opposition to the ban. Klug only changed his voted after "a last minute plea from President Reagan" in the form of a handwritten note.
''Dear Scott: As a longtime gun owner and supporter of the right to bear arms, I, too, have carefully thought about this issue. I am convinced that the limitations imposed in this bill are absolutely necessary," Reagan wrote Klug. "I know there is heavy pressure on you to go the other way, but I strongly urge you to join me in supporting this bill. It must be passed. Sincerely, Ronald Reagan.''
''I can think of no one who has been a stronger supporter of law and order and a stronger supporter of the Second Amendment,'' Klug said in a statement regarding Reagan's note announcing his support for the ban.
Another former Congressman, New Hampshire Democrat Dick Swett, also credited the former President with influencing his vote. Swett was unsure of how to vote on the ban, but made up his made after direct lobbying from Reagan.
Swett's vote dogged him throughout his next election. He received threats on his life and had to wear a bullet proof vest. The New Hampshire Union Leader hammered him in editorials for his flip-flop.
At a press conference after the vote announcing his intent to seek reelection, gun advocates chanted "Liar, liar, liar." Swett lost his House seat in the 1994 election.