On the morning of June 26, 1991, Donald Trump's picture was splashed across the front page of the New York Post. Next to the photo, which featured his then-girlfriend Marla Maples, was the headline "IT'S OVER."
Trump, according to the Post, was leaving Maples for Italian model (and future first lady of France) Carla Bruni. That morning, NBC's Today ran with the report.
"And Donald Trump is reportedly breaking up with Marla Maples, the woman said to have come between him and his wife Ivana," anchor Doreen Gentzler announced. "The New York Post is reporting that she's been ordered out of Trump's luxury high-rise apartment, and that Trump has begun dating an Italian model named Carla Bruni."
Trump confirmed to the Post the next day that Bruni was the "new one" in his life. Bruni, however, vehemently denied she was dating Trump, and according to one biography, Trump himself planted the story for publicity.
The episode illustrates just how personally involved Trump is in managing his own image through the press, a tactic he used to great effect as he rose to prominence in New York and one he continues to use as he runs for president.
"Trump is obviously a lunatic," Bruni said of the story in an interview with the Daily Mail later that year. "It's so untrue and I'm deeply embarrassed by it all. I've only ever met him once, about a year ago, at a big charity party in New York. And I haven't seen him since, of that I'm sure."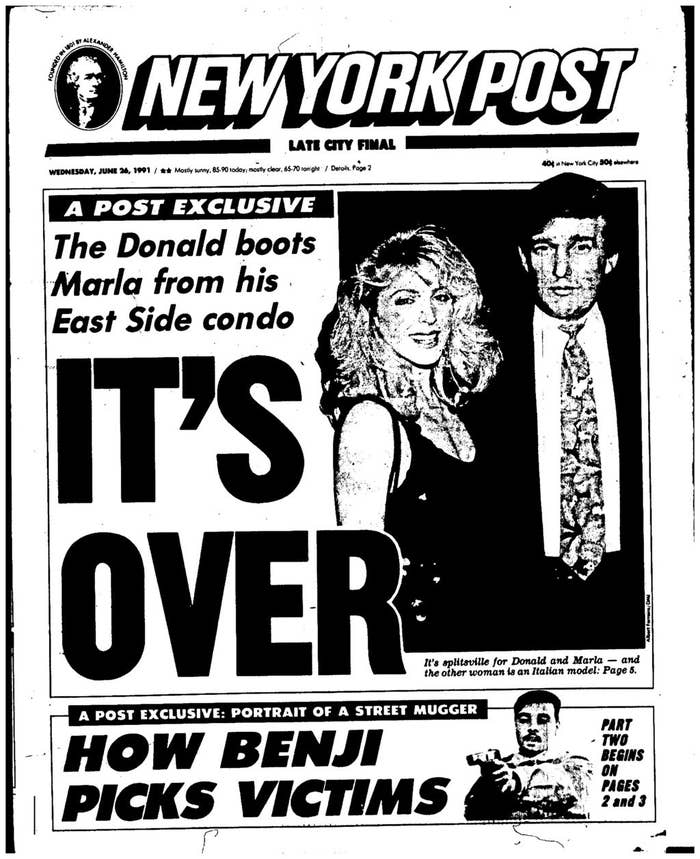 "It's all nonsense," she said of any linking to Trump, saying perhaps it was mistaken identity.
"No doubt there are hundreds of models called Carla," she told the Mail. "Just because I'm well known they may have jumped to conclusions and put the wrong face to the name."
Even Trump agreed when caught by the Mail, saying there was no romance.
"These stories are sheer nonsense," he said, but added: "She is a friend."
However, Bruni, according to Harry Hurt III's Trump biography Lost Tycoon, was no friend to Trump.
"Carla does not, however, consider Donald J. Trump one of the world's 'great men,'" writes Hurt. "After her arrival in New York he tracked her down at the Mayfair Regent hotel and tried to ingratiate himself. Carla mischievously informed Donald that her 'sister' was coming to town. He immediately offered to provide a room at the Plaza Hotel. The visitor was actually one of Carla's longtime female friends, who showed up at the Plaza with a boyfriend in tow. Carla and her friends spent the next few days ordering room service and gloating over the way they fooled the 'King of Tacky.'"
Hurt writes that, after confirming that Bruni was not dating anybody else, he began a rumor that he and Bruni were in a relationship, leading her to confront Trump directly for spreading the rumors.
"'How dare you do this!' she screams at him. 'It's not true!'" Hurt writes.
Evidence of Trump's direct involvement emerged in People, which ran an article suggesting Trump posed as his own PR man in a phone interview with the magazine.
"On June 26, the tabloid New York Post ran a front-page headline announcing that Trump, 45, had dumped his longtime sweetheart, Marla Maples, 27, and taken up with an Italian model named Carla. A curious PEOPLE reporter called Trump's office to ask if the story were true. Five minutes later, a man identifying himself as John Miller called back, said he was handling publicity for Trump and confirmed everything, in detail. Yes, said Miller, it was over with Marla. 'It doesn't matter to [Donald] if Marla talks; he truly doesn't care.' As for that diamond ring Trump bought Marla several weeks ago, 'It was never an engagement ring,' said Miller, who went on to brag about the army of women he said were rabidly chasing The Donald: Madonna was one, he said, Kim Basinger another. 'Important, beautiful women call him all the time,' said Miller. It was a fascinating interview, made all the more fascinating when the reporter realized that the man she was talking to seemed to be...no, it couldn't be...yep, it apparently was: Donald Trump, posing as a fictitious PR man."
The magazine then played the tape for Maples, who identified the voice on the phone as Trump's.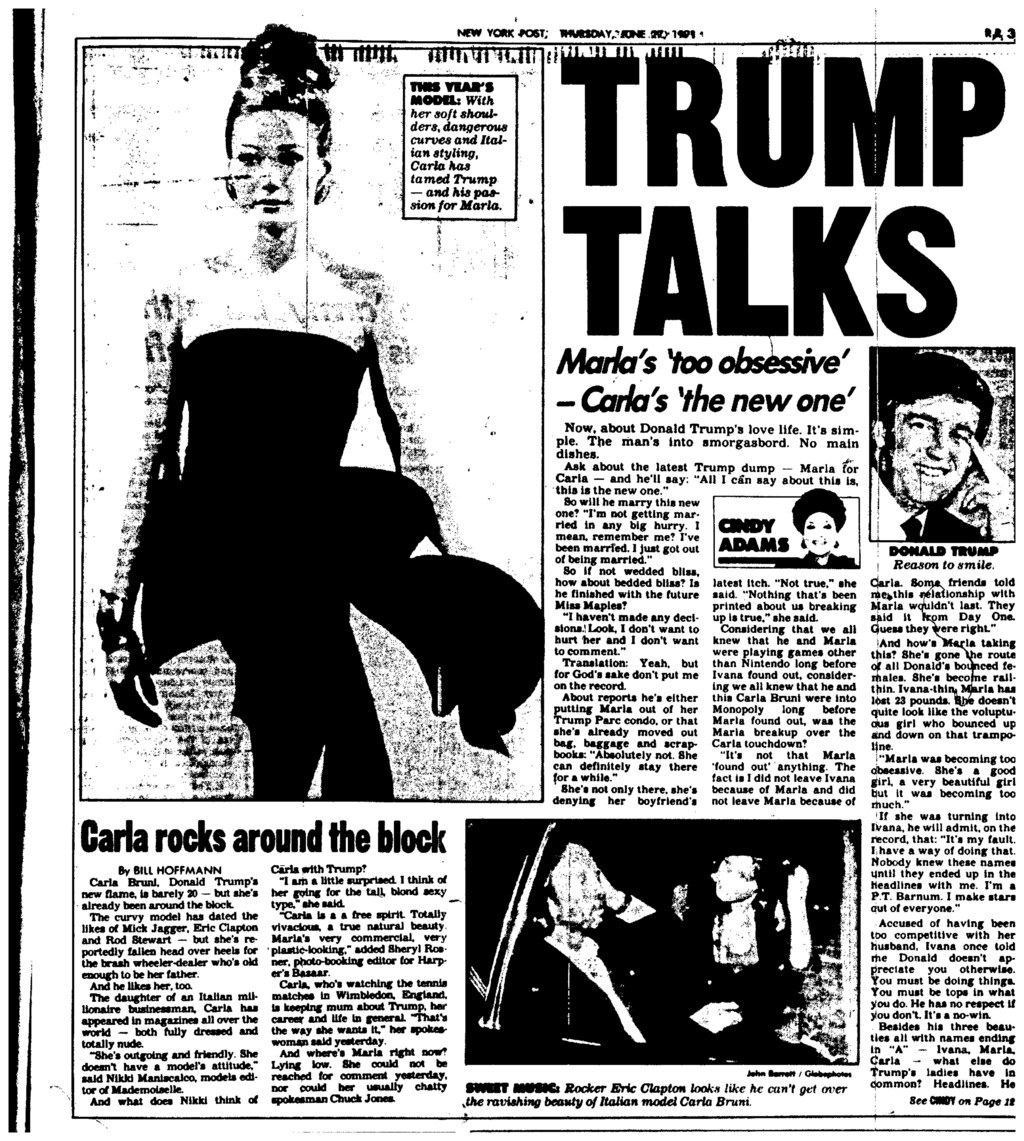 Years later, speaking on Howard Stern in 2008, Trump was asked about Bruni in the context of her marriage to Nicolas Sarkozy, the former president of France.
"Very flat-chested women, not your kind of women, Howard," Trump said the second Stern mentioned her name, saying reports she broke up his affair with future wife Marla Maples were "not true."
Asked if he dated her, Trump refused to answer (laughing while saying "no comment").
"Can I say no comment, let me just say no comment, I'm trying to be a diplomat for this country," he continued. "As a great diplomat, Howard, as a great diplomat for this country, let me just say no comment."
"There are better by large margins," continued Trump, when asked if she was beautiful.
"You stop when you meet someone better," he added Stern when asked why he would ever stop "banging" Bruni.
"It's a complicated thing; I know Carla, but I just don't want to comment," he said.
"Was she bad in bed?" asks Stern.
"I can't comment on that," adds Trump. "She's gonna marry the president of France. I want to have good relationships with France. I don't want to be criticizing the first lady of France."
"I know her, I know her well, but I can't comment on that 'cause I want to have good relationships with the wonderful country of France," he said for literally another seven minutes.
"She probably laid there like a fish," Stern interjects.
"I can't comment," said Trump.