In 1973, Bill Clinton was nearing the end of his time as a student at Yale Law School. He had already graduated from Georgetown and attended Oxford on a Rhodes Scholarship.
The next step in Clinton's life, one which would pave the way for his entry into politics, was a return to his home state of Arkansas.
Clinton's somewhat embellished the story of his return for years, as revealed by David Maraniss in his 1995 biography of Clinton, First in His Class.
Clinton would say that his return to his home state as an assistant professor at the University of Arkansas School of Law was " a pure accident" (although Clinton's telling of the tale in his auto-biography My Life would be somewhat more true to what actually happened).
As Clinton would say, he was driving home from Connecticut at the end of his tenure at Yale, and at the advice of a professor, called the dean of the Arkansas Law School and was able to talk his way into a job interview in a spur of the moment event.
The truth, as Maraniss found, was that Clinton lobbied for the job months before he graduated through a politically-connected friend in Arkansas who served as a state legislator and knew an associate dean at the law school.
The dean of the law school, Wylie H. Davis, told Maraniss for his book that Clinton's telling was "amusingly inaccurate and somewhat melodramatic."
Clinton's hiring was fairly routine, Davis said, and Clinton's glowing resume, great letters of recommendation, and a meeting in which he impressed the school's faculty appointments committee were what would eventually lead to his hiring at the law school.
Documents related to Clinton's hiring and time at the school were obtained by BuzzFeed News through an open records request with the University of Arkansas.
Clinton's personnel file from the school details his hiring and time as a professor, including reviews of his performance from faculty, several handwritten notes, and letters to request leave for his early runs for office.
The highlights and the full file are below:
Clinton's cover letter for a position on the law school faculty: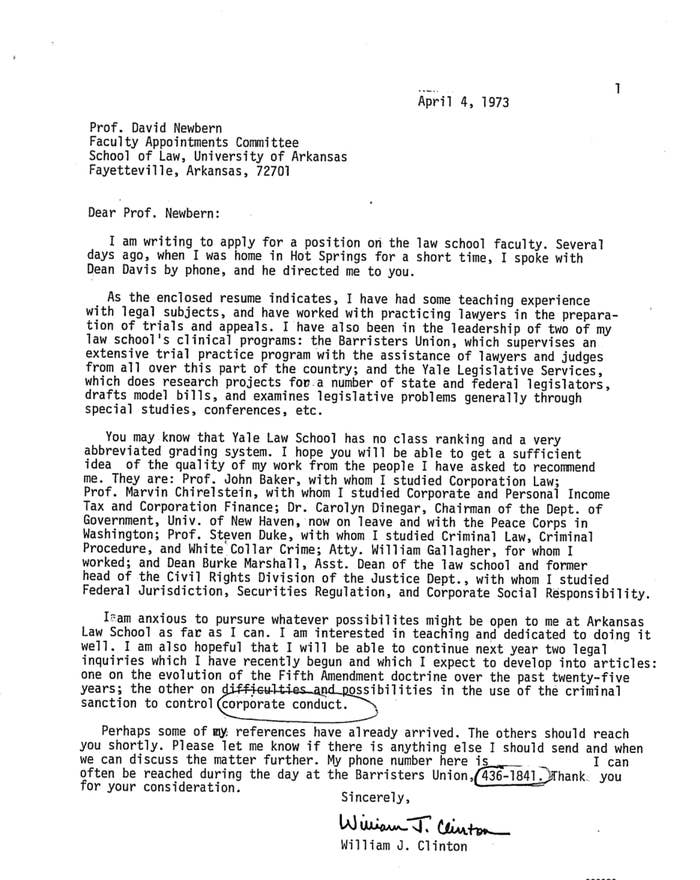 Bill Clinton's resume (page one):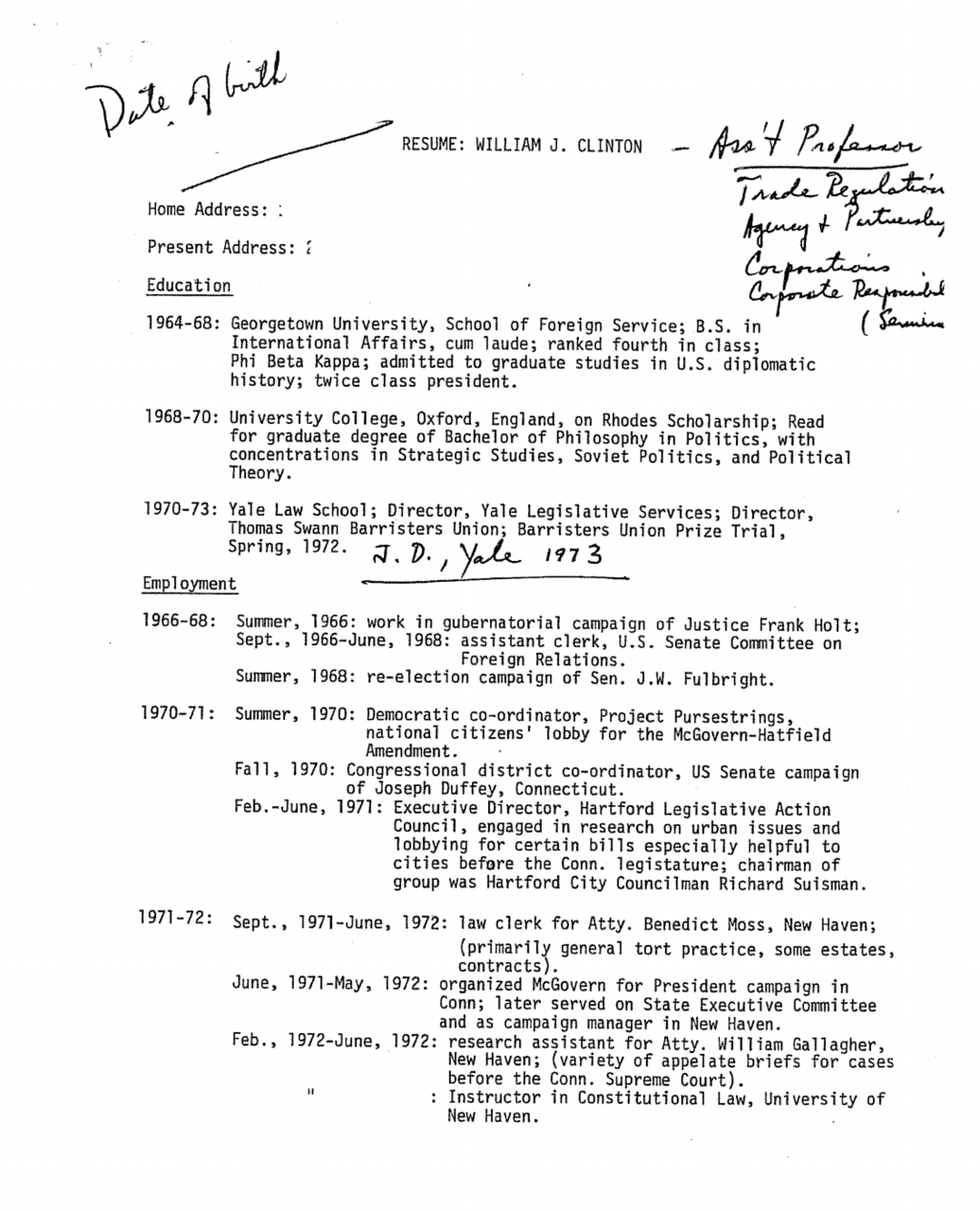 Page two:

The human resources file noting Clinton's hiring: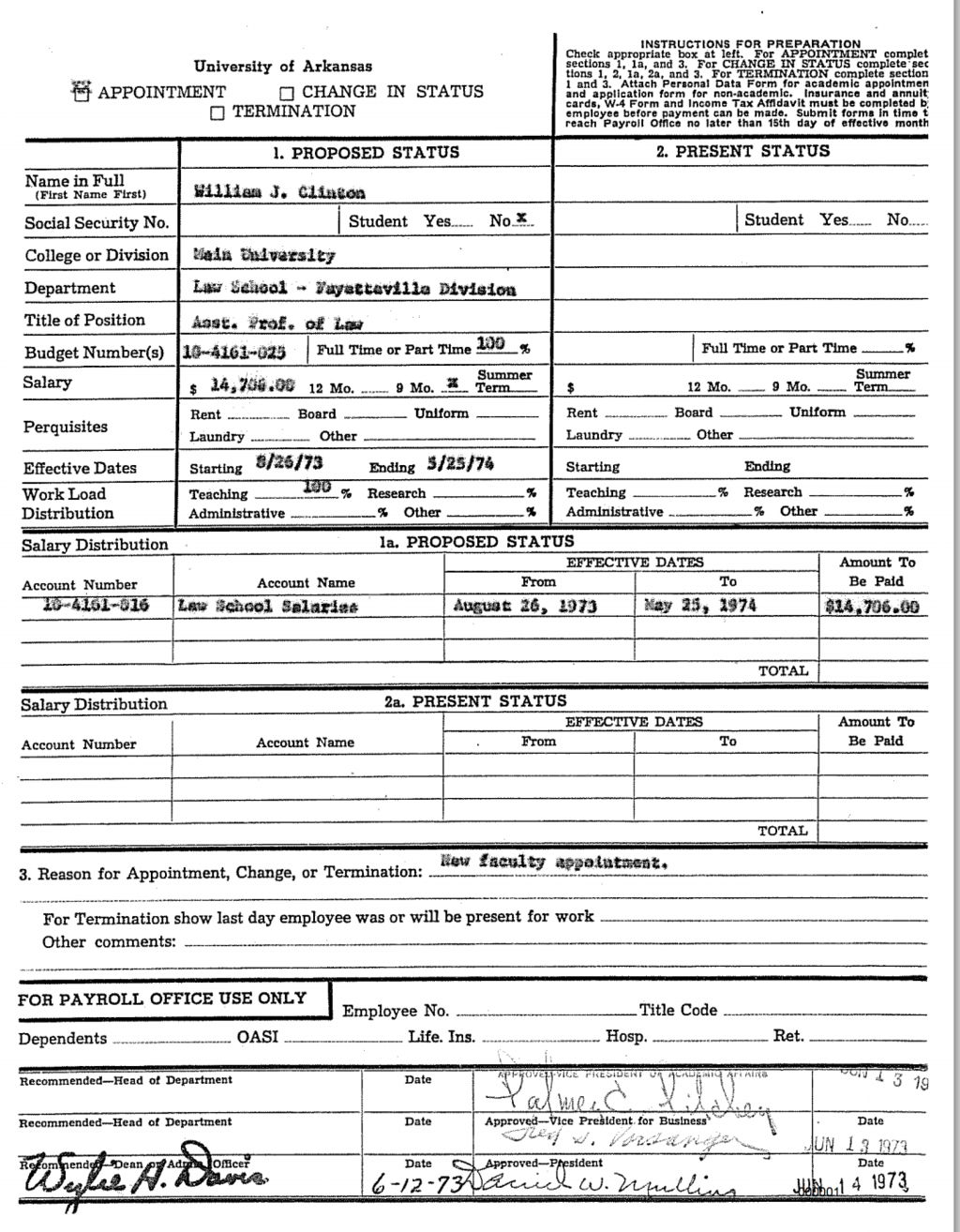 A performance review of Clinton's class says he relied "on an unstructured approach" as a teacher, and that he is "in constant motion."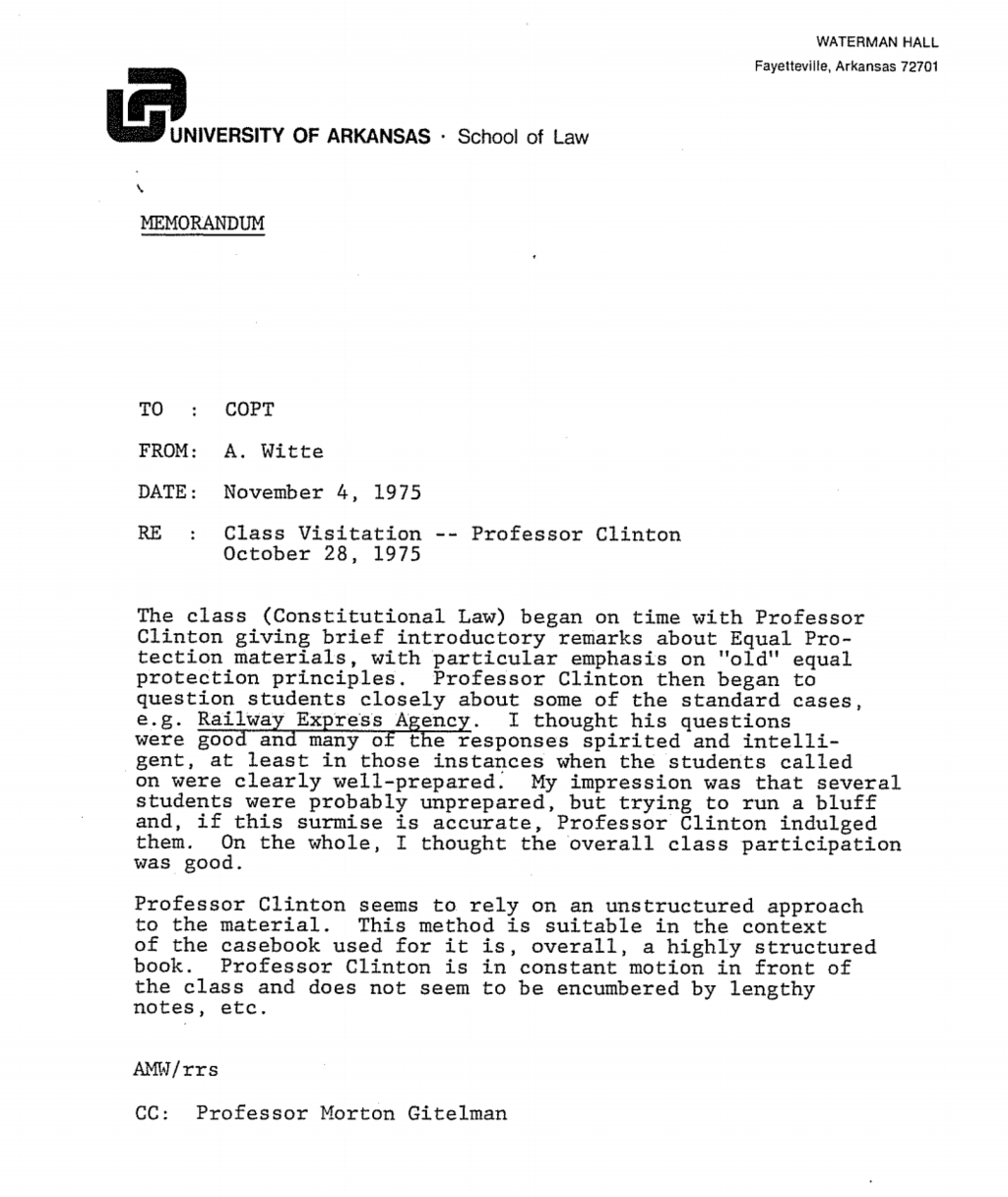 The same performance review notes Clinton "exhibits a good rapport with his students" and does a good job "carefully separating his opinions from the opinions of the court."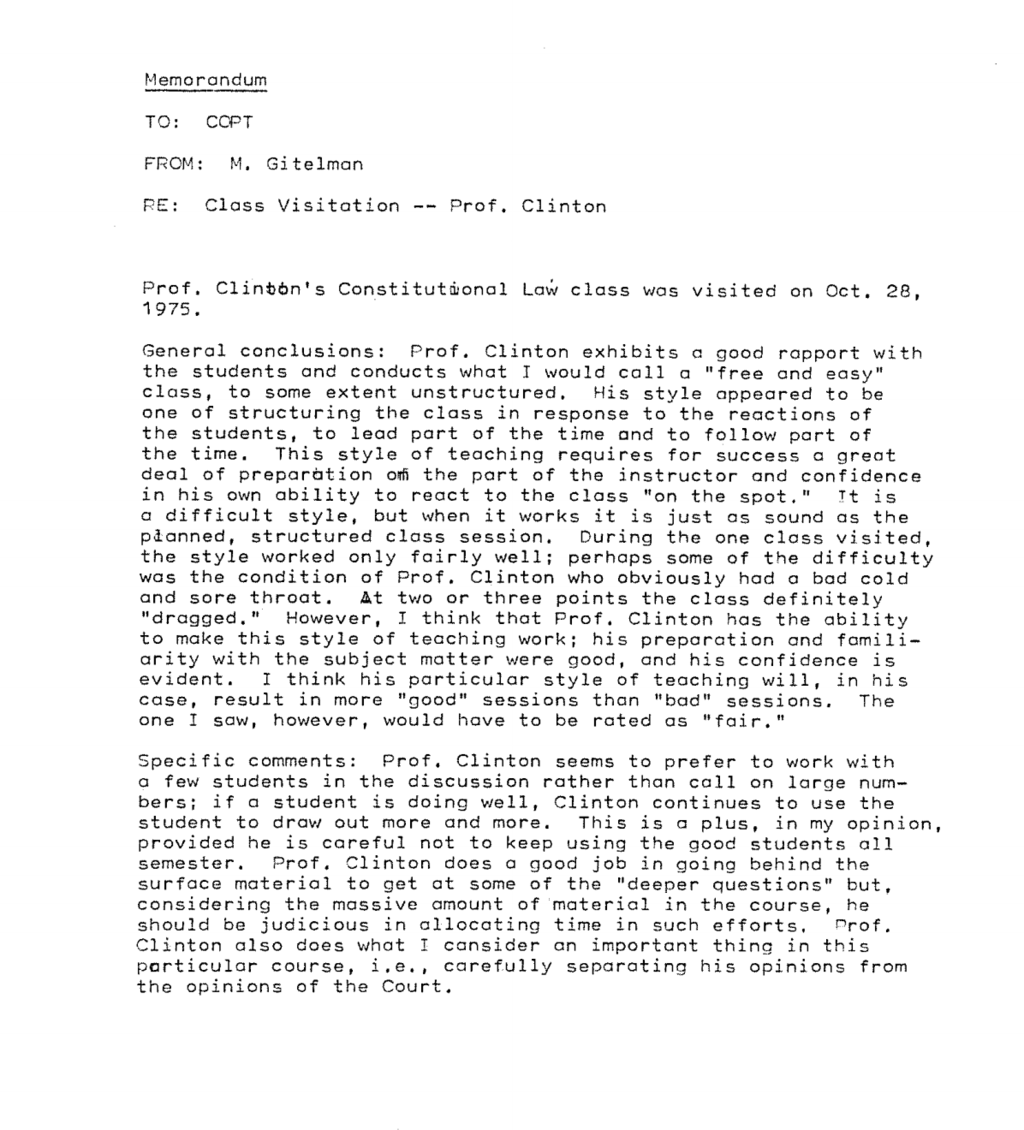 Here's Clinton's staff biography: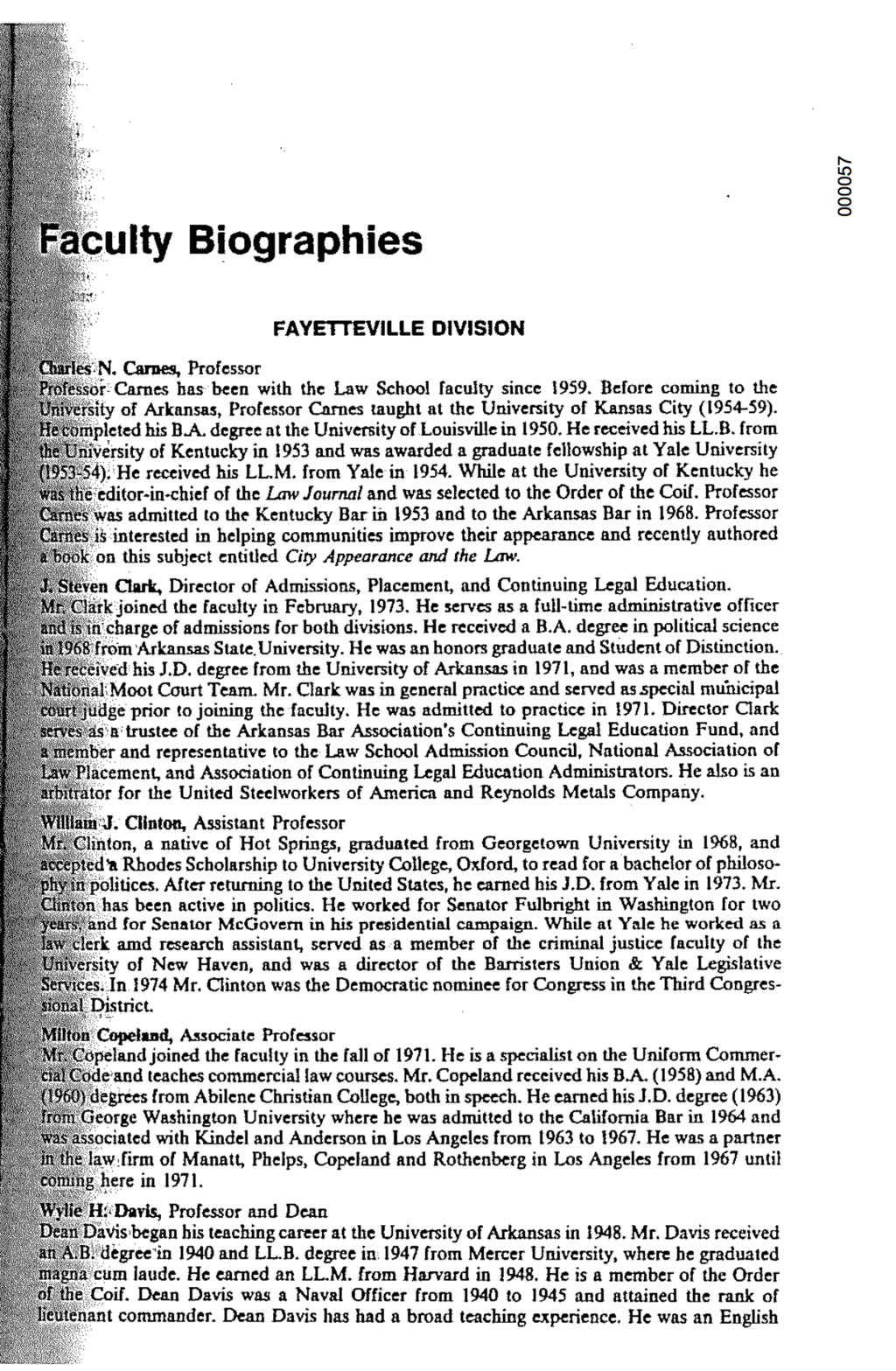 The file contains several letters of recommendation for Clinton's application to the job. Clinton cites the letters in his autobiography, My Life, as helping him land the job, though the contents of the actual letters haven't been seen before.
A letter of recommendation for the job from Yale professor and former Assistant Attorney General Burke Marshall: "He has an attractive personality, and would perform well in a classroom, with patience and tolerance for his students."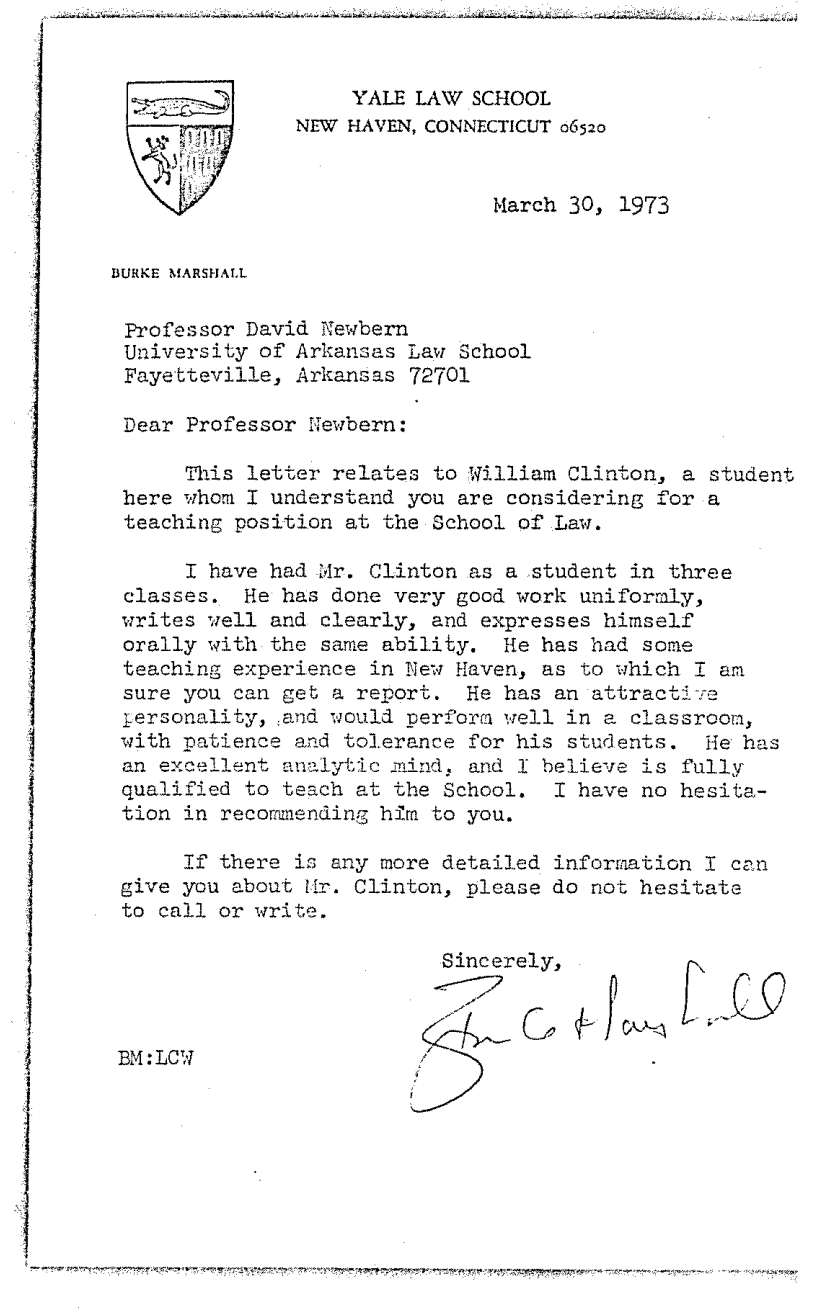 A letter of recommendation from Yale law professor Steven Duke: "There is no doubt in my mind that Bill Clinton is one of our brightest recent graduates. He is quick, imaginative, speculative, and pragmatic."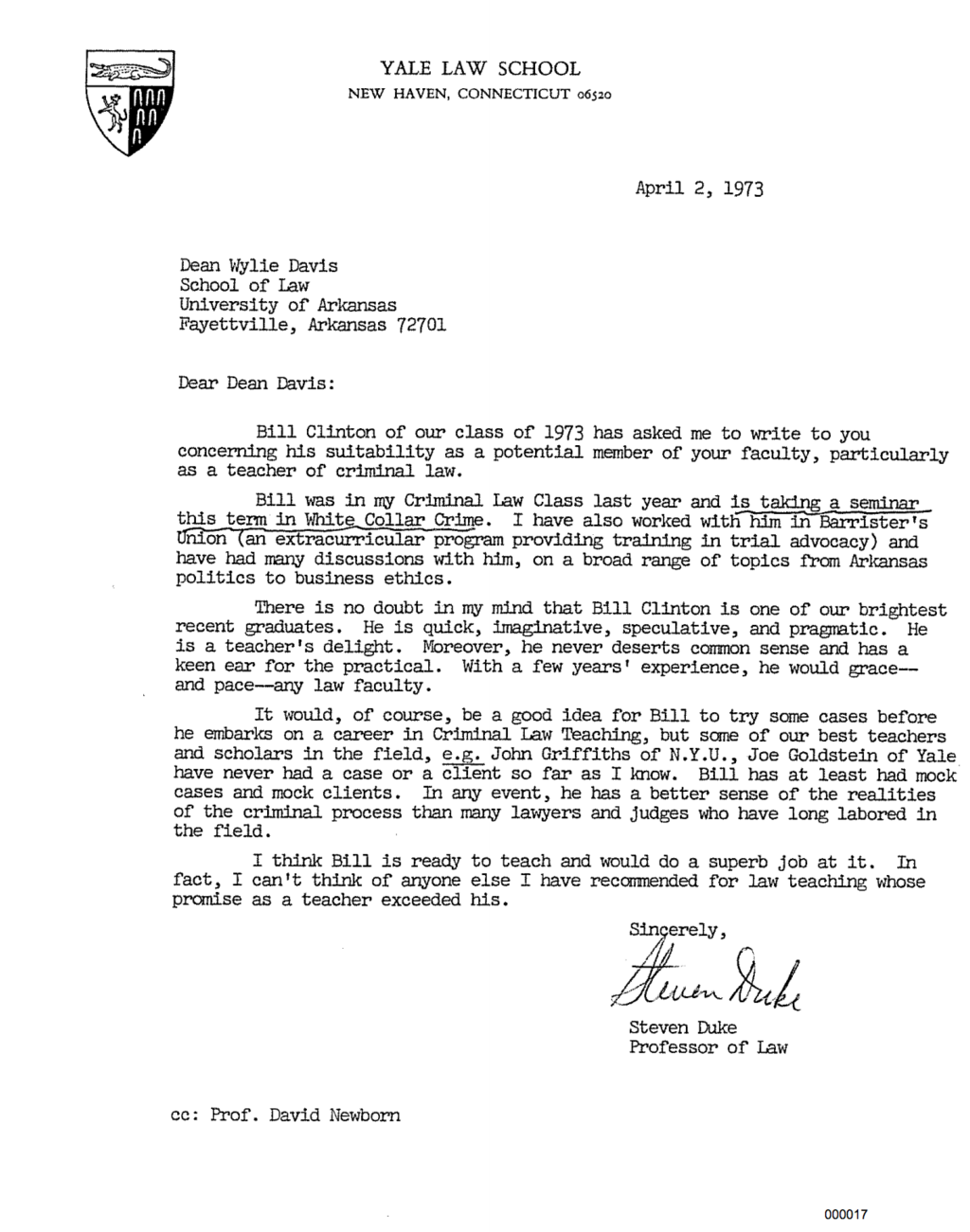 A letter of recommendation from Yale professor Marvin A. Chirelstein: "He is clear-headed and tough-minded but at the same time imaginative and speculative in his approach to difficult problems."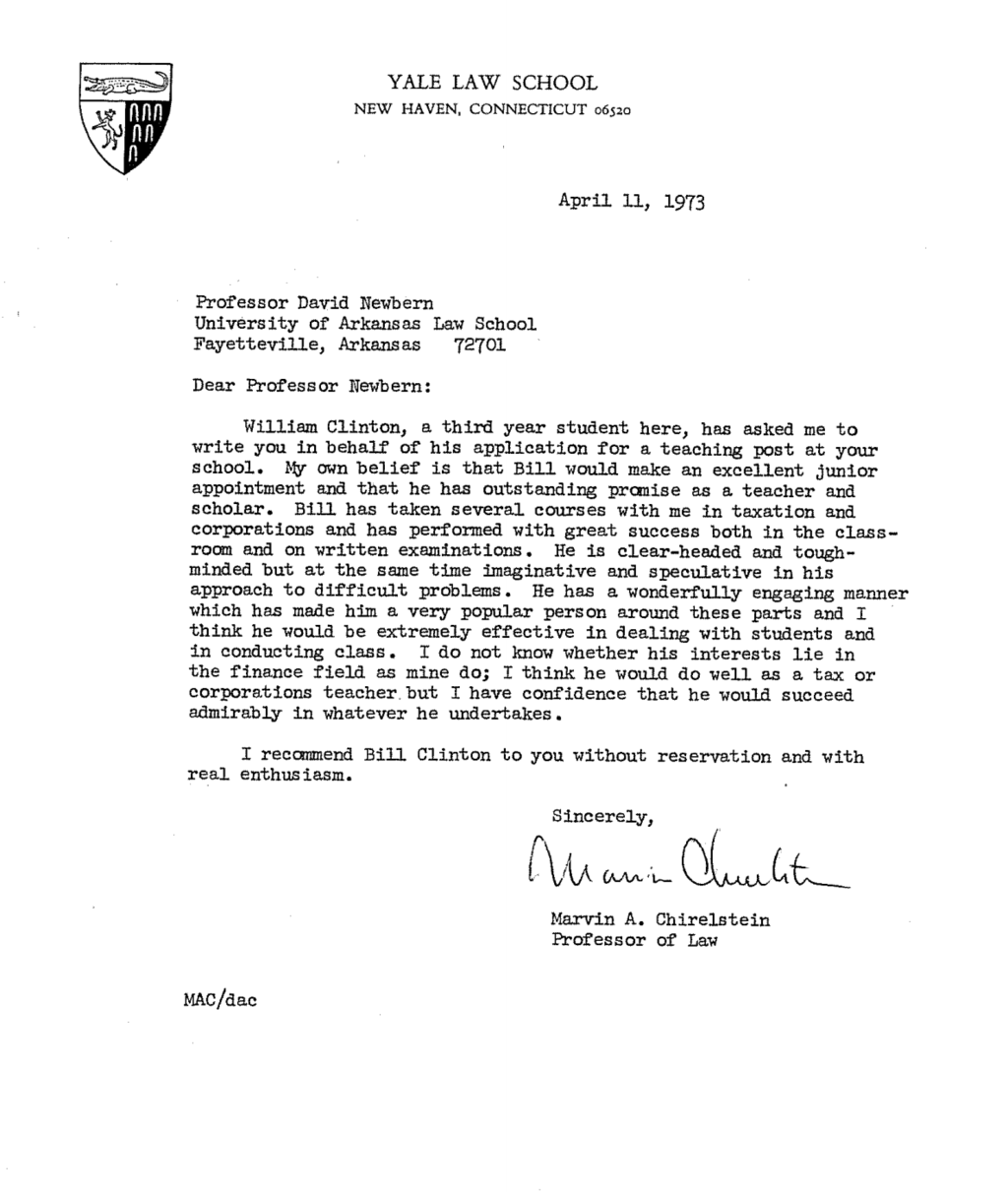 A letter of recommendation from John Baker, the first black professor at Yale Law School: "It is probably most apparent to you that Bill's academic record is not outstanding...however, I do not think that his record reflects in anyway his true ability."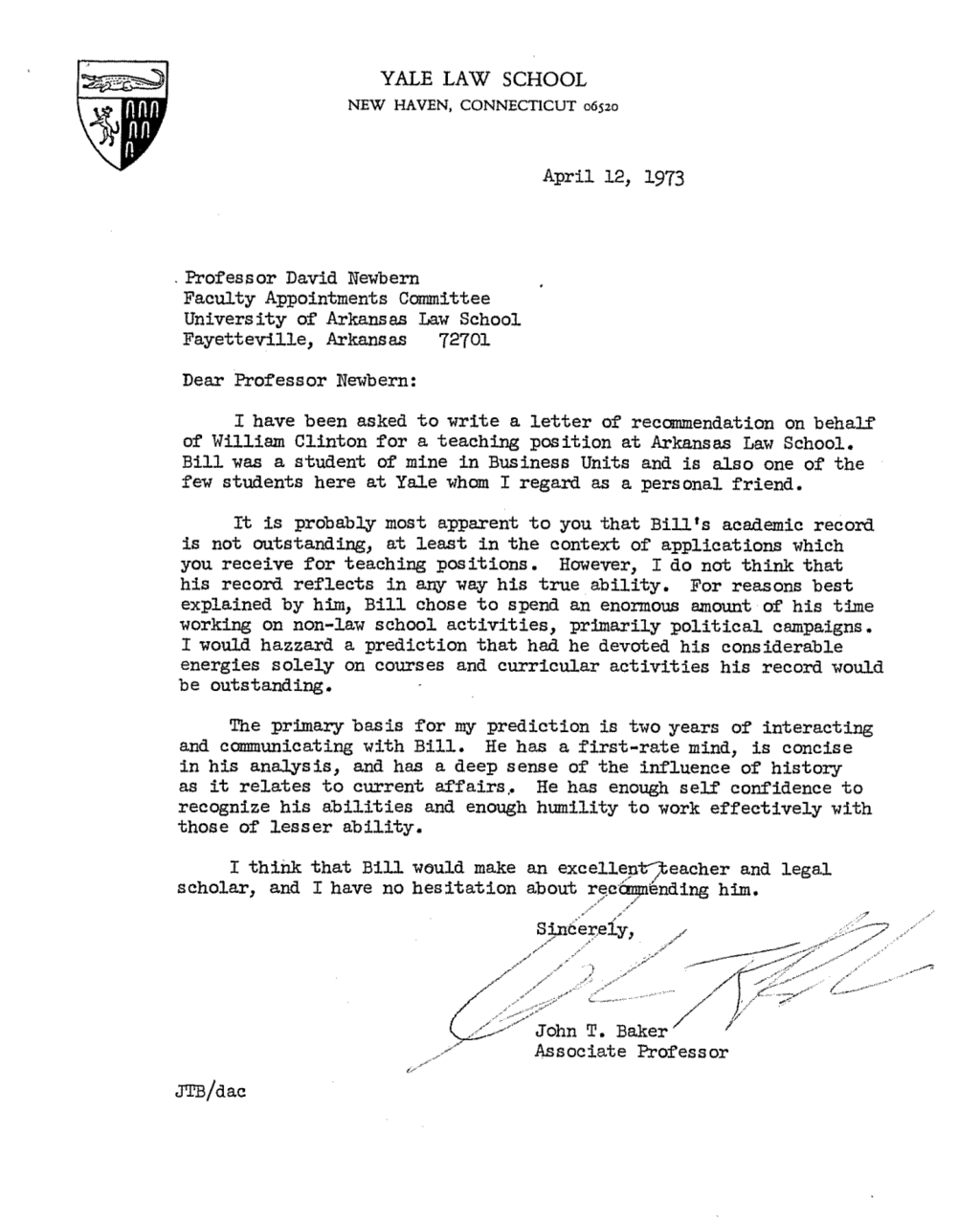 A recommendation letter from Caroline A. Dinegar, the University of New Haven political science chair where Clinton taught for two years: "I found Mr. Clinton a delightful personality and totally dependable faculty member."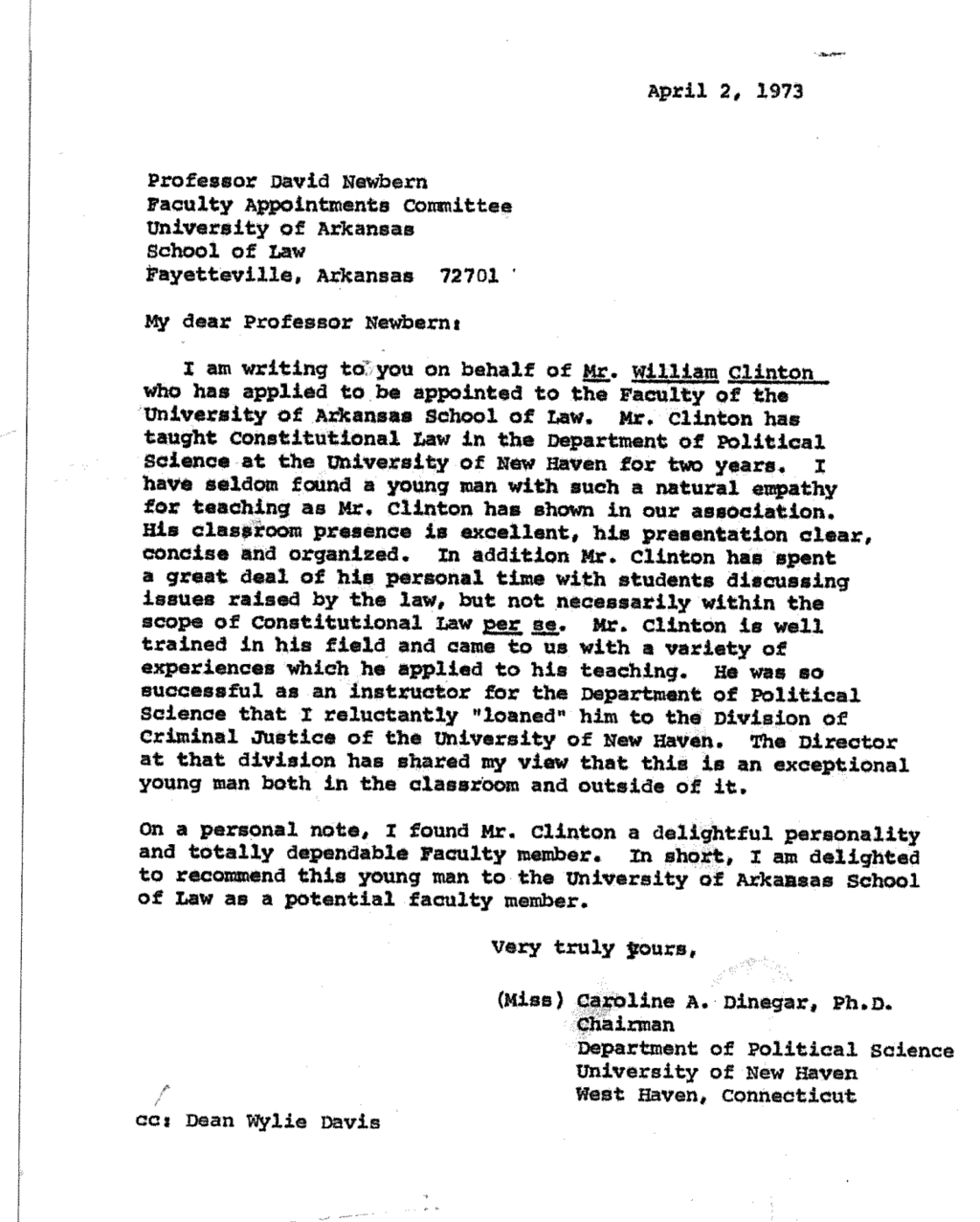 In 1974, Clinton decided to run for Congress. This is his letter asking for a leave of absence to run, a campaign he would lose but would help launch his political career.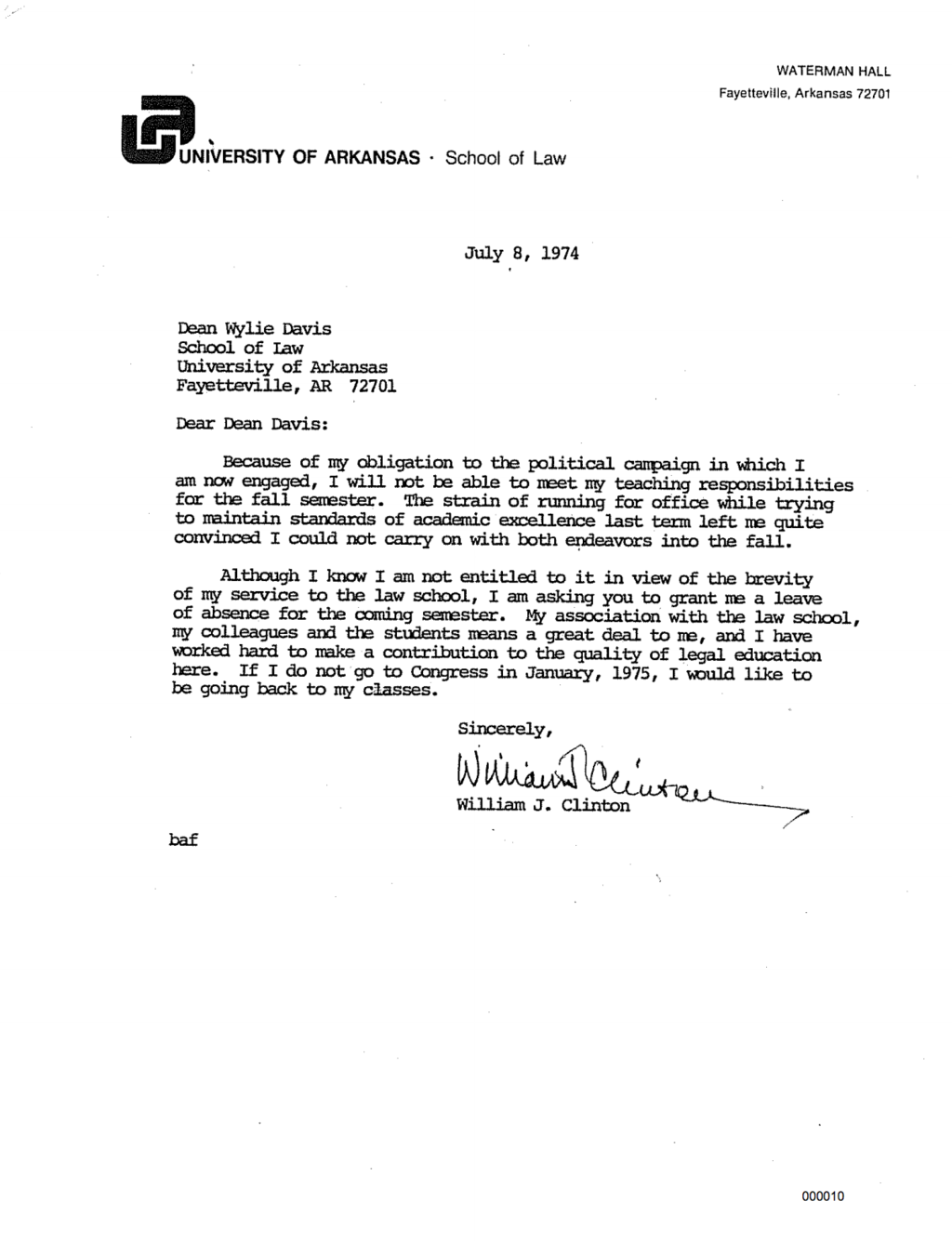 In 1976, Clinton would again run for office, this time statewide as attorney general. He would win that race and two years later would run for governor.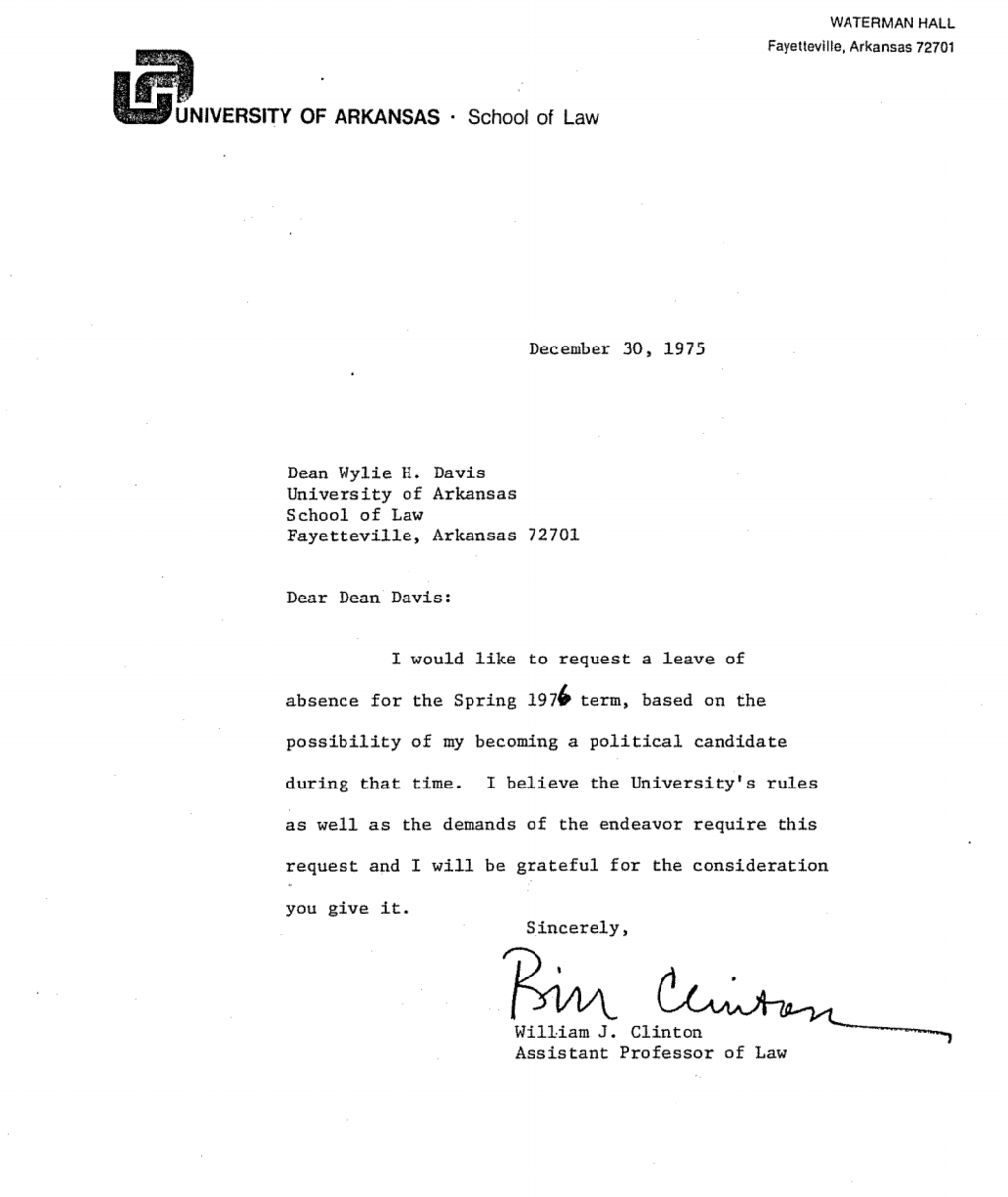 Here's his application for that leave of absence: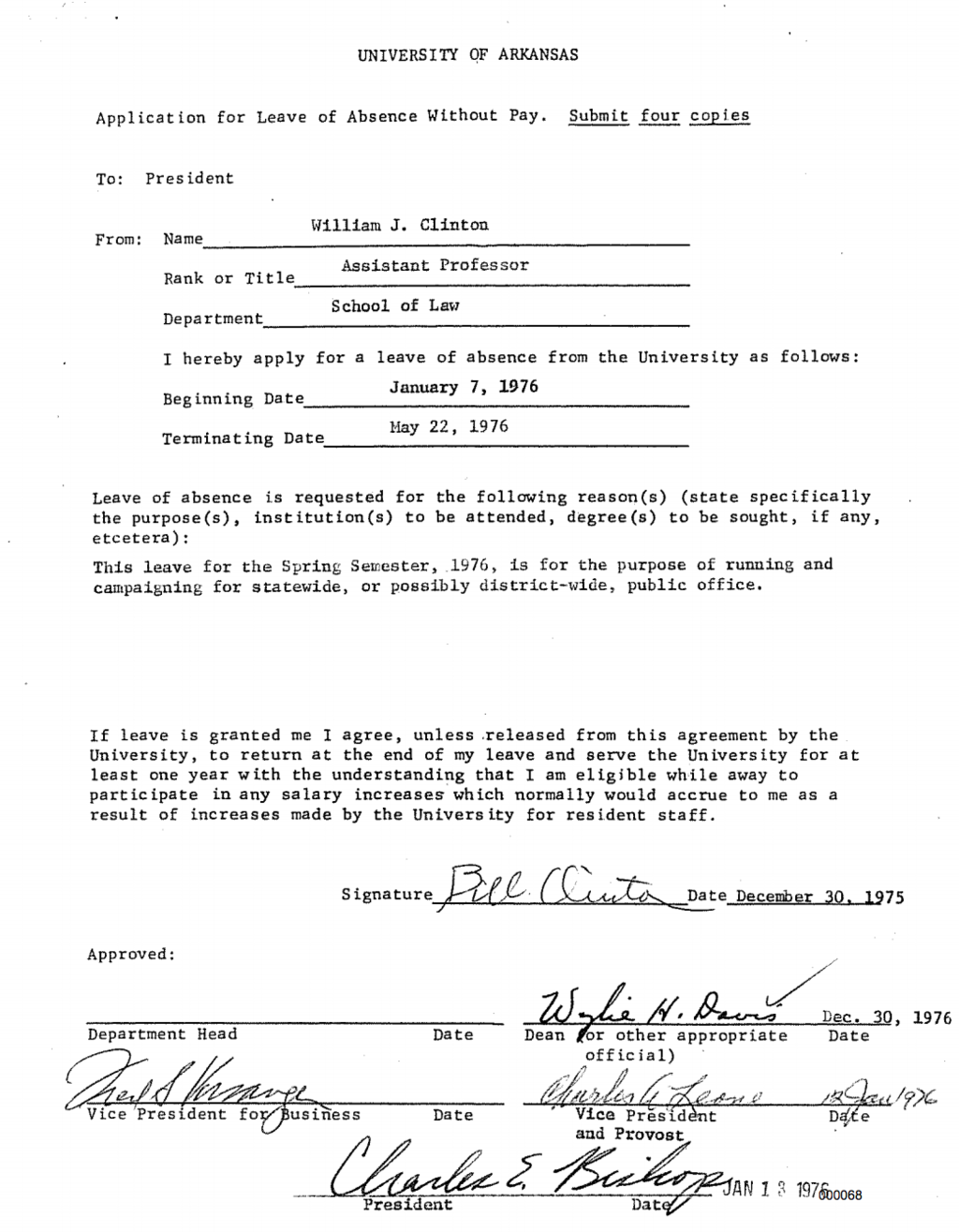 Clinton's human resources files show his termination after winning his election to attorney general in 1977.