Her Facebook profile picture closely matches one blurred on the website The Dirty.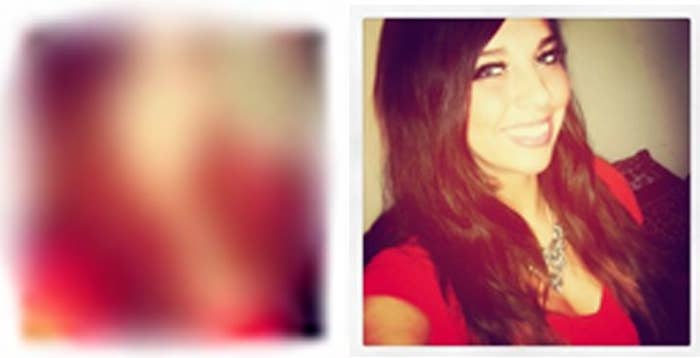 An image in her Formspring account matches another blurred image on The Dirty.
She had a Formspring account that was recently deleted. According to Google Cache it was active until at least May 2013.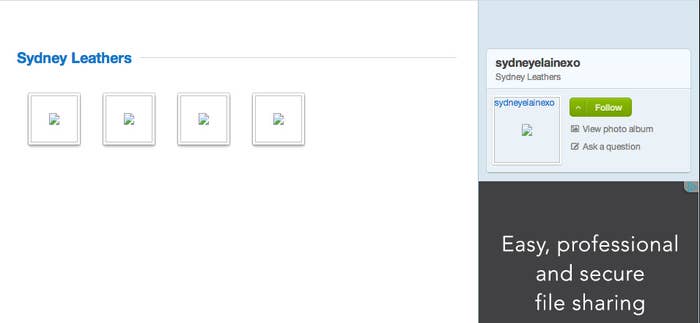 In June 2011 she wrote Anthony Weiner could "continue sending dick pics every single day for the rest of his life."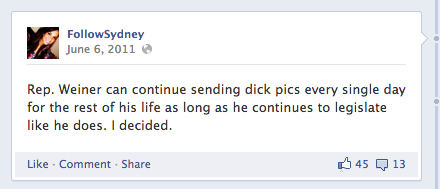 A now-removed website of hers lists Anthony Weiner as a hero.
She also wrote a blog post about Anthony Weiner resigning.

In one post she said Anthony Weiner didn't need to resign.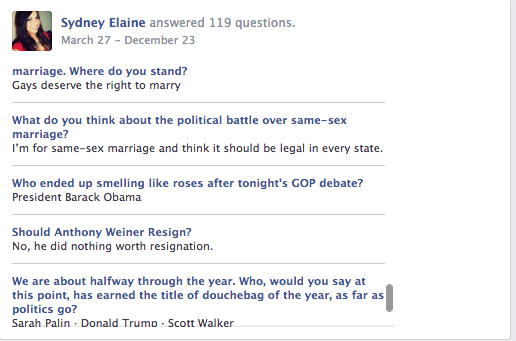 Leathers Didn't Respond to Repeated Inquiries About Weiner.
The Dirty reported that its anonymous tipster "has lawyered up in fear of Anthony Weiner, but she is willing to expose his sexual nature to TheDirty.com for the betterment of America."
UPDATE — July 23, 2013 8:15 p.m. ET: Weiner did not respond to questions shouted by a BuzzFeed reporter at a Tuesday evening event about whether he knew the woman.
UPDATE — July 24, 2013 12:40 a.m. ET: A source close to the situation confirmed to BuzzFeed late Tuesday that the former congressman exchanged the explicit messages and photos with Sydney Elaine Leathers in late July of last year.
"I saw the messages and the message said 'Anthony Weiner,'" the person said. Weiner allegedly told Leathers that he would "move her to either Chicago or New York," so that the pair could be closer. It was not immediately known how the two met or if they ever made contact in person.
The source said Leathers "felt she was the important one" in Weiner's life, even surpassing his wife Huma Abedin, who stood by his side Tuesday as the New York City mayoral candidate once again admitted exchanging lewd messages at a news conference.
The source, who has known Leathers since high school, spoke to BuzzFeed only under the condition of anonymity due to the sensitivity of the issue.
Benny Johnson, Jon Passantino, Jessica Testa, Hunter Schwarz, Adrian Carrasquillo, Jacob Fischler, and Samir Mezrahi contributed to this report.