Green Party Nominee Makes A Second Run Against Romney
All that's between her and her old foe: Roseanne Barr.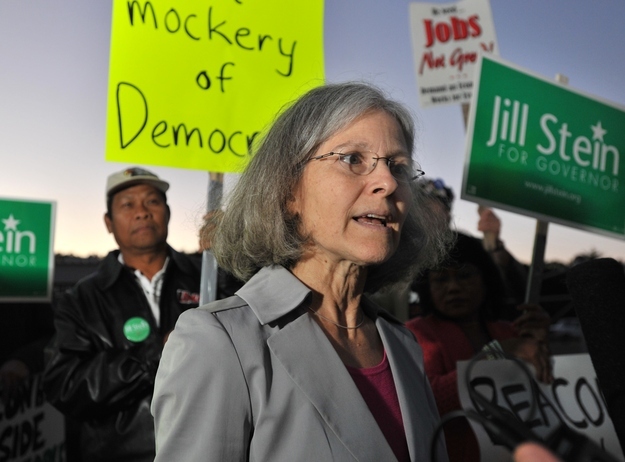 Dr. Jill Stein is preparing for her second run against Mitt Romney.
Stein, a doctor of internal medicine, is the likely Green Party nominee, having beaten her main rival, the comedian Roseanne Barr (really), in every primary and caucus so far.
Stein also ran against Romney in 2002, when the Harvard Medical School graduate, who now describes herself practicing "political medicine," was the Green Party's nominee for Massachusetts Governor. She is also one of the few Mitt Romney foes who doesn't believe he's inconsistent in any important way.
He's running as "an unabashed proponent of the Wall Street agenda" again, Stein told BuzzFeed in an interview this week. "That was pretty clear ten years ago when he was running to make Massachusetts a better business and I was running to make Massachusetts a better democracy. I think it's only become clearer with time."
Stein, virtually invisible this year, had a few moments in the spotlight during that 2002 race. She made the stage in two debates between Romney and Democrat Shannon O'Brien, and sought to play on the disenchangment two major political parties.
Stein polled well enough, at some times picking up more than 5% of the vote, to make Democrats nervous. In the weeks before the election, pundits began to compare her to Ralph Nader, who cost Al Gore Florida.The Boston Globe penned a 2002 op-ed "A Vote for Jill Stein is a
Vote for Mitt Romney," to persuade Democrats to vote for O'Brien instead.
Stein ended that election that with just more than 4% of the vote, a bit less than Romney's margin of victory.
Her stance on the political process, however, hasn't changed much since then.
Romney, she said, is merely another of the "the corporate predatory candidates." She sees Romney, much like 2002, as a business candidate. He takes "his marching orders from Wall Street."
" He's running as "an unabashed proponent of the Wall Street agenda" again. "It was pretty clear then." Stein noted Romney's position changes, his
"flip-flops" are based more his target audience than his
core beliefs.
"Historically Romney responds to his electorate" Stein said. "I think we will see him pull back, the Etch-A-Sketch phenomenon" to more moderate positions in the general. Stein's own solution is a "Green New Deal." The a four-part plan that calls for transitioning into green economy and "reprogramming" the private sector to find the needs of working people.
Stein objects to Democrats blaming Ralph Nader for the 2000 defeat. "Gore couldn't even win his own state," said Stein. "You can't win an election if you can't even win your own state," perhaps alluding to Romney.
But while Stein doesn't like being called to a "spoiler" she could in theory become a problem for the Obama reelection campaign. If Stein is able to perform as well as she did in 2002, a vote for Jill Stein could again be a vote for Mitt Romney.