GOP Opposition Research Firm Is Editing Democratic Politicians' Wikipedia Pages
America Rising's contributions, which span thousands of words, are almost solely edits to Democratic politicians' pages.
A Republican opposition researcher for the firm American Rising is editing Wikipedia articles of Democratic candidates.
BuzzFeed News found the edits while browsing the edit history of politicians' pages looking for IP addresses associated with political advocacy groups.
The edits, which come from a user named "Sprinkler Court," who identifies himself as Court, always discloses that he is a researcher for America Rising.
"I am adding details of a video that surfaced of Braley making disparaging comments about Chuck Grassley. I want note that I have a COI with this edit, as I work for America Rising," reads Sprinkler Court's description of his edit to an article on Bruce Braley.
Sprinkler Court's own Talk Page on Wikipedie also identifies himself as an America Rising researcher:
Howdy, I'm Court. I've set up this account for making contributions to articles or topics on various things I'm interested in. I also ought to add that I am making contributions to articles and topics where I may have a conflict of interest or vested interest. I work for a Republican research firm called America Rising LLC in Arlington, Virginia. For total clarity, I'll always disclose potential conflicts or vested interest on Talk pages where I discuss edits using this account. My aim is to ensure that I follow all the relevant guidelines, make constructive edits and contribute productively to discussions. If you have any feedback on my editing, or would like to ask me any questions, please do leave me a note on my Talk page and I'll be happy to reply.
America Rising told BuzzFeed News they have an "internal policy" of allowing "fact-based edits to political Wikipedia pages" that may take place "as long as the individual is 100% transparent that they work for America Rising when making those edits on page."
Here's a picture of his Sprinkler Court's user page:
His contributions, which span thousands of words, are almost-solely edits to Democratic politicians:
The edits, while disclosed, have made some in the Wikpedia editing community feel uncomfortable.
This message was left on his Talk Page by a fellow editor:
First of all, I want to thank you for your honesty and forthrightness about your conflict of interest. That said, I'm uncomfortable with your editing here, which I think contravenes the practices described in our conflict-of-interest guideline. You state you are employed by a partisan "research firm" which appears to specialize in producing political attack ads. Your editing here seems to be a direct extension of your paid work, since you've focused exclusively on adding negative material about political candidates on the opposite side of the partisan fence. I think what you're doing falls under the rubric of "paid advocacy", a practice which is either "strongly discouraged" or completely forbidden here. Even if one disputes the "paid advocacy" characterization, there is clearly something unsavory about a political operative dedicated to adding political attack-ad material to Wikipedia biographies. I suppose it would be reasonable for you to continue to contribute to article talk pages, so long as you use them appropriately, but I think it is clearly inappropriate for you to directly edit articles—particularly biographical articles of living people whom you are paid to disparage.
And here's screenshot of the comment:
The edits, as the editor points out, would seem to fall under Wikipedia's conflict-of-interest policy as against the rules.
If the following applies to you:

you are receiving, or expect to receive, monetary or other benefits or considerations from editing Wikipedia as a representative of an organization (as an employee or contractor; as an employee or contractor of a firm hired by that organization for public-relations purposes; as owner, officer or other stakeholder; or by having some other form of close financial relationship with a topic you wish to write about),
then you are very strongly discouraged from directly editing Wikipedia in areas where those external relationships could reasonably be said to undermine your ability to remain neutral. If you have a financial connection to a topic – including, but not limited to, as an owner, employee, contractor or other stakeholder – you are advised to refrain from editing affected articles directly.
Some of the edit descriptions do seem innocent in nature, while others provide unflattering anecdotes on Democrats running in this election cycle.
"Changed the opening paragraph to reflect that Walsh served as a U.S. Army colonel, not a brigadier general. I just want to note that I have a COI, as I work for a Republican research firm," reads one.
"Included a paragraph on the leaked Nunn campaign memo which made rather frank recommendations on the strategy for Nunn's path to victory. I want to note that I have a COI, as I work for a Republican research firm," reads another.
Here's an example of one edit, noting Democratic Sen. Mark Pyror said Tom Cotton had a "sense of entitlement" of winning the Senate seat.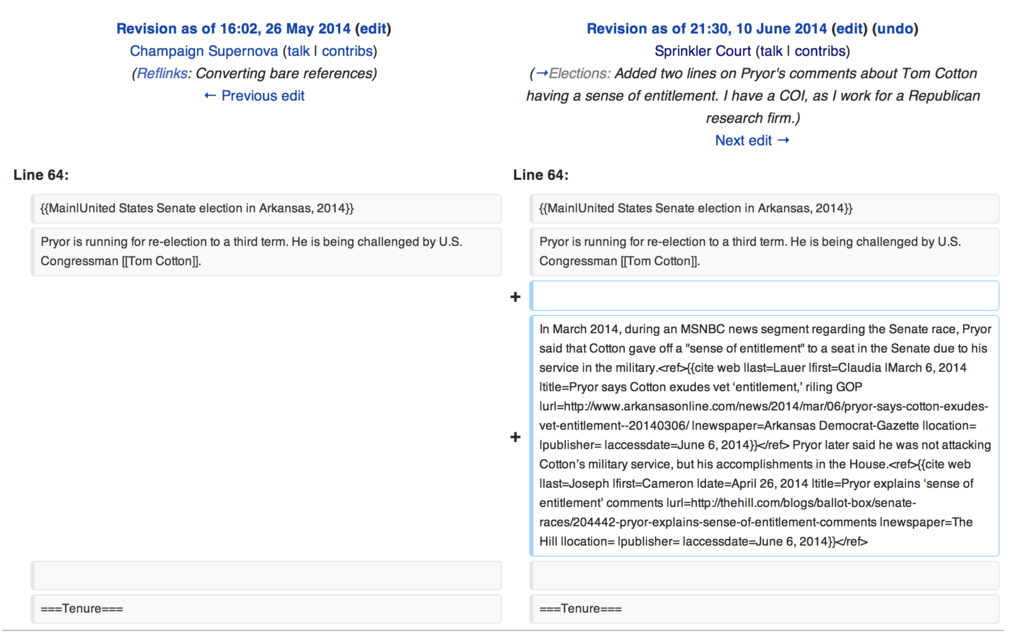 Two other accounts are online and self-identified as America Rising staff. One identifies as executive director Tim Miller: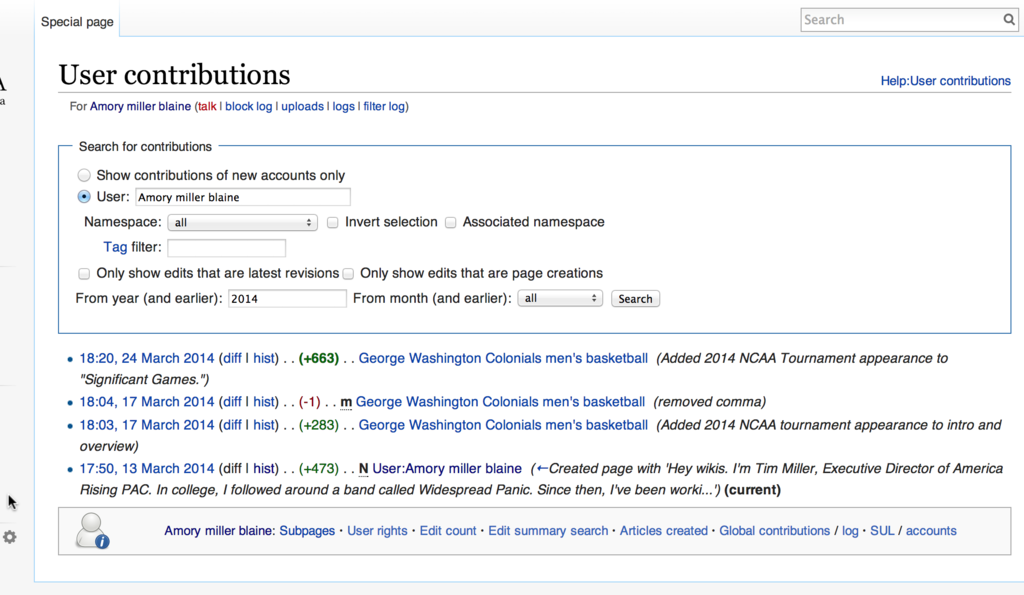 His edits, however, appear to only be of the George Washington University basketball team: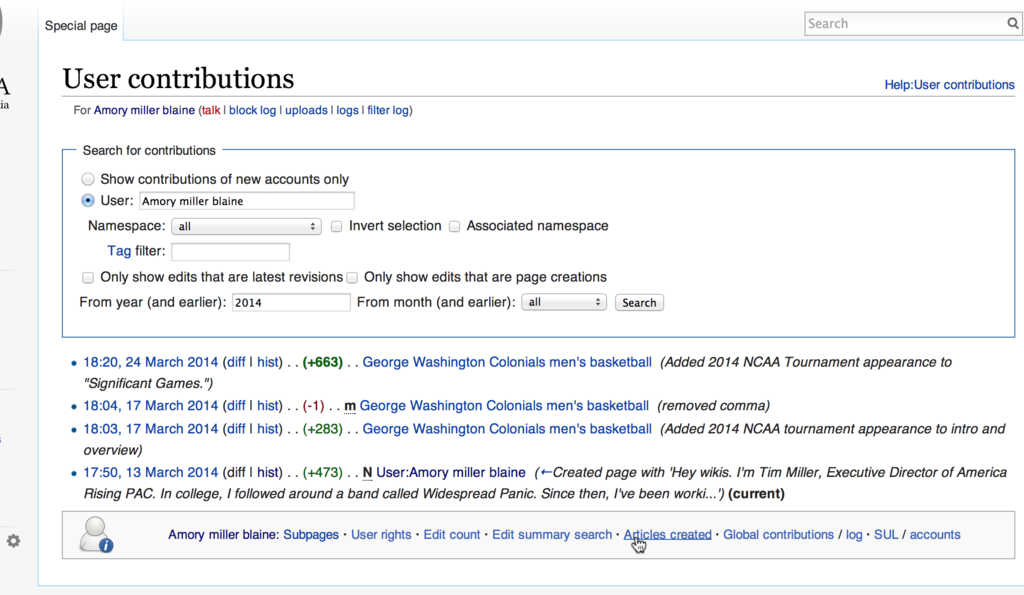 Another user "DanBayState" has not made any edits: