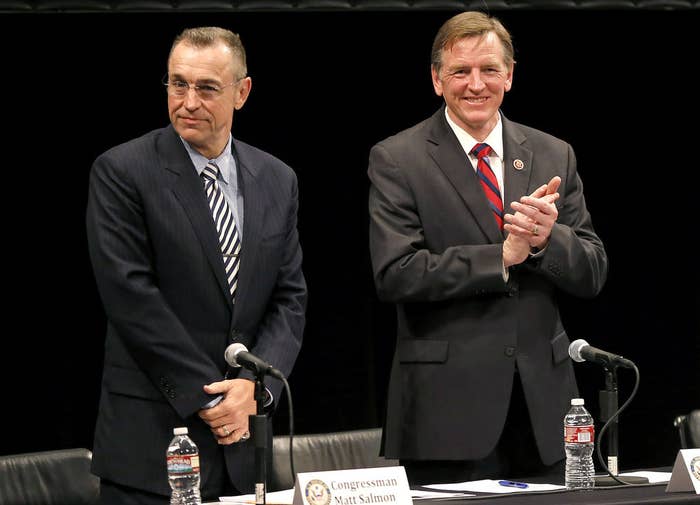 Republican Rep. Matt Salmon of Arizona said "we know" that there are ISIS camps in Mexico within eight miles of the United States.
Salmon made the claim on Sean Hannity's radio program during a discussion about a drug tunnel found in Naco, Arizona.
"And we don't have a clue, have they done any investigation to determine whether foreign agents of terrorism have used the tunnel to get into the United States. We know there are ISIS camps...," Salmon told Hannity in response to a a question about if the tunnel had been tested for biological or chemical weapons.
"Eight miles," interjected Hannity.
"That's right, within 8 miles," said Salmon. "Do we know that any of them didn't come across? Now, the president grandstands, he did during the discussion about Homeland Security when we were trying to defund his illegal amnesty plan. He grandstanded about how we were jeopardizing national security, and is this the way they conduct national security? On a wink and a nod? And they either knew about it, which one of their folks says they did, and order people not to be near it, for reasons I can only assume, and they're not the best of assumptions."
"Or they didn't know about it and they found out on this drug bust, and when they did find out about it, they're not letting anybody know if they've done any forensics, and if they have done forensics, what they found out."
The claim that there are ISIS camps in Mexico seems to have originated from a report by the conservative watchdog Judicial Watch, which cited anonymous sources as saying that ISIS is operating a camp around eight miles from the U.S. border near Ciudad Juárez.
The claim has been denied by the Mexican Embassy in Washington D.C., the Texas Department of Public Safety, and the National Security Council, according to the fact-checking site Politifact, which rated the claim "false."
The U.S. State Department called the claim "unfounded."
Several days ago FBI Director James Comey called the claim "nonsense, not true" when visiting El Paso.
"I know since there's been a lot of attention to this in the media that has reached my eyes and ears in Washington," Comey said. "The media reports on if there is an ISIL camp across the border here in El Paso? Nonsense. Not true. It frustrates me a little bit because my folks have to run out such things, because we do run out every tip to make sure there isn't something to it. There is nothing to it."
Salmon said the lack of answers about the tunnel frustrated him as a member of Congress because it was hard to do oversight.
"Now how in the world is a member of Congress who's supposed to do oversight, how in the world are we supposed to make intelligent decisions about where we're spending our money and whether it's the right place and we're doing the right things if we can't even get answers to basic things like did they bring a weapon of mass destruction through that tunnel," added Salmon.
Salmon raised the concerns in a letter to Homeland Security chief Jeh Johnson posted on his website.
Last year, Arizona Rep. Trent Franks claimed, "it is true, that we know that ISIS is present in Ciudad Juarez or they were within the last few week." The Department of Homeland Security said then that this claim was not credible.
A spokesman for Salmon didn't return a request for comment on his source for the Islamic State camps claim.