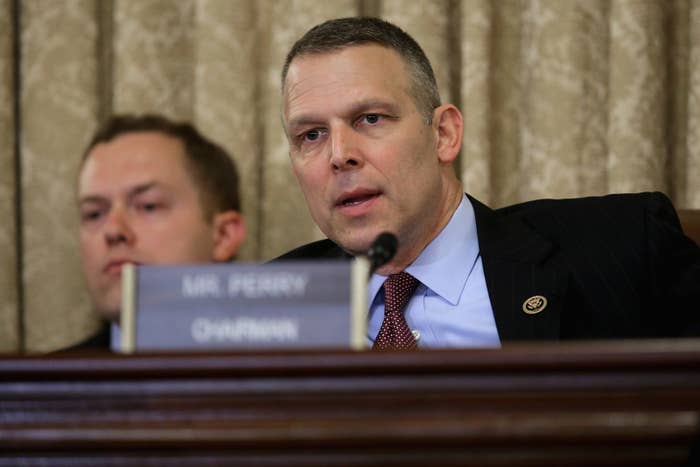 Republican congressman Scott Perry from Pennsylvania said on Monday that he believes Hillary Clinton's pneumonia diagnosis was caused by something else that is "plaguing her," but added that he didn't know what it is.
"I have long felt that Secretary Clinton has got some health issues," Rep. Scott Perry said on WBAL radio. "I don't know what they are. If she does have pneumonia, I think it has to do with something else. It's not necessarily the only issue that she might have and might be being caused by whatever else is plaguing her."
After Clinton abruptly left a 9/11 memorial service in New York City on Sunday — appearing unable to walk in a video that went viral online — her campaign revealed that she had been diagnosed with pneumonia on Friday. Republican nominee Donald Trump has so far avoided speculation about Clinton's health — instead focusing his attacks on her comments at a fundraiser on Friday night in which she called half of his supporters "deplorable."
Clinton campaign spokesman Brian Fallon said on Monday that Clinton has "no other undisclosed condition" and that she will resume campaigning later this week.
"Look, we all want her to get better," Perry continued in his interview. "We don't want anybody to be sick, and I mean that very sincerely, but I think it's important that, as Americans, we know that the person that's going to be holding the office of the presidency, we need to know what their health situation is because it's a tough, tough job, and we should know that up front.
"It's not personal. It's not meant to be personal, but it's important for us to know and, unfortunately, in this era of mistrust and distrust, especially with the Clintons based on her actions, I think we are right to be skeptical, and I don't think you can be disparaged for being skeptical. She created that, not us."

The congressman noted many believed Clinton didn't even have pneumonia.
"What are people to think? It's our natural tendency when she says something, 'oh she's got pneumonia.' Well, maybe she does, but, of course, the next question is what's causing the pneumonia? Is it related to something else?," Perry added.
"Quite honestly, I think there are people that don't even believe she has pneumonia. I mean, we watched in the video of her legs buckle, or at least one of her legs buckled going into the vehicle. I mean, listen, members of my family have had pneumonia. I've seen it. I've been around it. I don't ever remember seeing that."