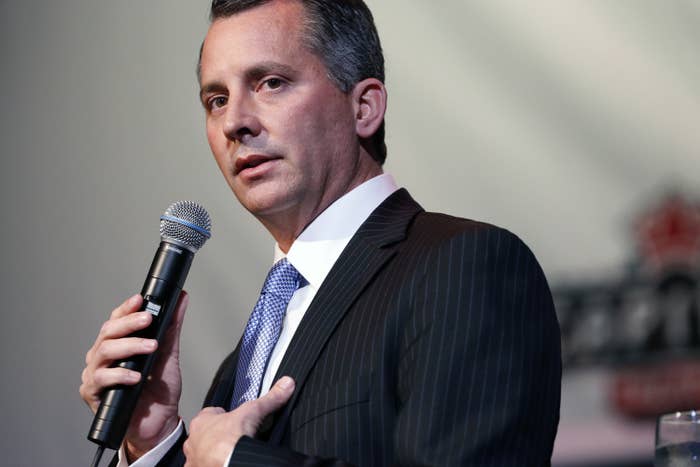 Rep. David Jolly of Florida, a Republican running for Senate in the state, says he doesn't know if he's going to vote for Hillary Clinton or Donald Trump in November.
"So, I'm gonna tell you something you rarely hear in elected official say, I don't know," Jolly told AM970 The Answer's Effective Radio when asked what he's going to do in the presidential election. "I truly don't know."
The Florida congressman continued, saying he didn't even know what Trump would be standing for in November. He also noted that he had strong policy differences with Clinton.
"Here's why, if you're asking me in April my position on Donald Trump in November, I don't know what Donald Trump is going to be standing for in November," stated Jolly. "So I'm certainly not going to take a position five or six months out. You know when Donald Trump made his call to ban all Muslims, I went to House floor and called on him to drop out of the race."
"I have strong reservations about some of Donald Trump's solutions to some of the security issues we face as a country," he continued. "Those are real reservations. Now, I will tell you I also have strong disagreements with Secretary Clinton over her view of foreign policy. So, I think like a lot of Americans, we are gonna have to begin to spend the summer studying the candidates and decide who's best for the future of the country."
Jolly hoped Republicans would find a candidate other than Donald Trump.
"I'm a Republican, and I hope we can find a conservative leader that would alter some of the course where our current president has taken us. Whether Donald Trump is that person, I am no way prepared to make that decision in April."
Jolly's campaign manager clarified his position in a statement to BuzzFeed News.
"David Jolly is on the record saying he will never support Hillary Clinton in November. His position has not changed," Max Goodman, Jolly's campaign manager said.