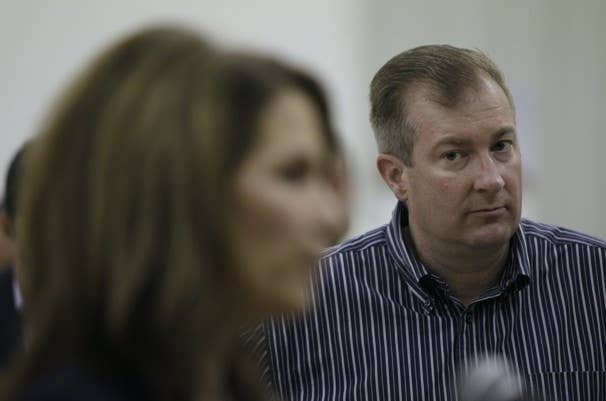 Michele Bachmann's high-profile debate coach, Brett O'Donnell, developed an "unnatural" and "Rasputin-like" relationship with his candidate during her failed 2012 presidential campaign, another former aide told BuzzFeed, a charge O'Donnell denies.
Peter Waldron, an evangelical organizer who served as Iowa field coordinator for Bachmann and helped her win the Ames straw poll said O'Donnell exercised an "unusual power over Mrs. Bachmann." Waldron and other former Bachmann staff also currently say the Congresswoman has yet to pay them for debts owned from her short-lived campaign.
"He prohibited her husband, Dr. Marcus Bachmann, from sleeping in the same room with wife while on the campaign trail," Waldron said in an email to BuzzFeed. "He prohibited legendary consultants Ed Rollins and Ed Goeas from attending debate prep sessions. He told her when she could get off the bus (Waterloo event with Gov. Perry), he wrote most of the words that came out of her mouth, he wrote all of her speeches."
Waldron, who led Bachmann's outreach to the religious groups that helped fuel an early surge in Iowa and bring voters to the Ames Straw Poll, is a veteran of Republican politics and a colorful character in his own right. An Army veteran who says he leads an organization called Christians Restoring America's Greatness, he spent a month in jail in Uganda in 2002, on terror charges that he denied.
"Your source for your outrageous claim is a disgruntled campaign employee who has little knowledge of reality," O'Donnell said in an email. "Why is this news now anyway?"
"The story is completely false," he said.
Waldron, who was among a wave of staffers pushed to the sidelines as O'Donnell emerged as a central adviser, blamed him for her flagging campaign.
"Frankly, Brett exercised 'Rasputin-like control over Michele. More than one staffer was grateful to God that she didn't win the nomination because of the influence that Brett had over her," Waldron said.
"He attempted to re-shape Mrs. Bachmann's personality from her popular 2010 to spring 2011 into his own image," he said. "Pastors in IA and SC complained to me privately that Mrs. Bachmann spent too much time alone with Brett, they even criticized the times the two of them held hands to pray apart from others. Brett resented Mrs. Bachmann's confidence in me."
Waldron said that at the time, Bachmann appeared to even be fearful of O'Donnell.
"Once she asked me to ride on the bus with her to pray. Brett's objection was so intense that for the good of the order, I followed the bus in my personal vehicle," said Waldron. "On one occasion, she whispered to me, 'Peter, don't get off the bus no matter who tells you to get off.' Another time, her personal assistant told me, 'Peter, Michele does not want to you leave. Stay on the bus. Please pray for us.'"
Waldron described the last week of Bachmann's failed campaign as "the most painful days to imagine," saying Bachmann still has not recovered from her time with O'Donnell.
"Brett held her captive day after day, speech after speech, etc. in the back of the bus during the 99-county tour. By the end, she was broken emotionally, mentally, and slept in her private cabin in the back of the bus. I do not know if she has ever recovered," Waldron said.
Waldron, a veteran of Republican Christian outreach, said O'Donnell's control over Bachmann was like something he has "never seen before in any campaign."
"Most presidential candidates have strong personalities, not Mrs. Bachmann, she outsourced decision making to Brett. She was for all intents and purposes "mesmerized" by Brett O'Donnell."
Bachmann spokesman Dan Kotman and two former Bachmann campaign aides did not respond to emails seeking the former candidate's version of the story.
[Update]
James Pollack, Michele Bachmann's campaign finance chair emails: "Mr. Waldron's accusatory inferences regarding the Congresswoman are both inaccurate and meritless. His outrageous embellishments of the reality of what transpired are not deserving of further comment. Further defamations by Mr. Waldron will be dealt with accordingly."