Florida College Student Files Police Complaint Against Allen West For "Threat"
The student says an Internet "threat" shouldn't be taken lightly.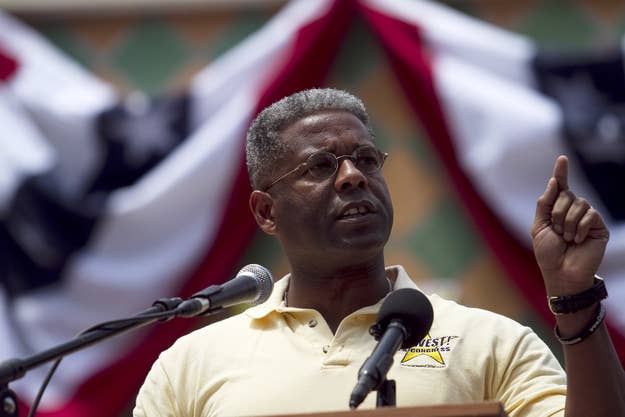 A student at Florida Atlantic University (FAU) has filed a complaint with police saying she feels threatened by former Rep. Allen West in response to Facebook and Twitter messages from the Republican firebrand, according to West Palm Beach ABC affiliate WPBP.
West posted a stern warning on his Facebook Wednesday morning after he said FAU students were harassing his wife, a member of the school's board of trustees by going to her office, stalking her at board meetings, and sent letters to her company headquarters.
I completely understand the Alinsky tactics and have no issue with the insidious and incessant personal attacks by the left against me. However, I am warning you, end your harassment of my wife Angela. The students from Florida Atlantic University who have gone to my wife's office, stalked her at the FAU Board of Trustee meetings, and sent letters to her company headquarters, end it now. This is not a threat, it is a promise that if Angela calls and tells me of one more incident, you will face me, the side of me that you do not want to see. My wife Angela is an American citizen and if you believe that you can intimidate her to surrender her freedoms you are mistaken. Those left wing groups and lawyers associated with these individuals supporting their antics, I recommend you disassociate yourself. How dare you animals attack my wife and her professional reputation. This is your one and only advisory notice.
The student filing the complaint said threats on social media shouldn't be taken lightly according to The Raw Story which obtained the complaint.
"As students, we deserve to feel safe exercising our First Amendment rights to peacefully assemble and express our grievances with the University," Stephanie Rosendorf of the Florida College Democrats wrote in her complaint. "These days you never know if a threat on social media is to be taken lightly, and in this case it certainly should not be. Allen West is making me feel in danger at school."
West's wife Angela is a financial adviser for Raymond James. She previously said FAU students came to her office uninvited to tell her to oppose a private prison contractor's large donation to the school, according to The Palm Beach Post.The private prison company, GEO Group, that made the donation of $6 million dollars was going to have its name on the school's football stadium. After significant uproar the company decide against the making the donation.
Angela West said when she and the students disagreed they called on her to resign from board and when asked to leave they said "oh, you think you're as tough as your husband." West's co-workers agreed with her account of the incident.
Student involved denied showing up uninvited saying West agreed to the meeting. They said West became angry when the student's decided to leave the meeting.