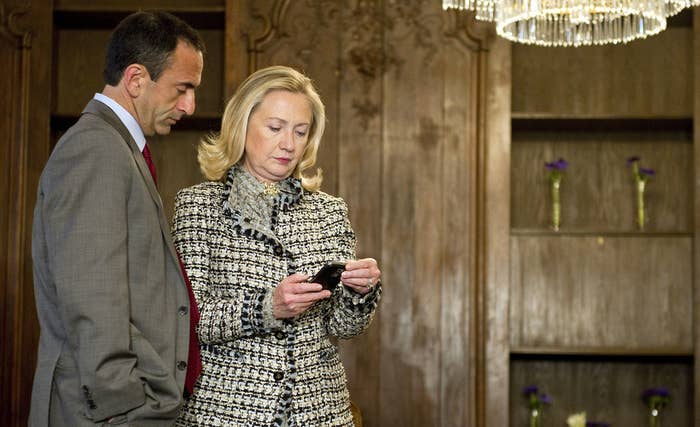 The top lawyer for the National Archives expressed concern in internal emails, obtained by BuzzFeed News, over former Secretary of State Hillary Clinton's exclusive use of personal email.
The agency, the top records-keeping authority in the federal government, was not aware of Clinton's personal email usage until the New York Times reported on the issue in March, a spokeswoman told BuzzFeed News on Tuesday.
The internal emails, obtained through a Freedom of Information Act request, show Gary Stern, the general counsel at NARA, expressing some concern and surprise after a phone conversation with New York Times reporter Michael Schmidt, who broke the story. That conversation took place in March, months after Clinton's staff sent email records to the State Department.
"When Hillary Clinton was Secretary of State, she apparently used a personal email account to conduct government business," Stern writes to colleagues about the exchange with Schmidt. In the internal emails, Stern relays his conversation with Schmidt to other NARA officials, writing that "if true," Clinton's email use "would present a concern."
Stern also serves as NARA's chief Freedom of Information Act officer, senior agency official for privacy, and dispute resolution specialist, according to his biography.
Stern did not return a inquiry for comment on the internal emails.
Clinton turned over about 55,000 pages of emails to the State Department last December. Clinton decided which email were deemed personal and which were deemed official to be turned over. Her lawyer told the Benghazi Committee last month her server was wiped and the emails were deleted after they were turned over.
Here's Stern's email expressing concern: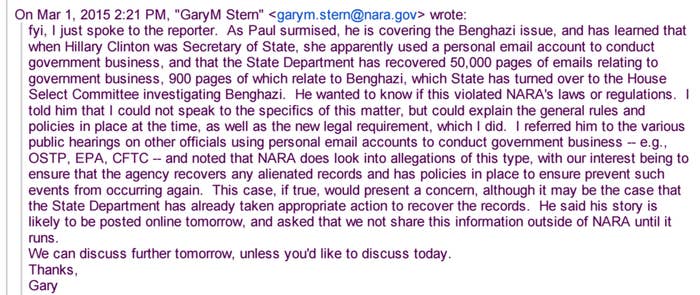 Kyle Blaine contributed reporting.