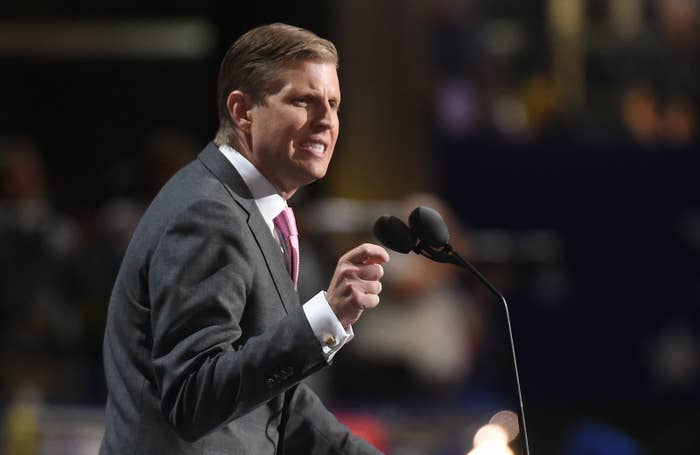 In a radio interview on Wednesday, Eric Trump called former president Bill Clinton possibly "the worst" sexist "that's ever lived."
The younger Trump made the comments on Sean Hannity's radio program while discussing Hillary Clinton's attack on Donald Trump for his treatment of 1996 Miss Universe winner Alicia Machado. Trump surrogates and supporters have drawn attention to Bill Clinton's infidelities in response to the attacks on the Republican nominee's treatment of women.
In the interview, Hannity claimed Machado had starred in porn videos, a claim that started in conservative media and appears to have no basis in fact, and accused the Clinton campaign and the media of colluding to attack Trump.
"Seems like another day in the life of the Clintons," Trump said to Hannity on Wednesday "This is who they are as people. This is who they've been for decades and decades. I mean, Hillary's been a politician longer than I've been alive. Kinda hard to believe."
"It's amazing when you hear her talk about sexism and these various claims, which are ridiculous, aside from obviously Bill, her husband, being maybe the worst that's ever lived," he continued.
The younger Trump said his father's point in attacking the Clintons is that they need to start practicing what they preach.
"You can't live one way in your private life and then speak differently in your public life," Trump said.