WASHINGTON — Eight Democratic lawmakers, including civil rights icon Rep. John Lewis, were arrested outside the Capitol building Tuesday as part of an immigration reform demonstration.
The lawmakers — Reps. Joe Crowley, Raul Grijalva, Luis Gutierrez, Jan Schakowsky, Keith Ellison, Al Green, Charlie Rangel, and Lewis — were part of a group of more than 100 activists who conducted a peaceful sit-in blocking a street in the front of the Capitol, just feet away from the scene of last week's shooting.
WIth thousands of protesters chanting "Si Se Puede" and jeering dozens of Capitol police officers, the lawmakers and scores of activists were handcuffed before being led off to wagons. It was unclear whether any of the people arrested would face charges.
The arrests were part of a massive pro-reform protest planned by El Camino Americano designed to bring pressure on Congress to kick-start dormant negotiations on a comprehensive immigration reform package.
In addition to the rally at the Capitol, thousands of immigration activists gathered on the mall earlier in the day to hear speeches from a bipartisan group of lawmakers including Robert Menendez, House Minority Leader Nancy Pelosi, and Republican Rep. Mario Diaz-Balart, as well as a performance by Los Tigres del Norte, a popular Norteño band from Mexico whose songs often deal with immigration issues.
Activists vowed to continue to keep up the pressure on Congress. "In today's America 11 million people who are Americans in all but paperwork want only what immigrants to our country have always wanted: the dignity and respect that comes with recognition and citizenship. We will keep turning up the heat until our lawmakers see the light," said Frank Sharry, executive director of America's Voice.
Rep. Luis Gutierrez of Illinois: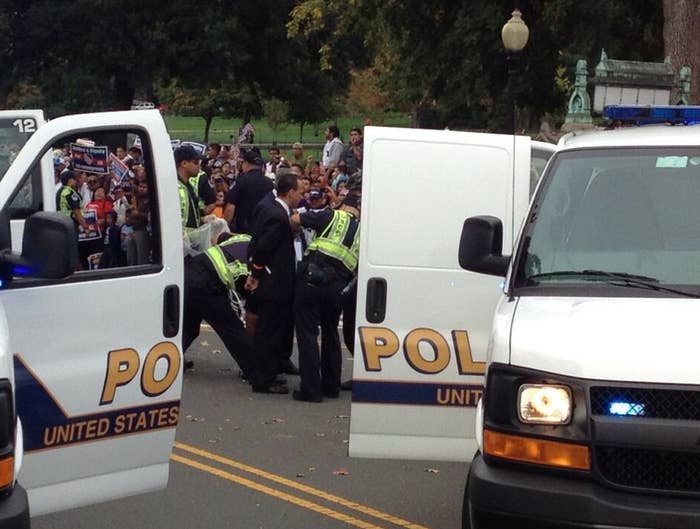 Rep. Al Green of Texas: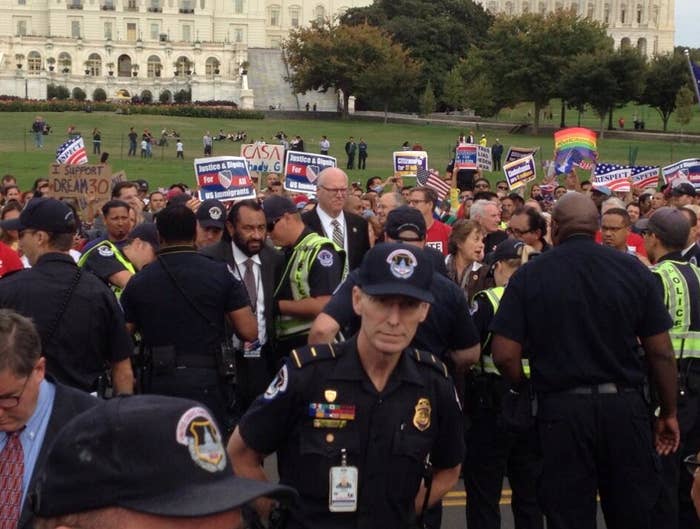 Rep. Charlie Rangel of New York:
Rep. Raul Grijalva of Arizona:
Civil rights movement icon Rep. John Lewis of Georgia and Rep. Joe Crowley of New York:
Rep. Keith Ellison of Minnesota:
A vine of the arrests:
A shot of D.C. police prepping for the arrests: