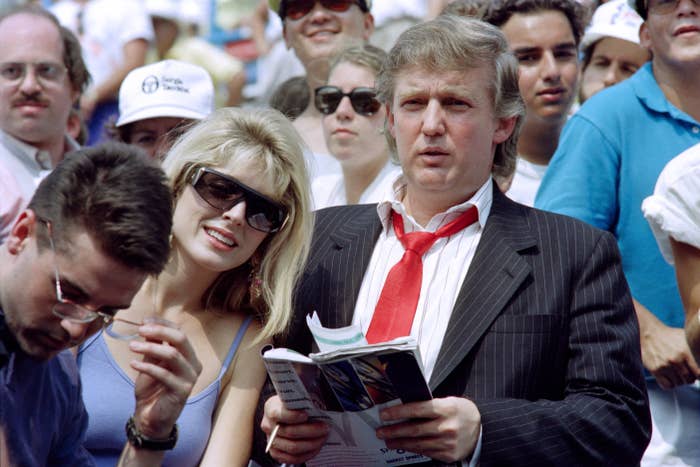 When Donald Trump publicly floated the idea of running for president in 1999, his ex-wife Marla Maples made it clear she would spill the beans on her ex-husband if he were to make it to the general election.
"If he is really serious about being president and runs in the general election next year, I will not be silent," Maples told London Telegraph. "I will feel it is my duty as an American citizen to tell the people what he is really like."
The reaction from Trump and his attorney was swift and brutal. They launched a full-court effort in the press to discredit Maples and withheld an alimony payment to "send a message." The episode illustrates how Trump uses character assassination and threats to quash any opposition. Maples has largely remained silent on Trump's 2016 candidacy.
"She's pretty upset that she hasn't been in the limelight," Trump told reporters about Maples, according to the Associated Press. "But she got a little limelight today. I guess she wants her day in the sun."
"It's too bad the venom that she's got, and I thought I was very nice to her," Trump said of Maples to Fox News' Neil Cavuto. "I've taken good care of her. But she's got a lot of venom and it's too bad. And it's just not becoming of her, but I think she'll probably be more responsible."
"I mean you have a confidentiality agreement; you're not allowed to talk," continued Trump. "And she goes out and says, 'I wouldn't this, I wouldn't that.' So I say, 'Why am I paying money to somebody that's violated an agreement?' But we'll see what happens in the future and if in the future she continues I guess I`ll have to take very strong measures."
Trump's lawyer, Jay Goldberg, was even harsher in his criticism of Maples, saying, "The 15 minutes of glory ended when she left Donald's side. So this is a perfect way to attract publicity. All of her actions stand for the proposition 'Hell hath no fury like a woman scorned.'"
Goldberg even took a shot at Maples' intelligence, saying, "Ms. Maples didn't have the capacity to understand, participate, or take a role in the business world. The public is quite aware of the difference in capacity, mental capacity, between Marla Maples and Ivana Trump."
Then, Trump, who the Daily News reported was enraged by Maples' comments, said he wouldn't pay the remaining $1.5 million of his alimony, the balance of the pair's divorce settlement which was due that week.
"We notified the court that we are not paying and that we are putting the check in an escrow account," Trump's lawyer said to the Daily News.
Maples' lawyer, William Beslow, said the payment was overdue and that Maples "respects the privacy of her marriage." They also hit back at Trump's team for going after her.
"One has to ask, 'Why now are Mr. Trump's representatives maligning Ms. Maples?' and the truth is clear," Beslow stated. "They're hoping to discredit Ms. Maples, so that if she chooses to say anything in the future, Mr. Trump can shrug it off as the words of an angry person whose intelligence should be questioned."
The pair headed to court over the missed payment, but a Manhattan judge declined to consider Trump's claims that Maples violated her prenuptial agreement.
"The interview reveals no details about the marriage," Maples' lawyer said. "In all other respects, she is as free as anyone to make statements about Mr. Trump.
Trump's lawyer then claimed Trump had no intention of withholding alimony, but wanted to send a message.
"It was never our intention to withhold the $1.5 million check," Goldberg said to the New York Post. "Our purpose was to send a message that she was playing close to the fire. That should slow her down."
Goldberg took a parting shot at Maples, who he called a failure.
"She's certainly a woman scorned," he said. "She's unhappy because she was a failure here in New York. She didn't accomplish anything. She got no roles, except The Will Rogers Follies, which Donald got for her."
Jennifer Bretan, a spokeswoman for Maples, blasted Trump to the Post.
"It's the sign of real insecurity that Donald Trump feels the need to authorize his mouthpiece to strike out against an ex-wife who he has basically been holding financially hostage. "
Meanwhile, Maples' lawyer, Beslow, took a last shot at Trump.
"Ms. Maples left Mr. Trump. Mr. Trump did not leave Ms. Maples," Beslow said.