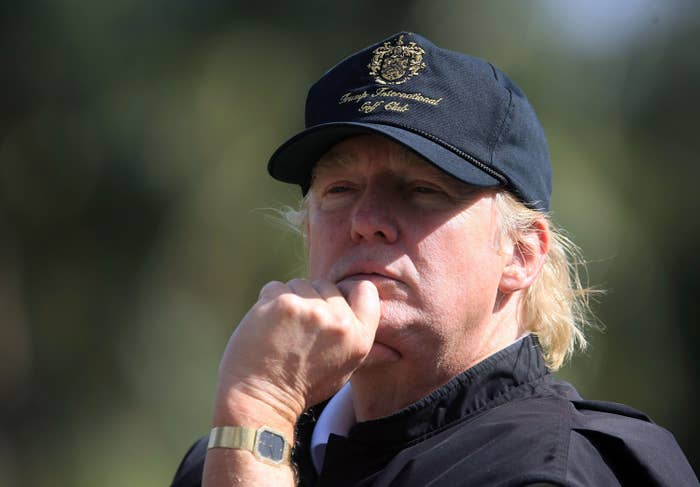 Donald Trump has campaigned on making America great again, but a reading of his book, Think Like a Billionaire, reveals that when it comes to luxury goods, Trump believes most of the finer things in life are foreign-made.
Billionaires, Trump says, "are not defined simply by the size of their holdings but also by the quality of their stuff."
"To have the best, you have to know the best," Trump writes. "Thinking like a billionaire means recognizing the best and enjoying the best. Of course, it takes practice. Can you confidently name the top five jewelers in the world? The best champagne? The best, most exclusive real estate? The most highly rated restaurants? The top art dealers? If not, you've got a long way to go to be a billionaire. But don't feel bad, because I don't know all the answers—other than the real estate ones—either!"
Here are the products Trump views as "the best":
The best cars, according to Trump, are Mercedes, Lamborghini, and Ferrari.
"The Best Car: My favorite car is a Mercedes. I've had one for a long time, and it's reliable, elegant, and sturdy all at once. I have no complaints about my Mercedes. It's never disappointed me. The cars are not temperamental, and they make my life easier. Mercedes cars are also great because they are classy without being ostentatious. I also have a Ferrari, a Lamborghini, and a bunch of other cars in different places."
The best suits, Trump writes, are Italian-made Brioni suits (owned by a French company).
"The Best Suit: I wear Brioni suits, which I buy off the rack. Some people think it's best to have custom-tailored clothing. I don't recommend it unless you have an oddly shaped body, and unless you have a great deal of time."
The best shirts? Brioni, again.
"The Best Shirts: I've worn some great shirts over the years, but I now favor Brioni (the same brand as my favorite suits). Brioni shirts are fitted so they feel and look great. I used to have a favorite dry cleaner, located in Atlantic City, but I've mellowed a bit and I can handle the dry cleaners in New York City just fine now. Actually, once you get a good shirt, who really notices anyway?"
Ties? Brioni, yet again, and the French-made Hermes.
"The Best Ties: Brioni and Hermès make the best ties. And I must say, as I keep mentioning Brioni, that they graciously supply me with my clothing for The Apprentice."
When it comes to jewelry, Trump is fond of two foreign designers, the British Asprey and Graff:
"The Best Jewelry: I go to Graff, Harry Winston, Asprey, Tiffany, and Fred Leighton for jewelry. Asprey has been around since the eighteenth century, and their jewelry makes the most beautiful woman look even better. In addition to gems, Asprey is also famous for their silver, leather, porcelain, and crystal. Asprey's flagship store is in the Trump Tower, so I can slip in there whenever I want, almost always to buy something for Melania. You can buy a gift for anyone there, and the salespeople are excellent. Winston and Graff have, I believe, the best diamonds in the world."
Still, Trump says he prefers American credit cards, specifically Visa and American Express. The best shampoo, he says, is Head and Shoulders.