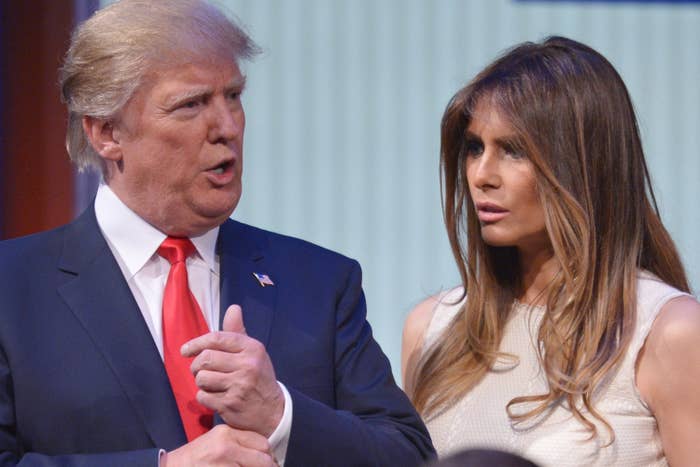 "Do you actually change diapers?" host Anthony Cumia asked Donald Trump on the Opie and Anthony show in November 2005.
The then-59-year-old businessman, whose wife Melania was pregnant with his fifth child and her first, responded bluntly: "No, I don't do that."
"There's a lot of women out there that demand that the husband act like the wife, and you know, there's a lot of husbands that listen to that," Trump added. "So you know, they go for it."
"If I had a different type of wife," Trump said, laughing, "I probably wouldn't have a baby, ya know, cause that's not my thing. I'm really, like, a great father, but certain things you do and certain things you don't. It's just not for me."
The interview — one of many reviewed by BuzzFeed News — reveals a man with an extremely traditional view on the responsibilities a man and a woman have when raising a family. That view has already come under attack by an anti-Trump group, with one of his comments in a 2005 Howard Stern interview appearing in an ad from the super PAC Our Principles.
"I mean, I won't do anything to take care of them. I'll supply funds and she'll take care of the kids. It's not like I'm gonna be walking the kids down Central Park," Trump said in the interview. He repeated the same sentiment to Stern two years later, saying, "Melania is a wonderful mother. She takes care of the baby and I pay all of the costs."
Trump's five children — Ivanka, Eric, Donald, Tiffany, and Barron — have been a highly visible part of his presidential bid and have all publicly praised their father as a parent. But Trump has described himself as hands-off, and, in the same 2005 interview with Howard Stern, expressed disdain for his ex-wife Marla Maples suggesting he walk their daughter, Tiffany, down the street.
"Well, Marla used to say, 'I can't believe you're not walking Tiffany down the street,' you know, in a carriage," Trump said. "Right, I'm gonna be walking down Fifth Avenue with a baby in a carriage. It just didn't work."
Trump added of his current wife, Melania: "She would take great care of the child without me having to do very much."
And in 2007, again in an interview with Stern, when asked if he stays home with his infant son Barron, Trump admitted that hands-on parenting has never been his "thing."
"It probably should, but it never has," replied Trump.
Here is Trump in his own words:
In a 2003 appearance on The Howard Stern Show, Trump said he married Maples because she got pregnant with their daughter, Tiffany.
"At the time it was like, 'Excuse me, what happened?'" Trump said he said to Maples when learning about the pregnancy. "And then I said, 'Well, what are we going to do about this?'"
"She said, 'Oh, are you serious? This is the most beautiful day of our lives,'" Trump said Maples responded.
"I said, 'Oh, great.' So I said, 'Do you want to get married?'"
Stern also asked how Trump's daughter Tiffany was doing.
"I do see her, and she's a great kid," Trump said.
"She comes to town, visits a little bit?" Stern asked.
"You know for about an hour — 'Hi, Dad,' 'Hi, Tiff, I love you, Tiff.' She's a great kid," Trump said, laughing, saying he "glances" at her report cards. Trump said he would give Tiffany a future job at the Trump Organization if she had good abilities.