Donald Trump Once Slammed An Opponent For Making "Disgusting" Comments About Mexicans
"He wants to divide Americans," Trump wrote of Buchanan in his book, The America We Deserve.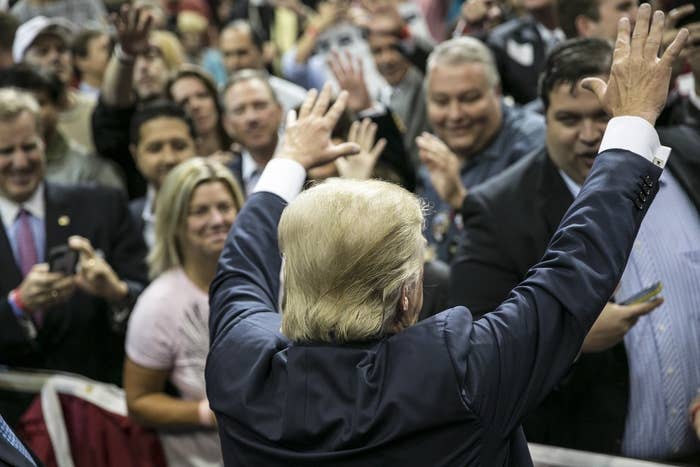 When Donald Trump announced he was running for president in June, he characterized Mexican immigrants crossing the border illegally as rapists and drug smugglers.
The remark was met with criticism from his opponents, but Trump didn't back down and instead only went further. In one radio interview he compared undocumented Mexican immigrants to the "hardcore criminals" Fidel Castro sent to the United States in the early 1980s.
But when Trump was toying with a presidential bid for the Reform Party in the late 90s and early 2000s, he criticized potential opponent Pat Buchanan on at least two occasions for "egregious examples of intolerance," singling out Mexicans (and others) as one of the groups of people Buchanan had disparaged.
"Pat Buchanan has been guilty of many egregious examples of intolerance. He has systematically bashed Blacks, Mexicans, and Gays," wrote Trump in his 2000 campaign book The America We Deserve.
Trump went further in an interview with the The Advocate, calling Pat's writings on Mexicans and other minorities "disgusting."
"I used to like Pat. I was on Crossfire with him," Trump said. "I thought he was a nice guy. Then I read the things he had written about Hitler, Jews, blacks, gays, and Mexicans. I mean, I think it's disgusting. That speech he made at the '92 Republican convention was a disaster. He wants to divide Americans."
BuzzFeed News noted Monday during his flirtation in 1999 with a run for White House as a member of the Reform Party The Donald targeted former-Republican turned Reform Party candidate Pat Buchanan as too controversial to be elected.
Buchanan's platform that year included a number of planks similar to Trump's today: a trade protectionist attitude, anti-illegal immigration, isolationism, and anti-Washington corruption.
Trump's current anti-immigration rhetoric was not-too-different from Buchanan's in 1999.
"It is a disgrace; it is overrun; it's treated with contempt by the Mexican government, by illegals," Buchanan told reporters during one stop on the border that year.
"Exploding crime statistics, swamped social services, and the rise of ethnic militancy tell the sad story," Buchanan's platform on stopping undocumented immigration read.
Take a look at the portion of the The Advocate interview below: