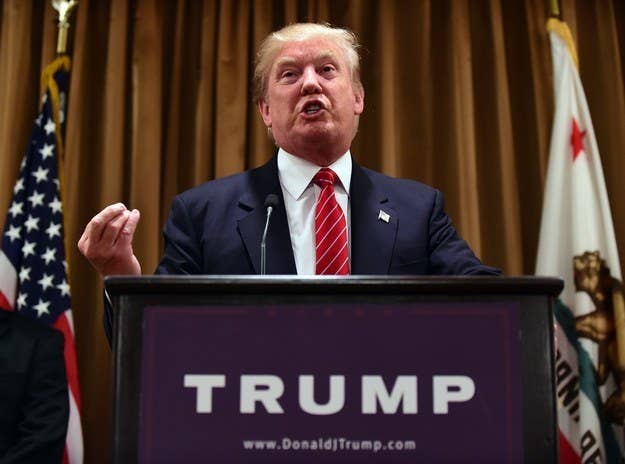 Republican presidential candidate Donald Trump on Saturday said Sen. John McCain, who was captured and held prisoner during the Vietnam War, is "not a war hero."
Speaking at The Family Leadership Summit in Ames, Iowa, the reality star and real estate mogul said the 2008 Republican nominee for president is only considered a war hero by some because he was captured.
Frank Luntz: He is a war hero, a war hero.

Donald Trump: He's not a war hero. He's a war hero because he was captured. I like people that weren't captured — OK, I hate to tell ya. He's a war hero because he was captured, OK? And I believe perhaps he is a war hero, but right now, he said some very bad things about a lot of people.
McCain was captured during the war when his plane was shot down during a combat mission. His torture at the hands of North Vietnam featured repeated savage beatings and rope bindings that left him with limited mobility in his arms.
According to a a 2011 report from ABC News and The Smoking Gun, Trump received several draft deferments in the 1960s and did not serve in the Vietnam War.
From that story:
According to his Selective Service records, first obtained by the website The Smoking Gun through a Freedom of Information Act request, Trump received four student deferments between 1964 and 1968 while in college and an additional medical deferment after graduating.
Republican presidential contenders were quick to jump to McCain's defense:
Mitt Romney, the 2012 Republican nominee for president, said Trump had "shot himself down" with his comments.
The senator's daughter, Meghan McCain, said she was "horrified" by the comments.
Republican National Committee Chief Strategist and Communications Director Sean Spicer also released a statement on Trump's comments:
"Senator McCain is an American hero because he served his country and sacrificed more than most can imagine. Period," Spicer said. "There is no place in our party or our country for comments that disparage those who have served honorably."
In a Facebook post on Saturday afternoon, Trump called McCain an "all talk, no action politician."
Trump on Sunday refused to apologize while appearing on ABC's This Week, saying he got a "standing ovation" at the Family Leadership Council summit and reiterated his attack that McCain hasn't done enough to support veterans.