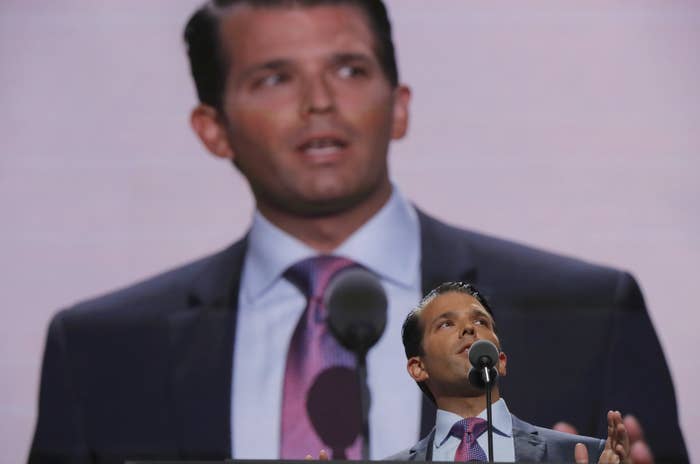 Donald Trump Jr. on Tuesday accused CNN of picking supporters of his father "from the street" and pitting them against liberal professionals on its panels.
Appearing on Sean Hannity's radio program, Trump Jr. said CNN has "a panel of 8 professional, liberal but professional, people on a panel, and they find like one Trump supporter from the street, who has no real political knowledge, and they just happen to be supporter, and they put that person up against 8 people who do this for a living and try to make it seem like that's a fair fight.
"I mean, it's so ridiculous I can't even watch it anymore."
Among CNN's paid pundits advocating for Trump are former Trump campaign manager Corey Lewandowski, former Reagan staffer Jeffrey Lord, radio host Scottie Nell Hughes, and lawyer Kayleigh McEnany.
Trump Jr. added that CNN was getting "crushed" in the ratings because of its political coverage, which Hannity agreed was true. CNN's primetime audience grew by 70% in the second quarter ratings and had the smallest audience gap between it and juggernaut Fox News since 2008.
Trump Jr. and Hannity also criticized CNN anchors Chris Cuomo and Brian Stelter, who have both covered Trump critically.

"I think the worst offender is CNN. I literally watched, there's this –," Hannity said.

"You mean the Clinton News Network," interjected Trump Jr.
"Yeah, the Clinton News Network, they have little pipsqueak, so-called media critic, his show is 'Unreliable Liberal Media Matters Sources' and it's sort of like the Media Matters show," Hannity said. "You've got Brian 'the stenographer' Stelter doing the bidding of Jeff Zucker."
Hannity said he took issue with Stelter not challenging a professor on his show who said demagoguery leads to dictatorship (the professor was actually just reading the Wikipedia definition of the term).
Hannity also said he was upset Stelter criticized him for conspiratorial coverage of Hillary Clinton's health. Hannity falsely claimed Clinton had not released her health records, something she did over a year ago.

Trump Jr. said, "They make it so blatant, when you have, what was it, Chris Cuomo, the other day saying, 'we did everything else we possibly could to help Hillary.' They're saying this stuff on air.
"He's always been very nice to me, but you know, he's terrible to us on the air. And when they're saying 'we've done everything we possibly could to help Hillary Clinton,' I'm saying `'what? what?' They've gotten rid of even the notion that you're supposed to be objective."
The clip of Cuomo took place in 2014, not the "other day," and he was discussing the possibility of Clinton running for president. Cuomo said the media had given Clinton a "free ride" so far in its coverage.