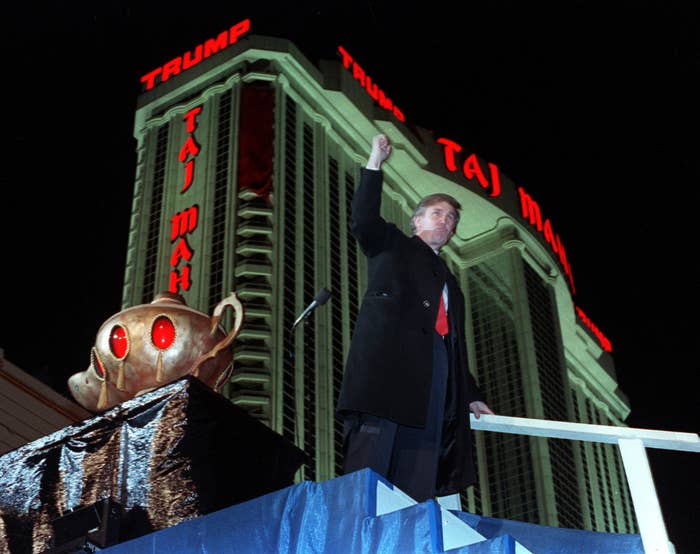 It's a harrowing tale of real estate mogul Donald Trump narrowly escaping death: After meeting with Trump casino executives Stephen Hyde, Mark Grossinger Etess, and Jonathan Benanav, Trump at the last minute decides to not join them on their helicopter ride back to Atlantic City.
Sitting in his office after the meeting on the construction of the Taj Mahal casino in Atlantic City, Trump gets a call from one of his executives' secretaries -- it's an hour and a half later and the executives are nowhere to be found. Trump, not thinking much of it, assumes there's some sort of mix up.
A call comes again, it's the secretary, saying the company that leased the helicopter says it's down. Trump knows that choppers go down all the time for repairs, he's still not fazed, until the next call comes from a reporter.
"Five dead, Mr. Trump. Do you have a comment?" the reporter asks.
The detail of Trump's decision not to go on the flight at the last minute made its way into press accounts and a cover of the NY Daily News. At the time, news accounts attributed the detail of Trump's near-death decision to Trump sources or just stated it as a matter of fact. Even more cited Trump's own spokesman to make the claim.
A UPI wire story cited "sources" to say Trump was scheduled to be on the flight.
"He really doesn't want to talk about it, but he was going to go to Atlantic City and he did change his mind," Dan Klores a Trump spokesman said to the Philadelphia Inquirer in one report.
According to at least three biographies on Trump, however, that detail is a complete fabrication.
"Donald is still sitting in his office commiserating with some of his staff when he gets a call from yet another reporter," reads Harry Hurt's biography of The Donald, Lost Tycoon. "He switches on the speakerphone so that he can hear what the reporter is saying but puts on the mute button so the reporter cannot hear what is being said in the Trump Tower office."
"Mr. Trump, I know this must be horrible for you," the book quotes a reporter on the other line "I know it must be terrible for you to lose your three top casino executives all in the same day. I'm so sorry about what happened...I guess the only thing that could have been worse is if you had been on the helicopter with them."
Trump, according to the book, then looked at one of his vice presidents and said he needed to get publicity out of the incident.
"You're going to hate me for this," Trump is alleged to have said. "But I just can't resist. I can get some publicity out of this."
"Then Donald releases the mute button on his speakerphone and informs the reporter, 'You know, I was going to go with them on that helicopter…' Donald goes on to confide that for some unexplained reason he changed his mind and decided not to go," the book reads.
"The next morning Donald's 'revelation' will appear in a caption on the front page of the New York Daily News beneath photographs of the three dead men: 'Trump decided not to go at the last minute," Hurt writes.
The book cites "a half a dozen bona fide sources close to Trump" to call the claim a "barefaced lie." According to the book, Trump had a meeting that afternoon and couldn't have been on the flight.
Hurt's claim is backed up in investigative reporter Wayne Barrett's book The Deals And The Downfall.
"Donald seemed to be personally traumatized by the disaster - saying publicly that it 'cheapened life' for him, showing him just how fragile everything was," Barrett's biography reads, another claim that is backed up by Hurt.
The book points out that Trump trusted only his personal helicopter for transportation.
"His attitude toward the tragedy shifted, though, from moments when it seemed to move him deeply to times when he did not hesitate to use it for personal advantage," reads the book "He planted stories suggesting that he had almost boarded the chartered copter himself, though he'd never ridden to Atlantic City on one, trusting only his Puma."
Another account, a tell-all book written by former Trump Plaza Hotel & Casino president John R. O'Donnell in the 1990s, makes the same claim.
Even at the time, Trump's tale was disputed by members of his own company.
"Trump had definitely never planned to be on it," said Bernie Dillion, the vice president of Trump Sports and Entertainment to the Associated Press at the time.
In his book Surviving at the Top, released a year later, Trump characterized his plans to get on the helicopter and his decision ultimately not to as a passing thought.
"Then Steve, who was one of the hardest-working guys I ever met, said, 'Donald, we've got to run now. We've got to catch a helicopter,'" Trump writes in his book.
"I very casually look up and said, 'I'll see you guys over the weekend,'" he continues.
"For an instant, as they were walking out, I thought of going with them. I fly down to Atlantic City at least once a week, and I knew that if I made the forty-five minute helicopter trip then, we could continue talking business on the way. But there was just too much to do in the office that day. As quickly as the idea had popped into my mind, I decided not to go. Instead I just said good-bye and went back to reading reports and making phone calls."
A Trump campaign spokeswoman didn't return a request for comment.