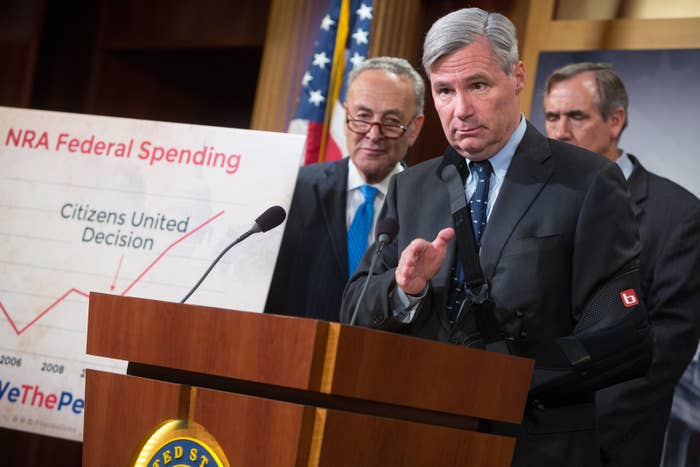 Sen. Sheldon Whitehouse, a Democrat from Rhode Island, said he thinks Hillary Clinton would possibly win the support of a majority of Republican senators in a secret ballot.
"From a Senate perspective, in a secret ballot, Hillary gets a lot of votes out of the Republican caucus. Potentially she even commands a majority of the Republican caucus in a secret ballot because people really do respect her," said Whitehouse.
"I can remember sitting down in the secure facility in the basement of the Capitol getting a briefing from her on a highly classified matter and a bunch of Republican senators were sitting in front of me," he continued. "Two of them, her very prominent antagonists in this election, and one looked over at the other and said 'boy, she's good.' The other one leaned back and said, 'yeah, she's really good.' And that's the Hillary that they know. Not the talking points Hillary or the caricature, but the real person."
The senator said after the election, Clinton would have a strong relationship with Republicans on Capitol Hill.
"I think that means that once the back-and-forth and the nonsense and the election is over, she has a very strong base of credibility, good will, confidence, and relationships to go to, particularly in the Senate," Whitehouse said. "Donald Trump, on the other hand, has such temperamental problems that it's hard to see how he would work with us. But he's also so badly damaged people who have tried to help him. Look at what he did to poor Chris Christie who tried to be his friend and is now almost a national laughingstock as a result of what he's done to him...Ted Cruz and him were all buds and next thing you know it's lying Ted and he's accusing Ted's dad of having something to do with he Kennedy assassination."
"His record is poisonous in terms of being somebody who you would ever want to put yourself out to take any kind of a political chance on because he turns on everybody at the first opportunity. With Donald Trump, it's all about only one thing and that is Donald Trump."