Democratic Congressman Removes Statements On Bergdahl
As a backlash grows, members of Congress walk back and remove initial statements on Bergdahl.
Democratic Rep. Stephen Lynch of Massachusetts appears to have deleted several statements on Sgt. Bowe Bergdahl from his various social media accounts.
His deleted tweets were caught by the website Politiwoops, a product of the Sunlight Foundation that tracks deleted tweets from members of Congress.

The link also appeared on Lynch's Facebook page but has since been removed.

Republicans and others have criticized the deal in which five Taliban captives were traded for Bergdahl saying it sets a precedent for the exchange of prisoners of war in the future. Several former servicemembers who served with Bergdahl in Afghanistan have also accused him of desertion.
The Obama administration's failure to inform Congress 30 days in advance of any prisoners being released has also caused significant backlash from members of Congress.
On Monday, BuzzFeed reported that Nebraska Republican Rep. Lee Terry deleted from his website and Facebook a statement praising former American prisoner of war Sgt. Bowe Bergdahl.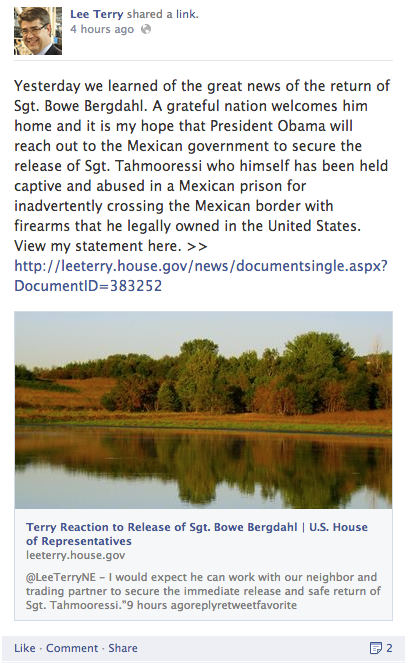 Joni Ernest, the Republican nominee for Senate in Iowa, also deleted a tweet offering "thoughts and prayers for Bergdahl's family."