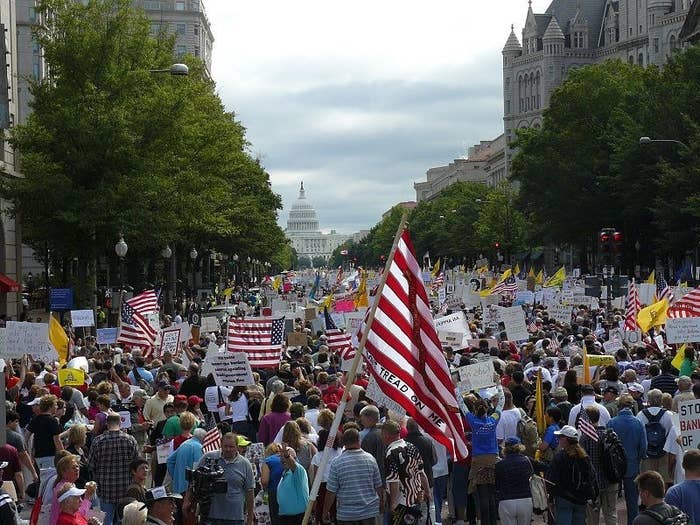 North Carolina Democratic Rep. G.K. Butterfield said the Capitol Police told him and Georgia Rep. John Lewis during the 2009 Tea Party protests that their lives "could be in danger" if they walked out through the crowd protesting the debate over the Affordable Care Act.
Butterfield was speaking at the Durham County Library, where they were kicking off the Durham Reads Together 2014 with a march led by Reps. Lewis, Butterfield, and David Price.
"Do you remember when Obamacare and the Affordable Care Act was being debated and we all thought it was going to pass rather easily, and we went home for the August recess to find the Tea Party waiting for us at home and they organized by the tens of thousands and they were well-financed and well-organized," Butterfield said at the event.
Butterfield said Capitol Police instructed him and Lewis their lives "could be in danger" if they chose to walk through the protests back to their offices.
"The Tea Party organized and they came to Washington and walked out on the balcony of the Capitol and we could see nothing but thousands of Tea Party protesters standing and waiting for us to walk off of the House floor," Butterfield said. "The Capitol Police walked up to us and said, 'Congressmen, don't go outside, your lives could be in danger. I want you to go down the steps and into the tunnel and back over to your office buildings.'"
Butterfield then pointed to Lewis, and said Lewis and him both wanted to walk through the protests.
"And this man, against the advice of his chief of staff and my chief of staff, with those who served in Congress and came out of the struggle, we understand. We said let's do it and we walked right through the Tea Party. Walked back to our office."
Here's the video: