Defense Secretary Orders Security Review: "Our People Deserve Safe And Secure Workplaces"
"Where there are failures, we will correct them. We owe the victims, their families, and all of our people nothing less."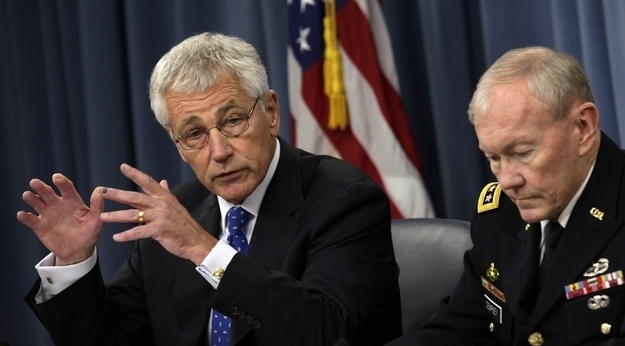 Department of Defense Secretary Chuck Hagel is ordering a review of security at military installations in the wake of Monday's deadly shooting at the Washington Navy Yard that killed 12 people. Hagel, speaking at the Pentagon Wednesday, said the military owed the victims of the shooting and their families "nothing less."
"Yesterday I directed two department-wide reviews. These reviews will be lead by Deputy Secretary Ash Carter, and we will do everything possible to prevent this from happening again," Hagel said.
"First I directed a review of physical security and access procedures at all DOD (Department of Defense) installations worldwide. The highest responsibilities leaders have is to take care of their people, and our people deserve safe and secure workplaces, wherever they are," Hagel continued. "Second, Deputy Secretary Carter will also lead a review of DOD's practices and procedures for granting and reviewing security clearances, including those by contractors. This review will be closely coordinated with other federal agencies currently examining these procedures."
Hagel said that an independent panel would be established to also conduct its own review of security at Department of Defense facilities and provide him with the findings.
"I have also directed that an independent panel be established," Hagel said. "This independent panel will conduct its own assessment of security at DOD facilities and our security clearance procedures and practices. The panel's work will strengthen Secretary Carter's efforts and they will provide their findings directly to me. The Department of Defense will carefully examine their assessments, conclusions and recommendations of these reviews, and we will effectively implement them. As you know, the navy is also conducting its own review, and those results will feed into the broader DOD review worldwide."
Hagel said that the Department of Defense owed such a review to the victims of Monday's tragedy.
"Where there are gaps, we will close them. Where there are inadequacies, we will address them, and where there are failures, we will correct them. We owe the victims, their families, and all of our people nothing less."