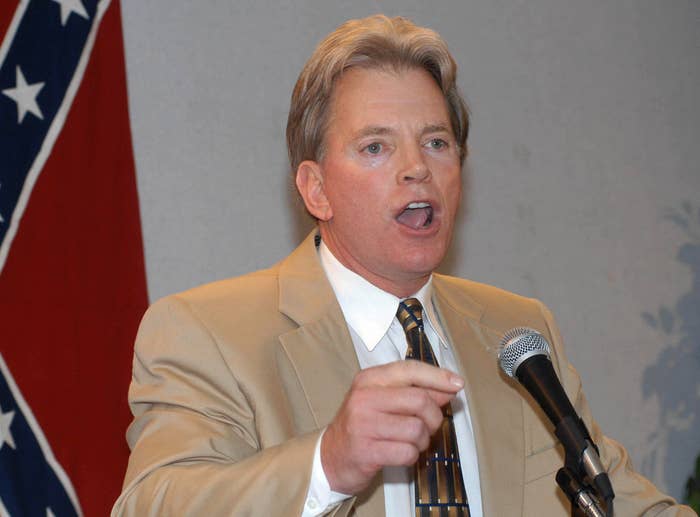 David Duke, a former grand wizard of the Ku Klux Klan and self-described "racial realist," says Donald Trump is the best Republican candidate for president because he "understands the real sentiment of America."
Duke, who unsuccessfully ran for president as a Democrat in 1988 and later served in the Louisiana House of Representatives, noted Trump's experience as a salesman and his "great sense" of what people want to buy.
"I praise the fact that he's come out on the immigration issue. I'm beginning to get the idea that he's a good salesman. That he's an entrepreneur and he has a good sense of what people want to hear what they want to buy," said Duke on his radio program last week after noting that he had previously been critical of Trump's run.
"And I think he realizes that his path to popularity toward power in the Republican Party is talking about the immigration issue. And he has really said some incredibly great things recently. So whatever his motivation, I don't give a damn. I really like the fact that he's speaking out on this greatest immediate threat to the American people."
Later in his show, Duke said his view on Trump was evolving.
"I've said from the beginning I think his campaign is good in the sense that it's bringing these issues to a discussion which we have to have in America. And he's continuing to move the envelope further and I think he understands the real sentiment of America."
Duke, who said he wasn't sure if Trump's proposals are sincere or are just a means to getting the nomination, spoke favorably of Trump's policy calling for mass deportation of undocumented immigrants, saying it was the government's role.
After going on a rant about "Jewish domination" of the media, Duke said Trump is saying things few other Republicans say about immigration
"Trump, he's really going all out. He's saying what no other Republicans have said, few conservatives say. And he's also gone to point where he says it's not just illegal immigration, it's legal immigration," Duke said, adding Trump has also talked about companies are taking advantage of the H1B visa program. Duke added that he felt the big technology companies were headed by "Zios."
Duke said The Donald, while untrustworthy, was "the best of the lot" running.
"So this is a great opportunity," Duke said. "So although we can't trust him to do what he says, the other Republican candidates won't even say what he says. So he's certainly the best of the lot. And he's certainly somebody that we should get behind in terms, ya know, raising the image of this thing."