Colorado Congressman Office Says He Was List Building Not Fundraising Off Of VA Problems
"Will you stand with me to hold the VA accountable to its vast mismanagement and disservice to our veterans," reads Rep. Mike Coffman's page, before prompting you to donate to his campaign. The fundraising page has since been removed.
Rep. Mike Coffman, a Colorado Republican, appears to be fundraising off of the recent scandals that have plagued Veterans Affairs hospitals around the country. A spokesman for Coffman vehemently denied it was a fundraising page, saying it was en effort to build the Congressman's email list in support of reforming the Veterans Affairs administration.
The VA, which has dealt with issues of poor care and mismanagement for decades, was thrust into the spotlight last year when reports surfaced that at least 40 veterans had died waiting for their appointments with the Phoenix Veterans Affairs health care system. Reports of similar abuses at other VA hospitals emerged soon after.
A search of Coffman's name brings up a site which leads to a page about the scandal where you can enter your email and donate.
A spokesman for Coffman sent a lengthy statement after the story was put online saying it was "petition page" and "not a fundraising page." The spokesman said all of Coffman's "subdomains" forwarded to the page to fundraise.
Mike Coffman, a Marine Corps combat veteran and the only Member of Congress to serve in both Iraq wars, has been praised in near-universal, bipartisan fashion for his record of leadership on veteran's issues. Of course the left wing flacks over on Maryland Ave. who are pitching this story don't want Mike to talk about his leadership on the campaign trail. The brass over at the VA is kind of hoping Mike shuts up about it too. But let me break the bad news to both - Mike Coffman is going to keep pounding away on the VA's corruption, whether he is at work in Washington, or whether he is campaigning in Colorado, whether he is driving on Floyd Hill, or running on his tread mill. And the VA page is a petition page, not a fundraising page. Sleazy attacks don't work on Mike Coffman, people. They just don't.
"The outrageous mismanagement of the Colorado VA Hospital in Aurora is just one example of how the VA is failing our veterans and placing their basic needs at risk," reads the page on Coffman's site linked from the Google ad. "For more than a decade, Colorado's veterans have been promised the state-of-the-art healthcare the hospital will provide – and yet it still sits unfinished and massively over-budget."
The National Republican Congressional Committee slammed Democratic Rep. Kyrsten Sinema for fundraising off of the VA scandal in the last election.
Coffman's been one of the loudest critics of Veterans Affairs in Congress and his work to fix the problems with the agency earned him praise from the Denver Post last year. There is speculation that Coffman might run for Senate in 2016, although he has said he is focused on his House seat.
The Aurora, Colorado hospital mentioned by Coffman is currently being built and has been plagued by cost overruns.
Googling Coffman's name brings up the ads: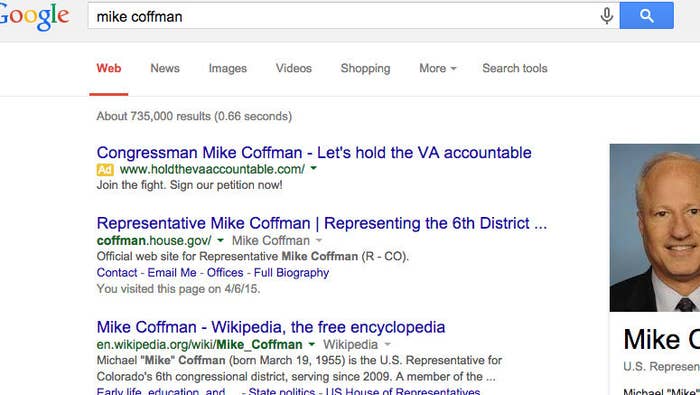 The website: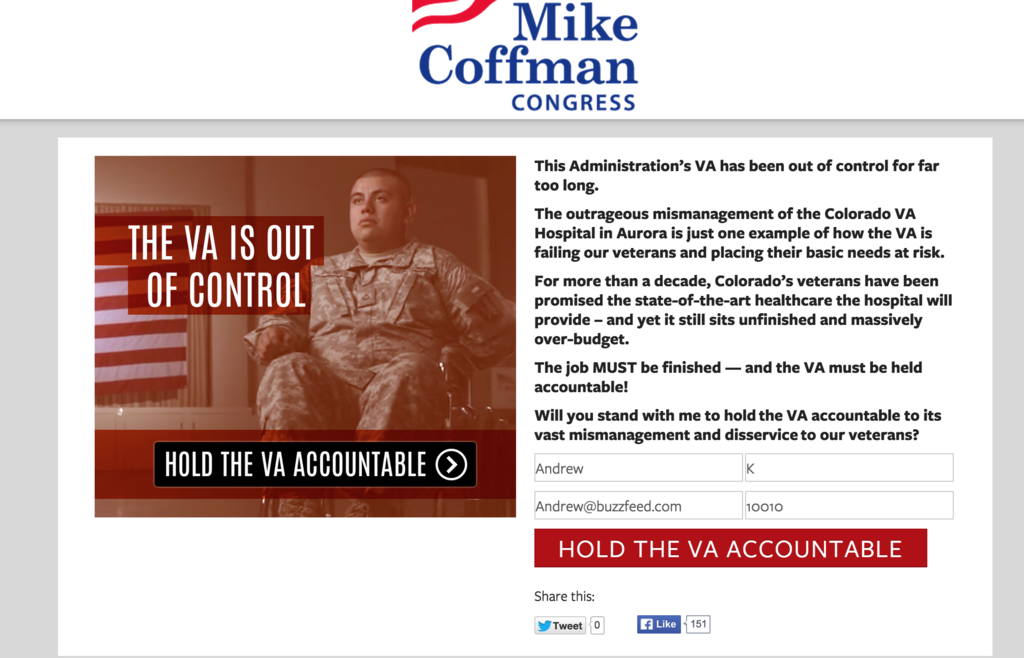 Entering your information takes you to his page to donate: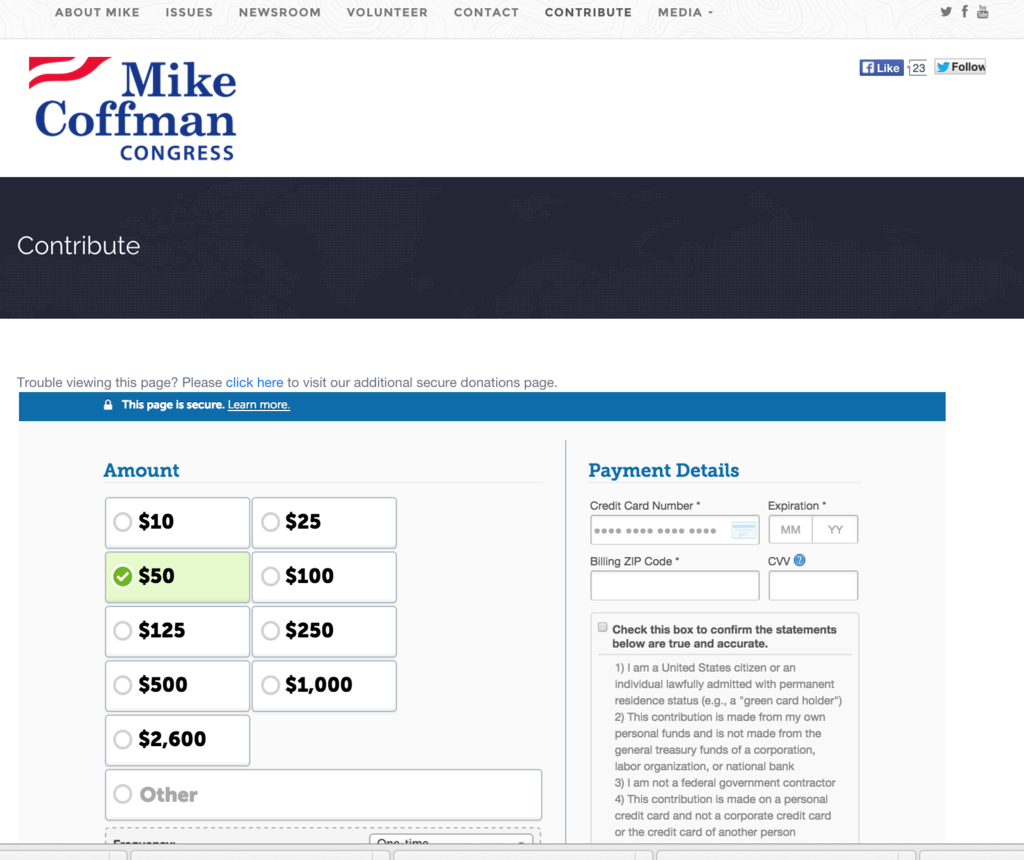 Update: The donation page has been removed: