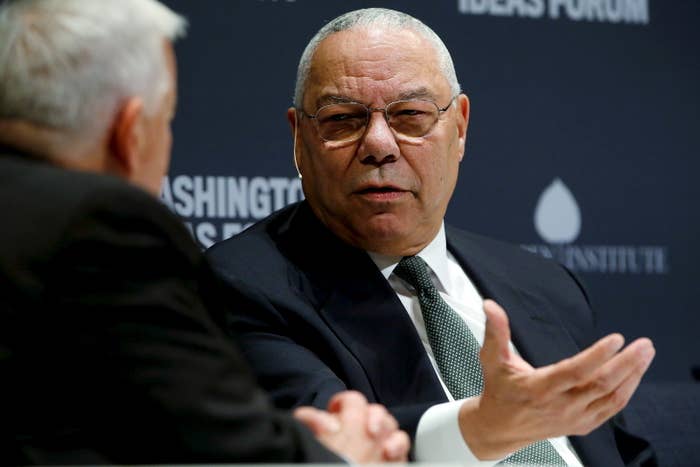 Former Secretary of State Colin Powell was extremely frustrated both publicly and privately about Hillary Clinton's "minions" trying "to drag me in" to her email controversies, according to his personal emails seen by BuzzFeed News.
In his frustration with the Hillary campaign, Powell lashed out at Clinton's camp to Vernon Jordan, a longtime Democratic adviser.
"I have told Hilleary's [sic] minions repeatedly that they are making a mistake trying to drag me in, yet they still try.. The media isn't fooled and she is getting crucified," Powell wrote in May.
"The differences are profound and they know it."
What exactly Powell told Clinton about his use of email while he was secretary of state became a point of reporting this summer.

In an August 2016 email with NBC News reporter Andrea Mitchell, Powell said he wrote a memo to Clinton "describing what he did at the department."
"I told her how I was using my personal computer for [unclassified] emails. I said nothing about servers, basements, domains, Clinton foundation, government employees," Powell wrote, reiterating that this information was not new, and was detailed in his latest book.
"The Clintonistas have been trying for months to connect our usage," Powell added.
The website DCLeaks.com — which has reported, but not confirmed, ties to Russian intelligence services — obtained Powell's emails. It may be the latest example of a Russian entity potentially trying to influence the US presidential election — in July, the FBI said it believed Russia was behind the hack of the Democratic National Committee's internal emails right before they party's convention.
Powell told BuzzFeed News he had no comment.
In late August 2016, he wrote that he "spent last week with [Clinton confidante] Cheryl Mills and the HRC team burying the email flap," the retired four-star general wrote to a California official. "Sad thing it that HRC could have killed this two years ago by merely telling everyone honestly what she had done and not tie me into it. I told her staff three times not to try that gambit. I had to throw a mini tantrum at a Hampton's party to get their attention. She keeps tripping into these 'character' minefields."
The New York Times reported in August that Clinton told FBI agents that Powell told her to use personal email while in office. Over the past year, her campaign has noted repeatedly in public that he also used personal email. According to the FBI documents later released, Clinton told agents that Powell's instructions to her about her email did not factor into how she used email while secretary.
House Democrats subsequently released an email Powell sent Clinton in 2009, after she asked for information on how to use a Blackberry at the State Department. In his response, Powell tells Clinton that he did not use a Blackberry, and instead used a computer with his personal account — his email did not go "through State Department servers."
"However, there is a real danger. If it is public that you have a BlackBerry and it it (sic) government and you are using it, government or not, to do business, it may become an official record and subject to the law," Powell wrote. "Reading about the President's BB rules this morning, it sounds like it won't be as useful as it used to be. Be very careful. I got around it all by not saying much and not using systems that captured the data."
Recently, in an August 2016 email, Powell wrote to a reporter with Thompson Reuters that he, unlike Clinton, used a "public server, AOL, not my own servers and domain."
He reiterated that he wrote about his use of email in his book, and briefed the "State IG, IC IG an the FBI," and that "everyone in the department knew about it and were overjoyed."
That same month, in another email, Powell wrote that he tried to warn "[Clinton's] people three times. I will send an even tougher counterattack from a Trump media friend."
And in August, in an email with the subject line "Re: CLINTON IN HIDING: 259 DAYS SINCE LAST PRESS CONFERENCE," Powell compliments a New York Times article that said Clinton "was using private email before that dinner or the memo I sent her." The dinner is in reference to a reported 2009 dinner party attended by former Secretaries of States Powell, Clinton, and Condoleezza Rice, where Powell allegedly suggested that Clinton use a personal email account. Both Powell and Rice have repeatedly said that have no recollection of the dinner.
In another email with a journalist in July of 2016, in response to his allegedly using his home computer as secretary of state, Powell said that he brought the State Department "into the 21st Century" by replacing an "out of date" and "not functioning information system."
"I set about fixing. Fixed the pipes, bought everyone a computer (44,000.) I then went on line with my AOL account on a phone line to talk to my folks as well as some foreign officials. All unclassified," Powell wrote.
Powell goes on to write that he used a "State Computer" for "classified messaging."
"When I left I took no emails or records with me. No private servers in the basement, etc. No secrets----everyone in the Department knew what we were doing. No one ever said 'bad boy,'" Powell wrote.
Prior to the back and forth this summer, Clinton allies had often noted that Powell used a personal account during his tenure as secretary.
Powell, in another email from February 2016, reiterated that he didn't "tell Hillary to have a private server at home, connected to the Clinton Foundation, two contractors, took away 60,000 emails, has her own domain."