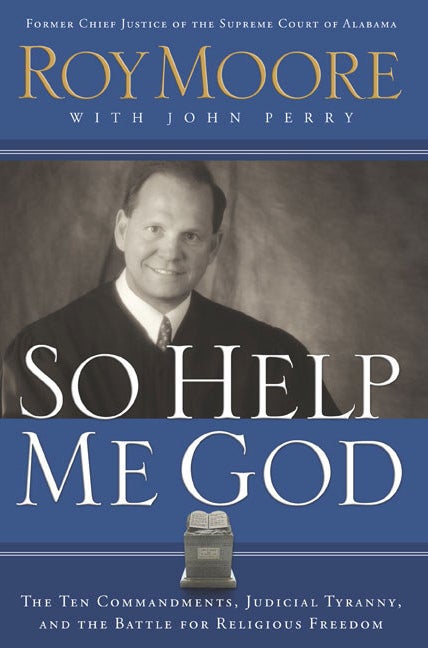 John Perry, a prolific author who co-wrote two books with former Arkansas governor and presidential candidate Mike Huckabee and co-wrote one with Alabama Supreme Court Justice Roy Moore, was accused of child molestation in two separate lawsuits, BuzzFeed News has found.
A 2012 police investigation of Perry's alleged offenses found that "the allegations of sexual battery were sustained" but that the statute of limitations had expired.
Perry co-wrote Do the Right Thing: Inside the Movement That's Bringing Common Sense Back to America about Huckabee's 2008 presidential campaign. He also did research and writing for Huckabee's 2007 book Character Is the Issue, a memoir of his early time as governor. Perry also co-wrote So Help Me God, Moore's autobiographical account of fighting to keep a monument to the Ten Commandments at Alabama's Supreme Court.
Those books are just a few of the titles produced with Perry's help: He wrote For Faith & Family: Changing America by Strengthening the Family with Richard Land, the president of Southern Evangelical Seminary, a book with former Southern Baptist Convention president James T. Draper, as well as a book with Frank Page, the president and CEO of the Southern Baptist Convention Executive Committee. Perry even co-authored The Vow, the book made into a feature film starring Rachel McAdams and Channing Tatum. Perry also lists writing two books for prominent pastor John F. MacArthur on his website.
In a sworn affidavit submitted during divorce proceedings, Perry's ex-wife attests that she "filed for divorce as a result of Mr. Perry's inappropriate marital conduct, to which he admitted to in his Response to Interrogatories numbers 1 and 2." Throughout the court documents, "inappropriate marital conduct" appears to be a euphemism for the alleged molestation.
Perry's responses are not included in the case file.
Another filing, submitted by Perry's ex-wife's attorney earlier in the same proceedings, refers to Perry's "admitted sexual abuse" of a minor child. Perry's response to that filing — also submitted prior to his ex-wife's affidavit — does not deny the abuse, or that Perry admitted it. Instead, Perry claims that "there was never any testimony or other evidence of any kind presented" to the court, "or any orders or findings of fact [...] regarding any alleged sexual abuse of any minor child relative to the parties' divorce or any other legal proceeding."
This claim is not, however, necessarily incompatible with Perry's ex-wife's claim that Perry "admitted to" the alleged "inappropriate marital conduct" during the discovery process, because it appears that those findings were not technically "presented" to the court.
Likewise, a police investigation launched in 2012 found the allegations against Perry "were sustained," according to a police department spokesperson, but that statute of limitations had passed.
"The alleged sexual battery was reported to have occurred when the victim was between the ages of 11 and 14," said Nashville police department spokesperson Don Aaron in a statement to BuzzFeed News.
"As a result of the investigation, the allegations of sexual battery were sustained, but it was determined that the statute of limitations had tolled, barring prosecution. The victim was age 18 when she first disclosed the allegations to non-law enforcement and said at that time she did not want the matter reported to the Tennessee Department of Children's Services or the police."
In a second series of lawsuits brought in a county court in Tennessee, and related to the same alleged acts of child molestation, Austin Davis, a former parishioner of Covenant Presbyterian Church in Nashville, claims that the church covered up Perry's alleged acts of child molestation and launched a campaign to silence and harass Davis.
Inquiries to Covenant Presbyterian were forwarded to their attorney. Autumn Gentry, a lawyer for Covenant Presbyterian, told BuzzFeed News they can't comment on ongoing litigation.
The individual Perry allegedly molested told BuzzFeed News that she believed that the church reacted appropriately, and did not cover up Perry's alleged offense. Perry has not returned multiple requests for comment from BuzzFeed News.
In an affidavit submitted as part of his case, Austin Davis claims the accuser told him that she had been molested between the ages of 11 and 13.
In Davis's court case, he presents what he alleges are minutes from Covenant Presbyterian Church meetings that show Perry resigning from the church's diaconate in 2008, and minutes from 2010 showing Perry was excommunicated from the church because he "has confessed to committing heinous and repetitive sin [...] and has not shown evidence of repentance." The minutes appear to have been introduced as evidence in one of Davis' lawsuits against the church. The church does not appear to have objected to the introduction of the minutes or contested their authenticity.
BuzzFeed News spoke to a longtime church member, who said he had obtained the minutes for Davis and vouched for their authenticity. The minutes are accessible to any church member. The individual Perry allegedly molested also told BuzzFeed News that Perry was excommunicated from the church as a consequence of the alleged abuse.
Catherine Davis, the wife of Austin Davis, likewise wrote in a sworn affidavit that during the summer of 2012, she spoke to the accuser, who confirmed the abuse occurred numerous times when the individual was a minor. Davis said the accuser told her that she broke her silence in 2007 and began telling friends, family members, church leaders, and school officials about what had allegedly occurred.
Spokespeople for Huckabee did not return a request for comment.
Megan Apper and Christopher Massie contributed reporting.
Thank you for getting in touch. I haven't read the article but have heard about it.

I don't have anything to say for the record, but will tell you that the person behind it has been pursuing a vendetta against his former church for years and this story is one of the means he has used. Having failed there, he has evidently turned his attention elsewhere.

I will also tell you that whatever private difficulties there may have been, the parties involved were reconciled and restored years ago, for which I thank God every day.