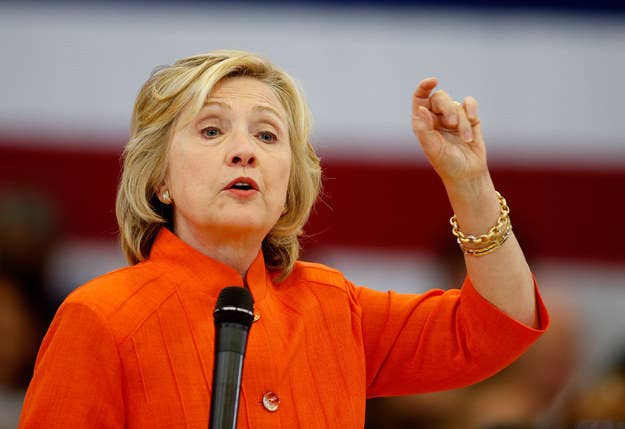 At a town hall in Las Vegas on Tuesday, Hillary Clinton told the audience that her father, Hugh Rodham, attended college on a football scholarship -- a claim that is contradicted by the school's records.
"You know I'm the granddaughter of a factory worker from Scranton, Pennsylvania," Clinton said. "My grandfather worked in the lace mills in Scranton. He worked really hard from the time he was a teenager till he retired in '65. He always believed his hard work would pay off, and it would pay off for his kids. So my dad got to go to college, it was on a football scholarship, but he still got to go to college."
Rodham did earn a letter and play football at Penn State, but as Carl Bernstein reported in his 2007 biography of Clinton, the school did not award football scholarships during Rodham's time there. (Hugh Rodham, Bernstein also reported, had a history of exaggeration.)
"Hugh Rodham was not on a football scholarship," Jeff Nelson, an associate athletic director at the school told BuzzFeed News. "Penn State ended scholarships with the incoming freshman class of 1928 and did not resume scholarships until the incoming freshman class of 1949. Mr. Rodham earned a letter in 1934."
Penn State removed scholarships after a Carnegie Foundation report said that subsidizing student athletes was "the darkest blot upon American college sport."
Clinton has mentioned her father's football scholarship in the past, including in a campaign speech during her first presidential run.
"I remember, how homesick and lonely I was when I went to college. My mother had never gone to college," Clinton said in a New Hampshire speech in 2007. "My father went to college on a football scholarship, so that didn't exactly relate to my experience."
Dozens of mainstream media outlets such as the New York Times, LA Times, Associated Press, and numerous biographies also have presented the claim as fact over the course of the Clinton's time in public life.
A Clinton spokesman responded last evening with for a comment request with, "not ignoring you. Give us a few." They did not respond to follow up comment requests.