Claire McCaskill: Bernie Doing "A Great Service" But Not Electable "In This Country"
Bern, baby, Bern.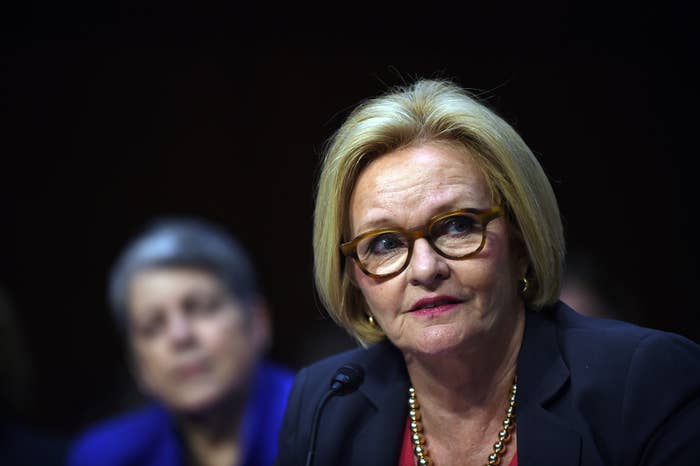 Missouri Democratic Sen. Clair McCaskill, a supporter of Hillary Clinton's presidential campaign, says Vermont Sen. Bernie Sanders is not electable in this country because he identifies as a socialist.
"I mean, Barack Obama has been called a socialist since the day he came into office, and he's no socialist," McCaskill said Tuesday on WHYY public radio. "But Bernie wears that label, and I'm – you know, Bernie's my friend, and his wife Jane is my friend, and he believes very much in what he's saying, and he is talking about things were need to be talking about. He is doing my party and our country a great service, by making the dialogue about things that really matter to a whole lot of Democrats and Americans.
"So I'm not down on Bernie. I just don't think somebody who calls himself a socialist is ultimately electable in this country – and I say that coming from a state where I'm confident Bernie would struggle because of how he identifies himself."
McCaskill said she took heat from "those who feel the Bern" after a interview in July on Morning Joe in which she said Bernie Sanders was "too liberal" to be president but struggled to identify areas in which Sanders was outside of step with the Democratic Party.
McCaskill, who endorsed Barack Obama over Hillary Clinton early in the 2008 contest, is now a surrogate and prominent supporter of Clinton's bid for the White House.
"No, I mean, it's really interesting — I got a lot of heat from those who feel the Bern over that interview," McCaskill said to WHYY public radio in an interview. "I was the first person to kind of say out loud — not, I wasn't labeling Bernie Sanders. That's how he labels himself. In fact, just Sunday he was asked on Meet the Press, this past Sunday: 'Are you a capitalist?' And he said 'no — I am a democratic socialist.' So, that's how identifies himself, as a socialist. That's not something that anyone has put on him."
The Missouri senator further question why Sanders was allowed to run as a Democrat.
"He doesn't call himself a capitalist, and he certainly doesn't call himself a Democrat," said McCaskill.
Still, she conceded Sanders had pushed Clinton to left on certain issues.
"I think that's a fair opinion," she said. "I wouldn't quarrel with the basis of that opinion. I think if you look at Hillary Clinton's record, she voted for trade agreements, and she voted against trade agreements. She publicly was skeptical of NAFTA. In her book that she wrote, she talks about the investor state provisions in the TPP with concern. And when she said good things about the TPP is when she was secretary of State in an administration that wanted to get a TPP done. So this notion that she doesn't have the right to independently analyze the TPP in its final form – at the time she said good things about it, we were a long way from having a negotiated deal.
"The notion that she can't, at this point, make an independent analysis of it I think is terribly unfair to her, and to make her unprincipled or weak because she has, I don't think is fair. But certainly I think Bernie has kept the heat on, in terms of some of the positions that he feels strongly about, and that's not a bad thing. That's not a bad thing. I think she ultimately will be a stronger candidate because of his candidacy."