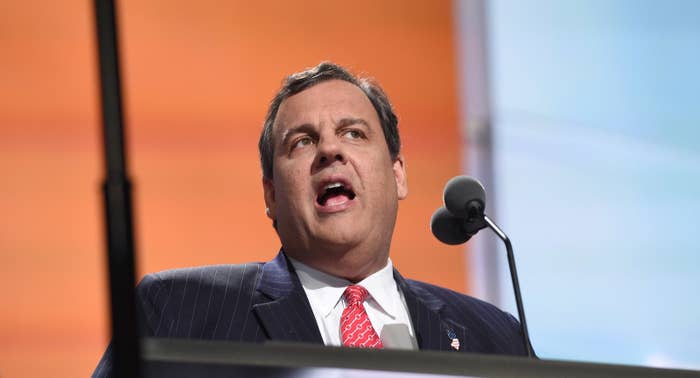 New Jersey Gov. Chris Christie, a prominent Donald Trump adviser, said on Wednesday that Hillary Clinton's comments saying we need to "tackle systemic racism," while discussing the police shooting of Terence Crutcher were "a disgrace."

"She's a disgrace. She's a disgrace and those comments are a disgrace," the New Jersey governor said on the Laura Ingraham Show on Wednesday. "It's typical of Hillary Clinton. She knows nothing but the mouth never stops. And, the fact is she has no idea what happened in North Carolina. The same way, as you very aptly pointed out Laura, people jumped to conclusions in Ferguson which caused riot cautions in Ferguson, because of politicians dumping gasoline on a fire."
On Monday, video was released that showed police officers in Tulsa, Oklahoma, fatally shooting an unarmed black man outside his car.
"And the fact is that she has no experience in law enforcement except for being interviewed by them," continued Christie. "She has no background or experience on how to deal with these issues and it is just a disgrace. I had not heard her comments until you just played them. And I'm just appalled and as someone who spent seven years in law enforcement she's exactly the kind of politician that law enforcement loathes, loathes her. Because, she jumps to conclusion for political gain and doesn't care what careers or lives she ruins in the process."

On the radio on Tuesday, Clinton said we need to tackle systemic racism in the police system and called for improving policing.
"And we've got to tackle systemic racism – this horrible shooting again," Clinton said. "How many times do we have to see this in our country? In Tulsa, an unarmed man with his hands in the air? I mean, this is just unbearable, and it needs to be intolerable. And so maybe I can, by speaking directly to white people, say, look, this is not who we are."
"We've got to do everything possible to improve policing, to go right at implicit bias. There are good, honorable, cool-headed police officers," she continued. "We have seen them in action in New York over the last 48 hours because of the terrorist attacks. We can do better. We have got to rein in what is absolutely inexplicable. And we have got to have law enforcement respect communities and communities respect law enforcement because they have to work together."