Christie Ally Was Told On Day One Lane Closures Were Causing Slow EMS Reponses
The scandal grows.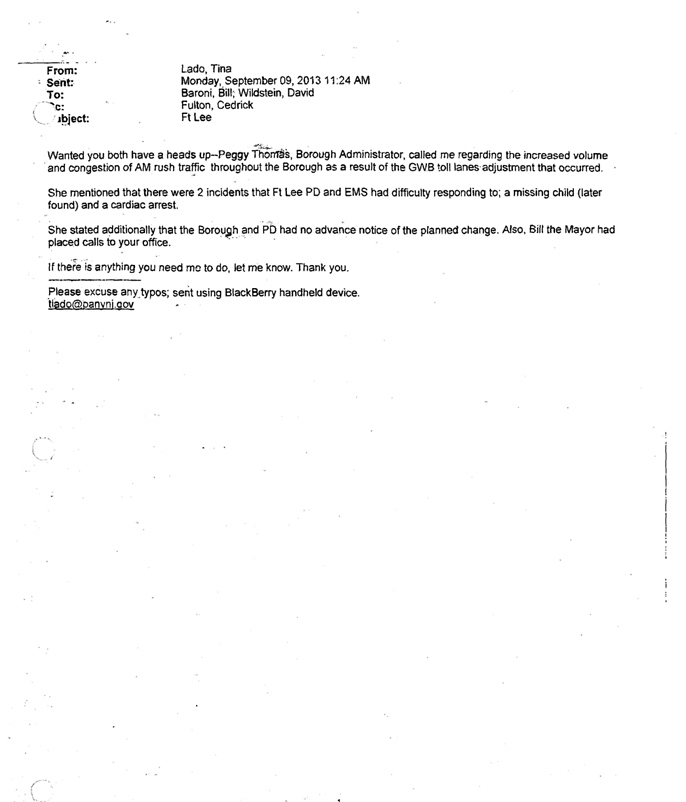 New Jersey Governor Chris Christie's top ally at the Port Authority appears to have known on the first day that politically-motivated lane closures on the George Washington Bridge were causing slow responses from emergency medical services.
In an email that was included in the more than 900 pages of documents made public Friday by the New Jersey Legislature, Port Authority official David Wildstein was told on Sept. 9 that EMS experienced delays responding to a missing child and a elderly woman who was in cardiac arrest. The lane closures lasted until Sept. 13.
The woman later died, the child was found.
"Wanted you both have a heads up--Peggy Thomas, Borough Administrator called me regarding the increased volume and congestion of AM rush traffic throughout the Borough as a result of the GWB toll lanes adjustment that occurred," Tina Lado, director of government and community relations at the Port Authority wrote Bill Baroni, another official implicated in the scandal and Wildstein. "She mentioned that there were two incidents that Ft Lee PD and EMS had difficulty responding to; a missing child (later found) and a cardiac arrest."
Emails disclosed Thursday implicated Wildstein, and a former top aide to Christie in the scandal.
"Time for some traffic problems in Fort Lee," one of Christie's deputy chiefs of staff Bridget Anne Kelly wrote to Wildstein in August. "Got it," Wildstein replied to her.
Three weeks later the unexpected closure of lanes on the George Washington Bridge between Fort Lee, New Jersey, and New York City occurred.
On Thursday, Christie said reports that a 91-year-old woman may have died due to an EMS delay caused by traffic on the George Washington Bridge were "awful."
"It's awful … now I've also seen conflicting reports of cause of death or whatever, but it doesn't matter. It's awful to hear," Christie said. "Listen, all I can do is apologize for the conduct of the people who worked for me. I can't do anything else. I can't reverse time. If I could, believe me, I would. But i'm just going to apologize. I think that's all you can do, and there's really nothing else you can do."
According to a report in The Record, it took EMS seven minutes to reach an unconscious 91-year-old woman who would later die of cardiac arrest at a hospital. An EMS coordinator could not, however, say the death was directly caused by the delays.