Chris McDaniel Posts "#Who'sYaDaddy" Meme Attacking Thad Cochran's Daughter
The Mississippi primary!
Chris McDaniel posted this meme on his Facebook page Sunday night, attacking the daughter of his primary opponent, Sen. Thad Cochran. It featured the hashtag "#Who'sYaDaddy."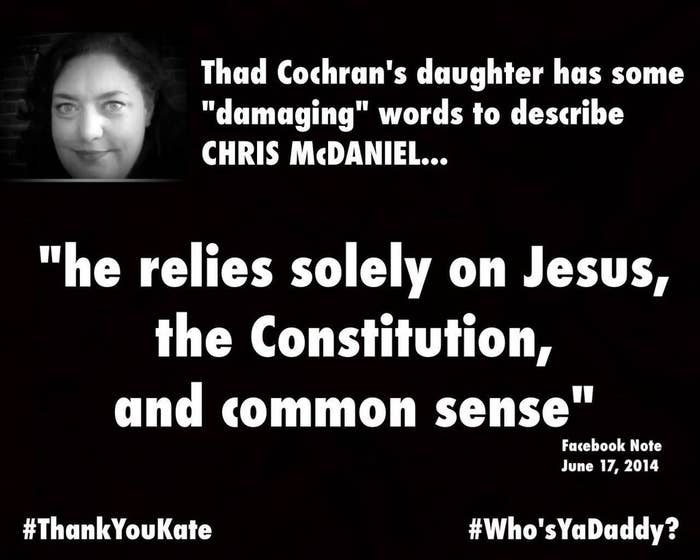 The meme was created in response to this line from a Facebook note on McDaniel by Cochran's daughter, Kate. Kate Cochran is an English professor at the University of Southern Mississippi.
I think this is the reason that so many seem swayed by my father's opponent: he is valued for his lack. Lack of experience (he is not a "career politician.") Lack of wisdom (he relies solely on Jesus, the Constitution, and common sense*--combined in the veneer of "goodness"). Lack of judgment (he vows to refuse federal monies and to try to impede legislation). Lack of specificity (what are "Mississippi values"?). Lack of perspective (how does he believe for one moment that a junior Senator from the poorest state will have any influence in Washington? How can he believe that he will not want his family to live with him in the D.C. area?).
BuzzFeed reached out to both campaigns for comment.
Cochran's campaign spokesman provided this comment:
"Chris McDaniel's latest appalling attack on Sen. Cochran's family is further proof that he is unfit for office. The nursing home break in, screaming at elderly constituents, and now launching a personal attack at Sen. Cochran's daughter on social media show that Chris McDaniel doesn't have the stability, temperament, or judgment required of a United States Senator. You would think somebody running on Christian family values would not stoop to attacking family, especially after all Kate has been through dealing with the crimes committed against her mother by McDaniel campaign team members."
McDaniel's campaign did not immediately return a request for comment.