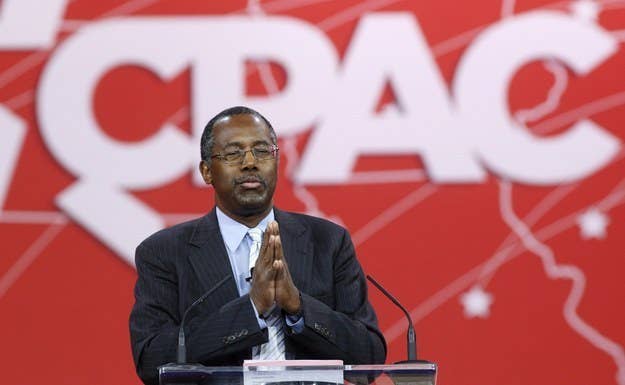 The team building out Dr. Ben Carson's likely presidential campaign includes an operative who has recently deleted an entire Twitter account that often attacked President Obama, other Democrats, some other Republicans, and others with crude language.
The Carson exploratory team has been interviewing potential operatives in a wide range of states. One of the people on the effort, Jim Dornan, worked on the governmental affairs staff at the American Society of Pension Professionals and Actuaries and has plethora of Capitol Hill and campaign experience.
Dornan once operated a pseudo-anonymous Twitter account — which has since been deleted after BuzzFeed News asked about his tweets.
One tweet from Dornan referred to McConnell shoving his fist up Obama's butt. One tweet calls Ferguson protestors "thugs." Another calls Obama a "dipshit." One tweet calls Debbie Wasserman-Schultz a "pathetic excuse for a human being." Two tweets call Chris Matthews and the Huffington Post "aholes." Another tweet at Obama tells him to "bend over bitch."
What role Dornan is playing in the campaign is less clear. BuzzFeed News learned Dornan is the national field director for Carson's presidential exploratory committee.
"I do see the issue associated with his Twitter," a campaign spokesman said, but insisted the title of national field director was informal and the calls he was making on the behalf of the campaign to set up field operations were strictly on a volunteer basis. He admitted Dornan was paid for travel reimbursement costs for work for Carson's USA First PAC.
The likely campaign in recent weeks appears to be readying for work. Barry Bennett, a former Rob Portman aide hired to head the exploratory committee will start running the day-to-day operations of any potential Carson campaign with Steve Rubino (who National Review previously reported was Carson's ad man).
BuzzFeed News had also learned that Carson's longtime aide Terry Giles would be doing less day-to-day work saying, but the campaign disputed that characterization. "Terry Giles is active as ever. He's the chairman of the campaign. He's as active as he was two weeks ago," a committee spokesman told BuzzFeed News.
Here are the tweets.
On Obama getting a fist shoved up his butt:
On Ferguson:
On Obama being a "dipshit":
On Debbie Wasserman-Schultz being a "pathetic excuse for a human being":
On Chris Matthews being "a freaking moron" and an "ahole":
On Sen. Ted Cruz being an "idiot":
On Obama being responsible for anti-Semitic violence:
On Obama needing to "bend over, bitch":
On author Stephen King being a "pretty sick fuck":
On not expecting anything from Obama but "whining and bitching":
On Sen. Dick Durbin breeding "racist staffers':
On how he's " beginning to think this President is a complete sociopath":
On Ferguson, the "racists lying about what happened in MO":
On "clueless moron" Obama:
On the Dallas Cowboys:
On Democratic congressional candidate John Foust being "a complete douchebag":
On the Sony hack: