Bush's Recollection Of Torture In Autobiography Conflicts With Senate Report
In his 2010 memoir Decision Points, President George W. Bush said then-CIA Director George Tenet briefed him on torture techniques. The account is disputed by a former top CIA lawyer and the Senate report.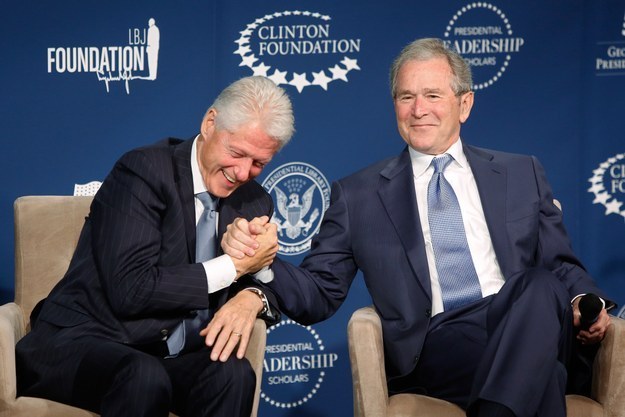 The Senate Intelligence Committee report on Bush-era CIA interrogation and detention activities claims the former president was not briefed by the agency on the specific enhanced techniques used on terror detainees until April 2006.

The CIA, however, disputed this claim in 2013, citing President Bush's 2010 memoir Decision Points and incomplete records.
"The Study asserts that the President was not briefed in a timely way on
program details," the CIA said in a June 2013 response to an inquiry made by the Senate Intelligence Committee. "While Agency records on the subject are admittedly incomplete, former President Bush has stated in his autobiography that he discussed the program, including the use of enhanced techniques, with then-DCIA Tenet in 2002, prior to application of the techniques on Abu Zubaydah, and personally approved the techniques."
"I decided to contact George Tenet after reading Bush's book," writes Rizzo. "We have remained in touch over the years, and I consider him a close and trusted friend. In November 2010, I sent him an e-mail in which I posed the question as directly as I could: Were Bush's assertions accurate? George's response was just as direct: He did not recall ever briefing Bush on any of the specific EITs."
Bush writes in Decision Points that he reviewed the list of techniques, even ruling some out:
"I took a look at the list of techniques.There were two that I felt went too far, even if they were legal. I directed the CIA not the use them. Another technique was waterboarding, a process of simulated drowning. No doubt the procedure was tough, but medical experts assured the CIA that it did no lasting harm."
Bush writes of being asked if he could waterboard directly from then-CIA Director George Tenet.
"George Tenet asked if he had permission to use enhanced interrogation techniques, including waterboarding, on Khalid Sheikh Mohammed.....damn right," I said.