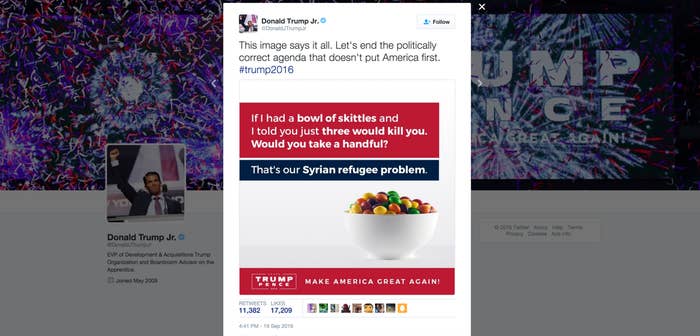 The photographer who owns the rights to the image of a bowl of Skittles tweeted out by Donald Trump Jr. to explain the "Syrian refugee problem" says he doesn't approve of its use.
David Kittos, a UK-based photographer, posted the Skittles photo on his Flickr account more than six years ago under an "all rights reserved" license.

"I believe that the picture was lifted from my Flickr account WITHOUT permission. I don't approve of its use by Mr. Trump or his politics," Kittos told BuzzFeed News via email.
Kittos told the BBC he was once a refugee himself, leaving Turkish-occupied Cyprus as a 6-year-old.
"Yes, I was a refugee in 1974 after the Turkish invasion of Cyprus," Kittos added to BuzzFeed News on Monday.
It's unclear how the Skittles tweet, which trended on Twitter Monday evening and drew a sharp response from Skittles' corporate owner Mars, came about. Former congressman and radio host Joe Walsh sent a similar tweet in mid-August.

An email to the Trump campaign about the use of the photo was not returned.