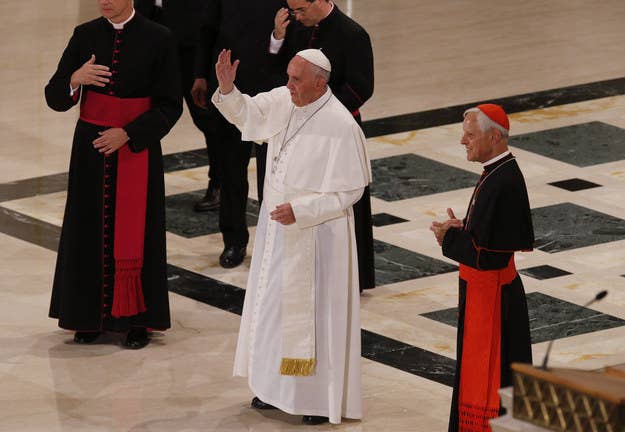 Louisiana Gov. Bobby Jindal, a devout Catholic who has written publicly about faith, offered a critique of Pope Francis on Wednesday, saying that he disagrees with the Holy Father's comments on capitalism and the U.S.-Cuban relationship — and that the media downplays the pope's adherence to more conservative Catholic teachings.
"Two things about the pope and one, you know, the liberal media loves to find when he does say things that they view as being less than conservative," Jindal told radio host Glenn Beck. "Whether it's about capitalism or global warming or immigration and they ignore when he says more traditional things on marriage or on being pro-life and on the sanctity of life and on religious liberty, you know — I'd be curious to see how the mainstream media whether they'll mention those things that he talks about."
The Louisiana governor said didn't agree with the pope's comments on capitalism and Cuba.
"I'll say this: As a Catholic, I respect him. I admire him. I encourage every religious leader to weigh in on important political and social issues," stated Jindal. "I don't think their voices should be excluded. I don't always agree with him and the reality is I'm not required to always agree with him. You know, in the church, certainly when the church teaches on faith and morals, like things about being pro-life or the sanctity of marriage between a man and a women those things we are required, you know, as Christians, as Catholics to hold those truths."
"But when he gives his opinion on capitalism, when he gives his opinion on the relationship between American and Cuba, I'm not obligated, I don't agree with that," Jindal continued. "And I don't think that for example, he played a critical role in the negotiations between the Castros and this president. I think that was a mistake for America and I think it was a mistake for people who are fighting for human rights in Cuba. So look, I'm glad he's coming, I'm glad he's going to challenge folks."
Jindal said that he hoped people heard the pope's message on faith and that the other issues weren't used to bash Republicans.
"What I really hope is folks hear him challenging on matters of faith, especially on Jesus Christ, on the Gospels," Jindal said, "I just hope that really hear his Gospel message, but you're exactly right that the mainstream media loves to take his visit and turn it into an excuse to try to hit Republicans and conservatives."