Bill Clinton Condemned The Sort Of NSA Surveillance His Wife May Have Known About
And possibly benefited from.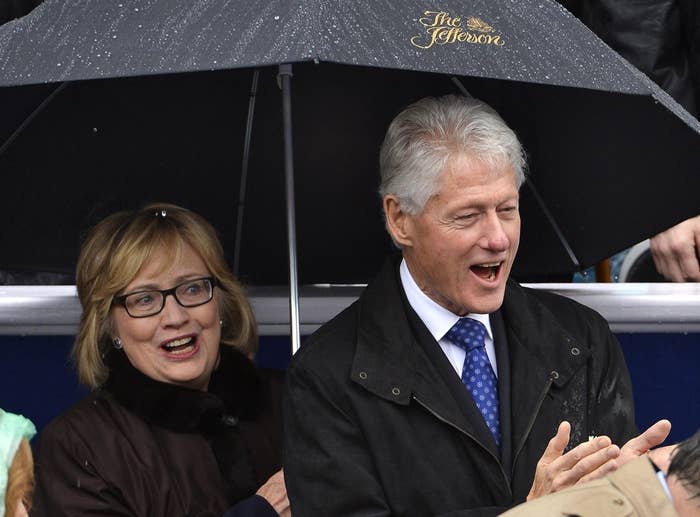 Former President Bill Clinton appears to have attacked the same type of surveillance that his wife, former Secretary of State Hillary Clinton was possibly aware of and may have benefited from as head of the State Department.
In a December 2013 interview with Fusion's Jorge Ramos, Bill Clinton said he had "serious reservations" about "whether we should be listening to the conversations or reading the emails of other world leaders." Clinton said revelations of the United States spying on foreign leaders had "had a damaging effect" on diplomacy.
The Clintons' positions on NSA and other surveillance matters have not been completely defined in recent months. Bill Clinton has been critical of the surveillance of foreign leaders, but also has defended the use of big data in national security work. Hillary Clinton had planned to speak at length on the NSA issue last fall but scrapped those plans because of developments in Syria and has been silent on the issue since, as Politico reported this week.
During her tenure as secretary of state, the State Department issued a directive under her name in July 2009 ordering U.S. diplomats to spy on high-ranking United Nations officials. The spying was first reported by The Guardian newspaper in 2010 as part of the WikiLeaks leak of U.S. diplomatic cables.
The State Department insisted at the time that the directive was largely a "wish list" that came from outside agencies and did not require or bind diplomat to do anything, saying Clinton's name was automatically attached to cables sent out.
"Diplomats are diplomats. And their job is to interact with people, gather information, gain perspective on events around the world and report those findings in a way that helps inform our policies and form out actions. They are not intelligence assets," State Department spokesman P.J. Crowley said in 2010.
The incident, however, isn't the only case of controversial foreign spying that Clinton was possibly aware of while serving as secretary of state.
According to documents leaked by former NSA contractor Edward Snowden, the United States also spied on communications of other governments before and during the 2009 U.N. climate change negotiations in Copenhagen, Denmark as well. The Huffington Post which first reported on the documents says the information was most likely used to brief U.S. officials, which included Secretary of State Clinton.
How much Clinton knew about the NSA's spying activities is unclear. As a high-ranking member of the Obama administration, she likely was one of a few people who received the world's most exclusive intelligence documents: the President's Daily Brief (PDB). During the Bush administration, Secretary of State Colin L. Powell and Defense Secretary Donald H. Rumsfeld were two of the few officials who received their own copy.
The Washington Post reported that the NSA's PRISM program was "leading source of raw material" of the PDB, being cited in nearly 1 in 7 intelligence reports and in 1,477 items in 2012.
The State Department also maintains the their own Bureau of Intelligence and Research (INR), a member of the intelligence community tasked with analyzing intelligence for the State Department.
The INR describes their mission as: "Drawing on all-source intelligence, INR provides value-added independent analysis of events to U.S. State Department policymakers; ensures that intelligence activities support foreign policy and national security purposes; and serves as the focal point in the State Department for ensuring policy review of sensitive counterintelligence and law enforcement activities around the world."
Bill Clinton has also been critical of the NSA's surveillance of Brazil's state-run oil company, Petrobras during an interview in Brazil.
"We shouldn't have gathered economic intelligence under the guise of security — not with an ally," Bill Clinton said.
Hillary Clinton herself said in October of 2013 regarding spying on world leaders, "We have to make sure we're not going too far."
"We don't want to cause difficulties for our friends and (German Chancellor) Angela Merkel is a great friend, as is (French President) Francois Hollande and others in Europe. They also rely on a lot of the information we gather to protect themselves," Clinton said according to CNN. "So they are great partners with us in surveillance, and in analyzing information, but I think everybody now says, 'OK, we have to make sure we're not going too far,' and that's the discussion that has to happen in a calm atmosphere."