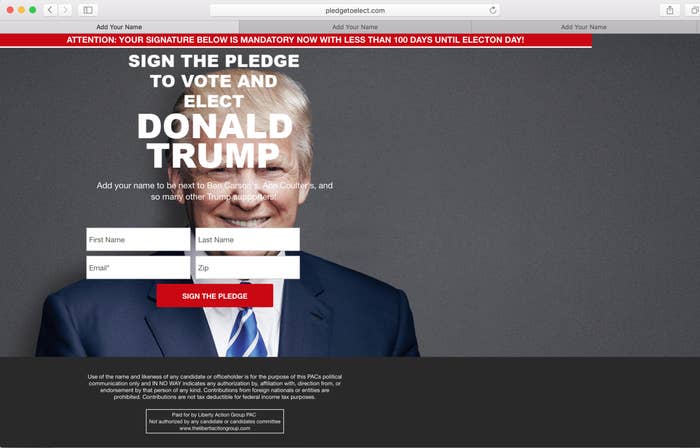 Former Republican presidential candidate Ben Carson says two pro-Donald Trump PACs are using his name without his knowledge to collect the names and email addresses of supporters.
Two separate PACs, American Priority PAC and Liberty Action Group, invite prospective donors to add their name to a pledge that they are told also include Carson and conservative writer Ann Coulter. Coulter did not immediately return a request for comment.
The identical sites for the PACs, use a variety of URLs: Pledge2Elect.com, PledgeToElect.com, and PledgeYourName.com. Donors are told if they donate more than $1000 they receive a signed photo of Trump.

Armstrong Williams, a representative for Carson, said he'd never heard of the PACs and they have no role in it.

"We've never heard of it," Williams said.
One of the groups, Liberty Action Group, has raised almost $800,000 dollars, according to FEC records, but those records reveal little about where money is being spent and to whom it is going. The group's largest expenditure — more than $450,000 — is for a "media consultant." No information is given about the identify of the media consultant . Another liberal PAC, Progressive Priorities PAC, is run by the same individuals, sources say and records reveal.
The other PAC, American Priority PAC, shares a director, Rob Reyes, with Liberty Action Group. All three PACs share a treasurer, are based in Austin, TX, have similar websites, and share the same contact information. Neither Reyes, nor Josiah Cammer, the other director of Liberty Action Group, has returned comment requests.
UPDATE: Carson's name was removed following the publication of this article.