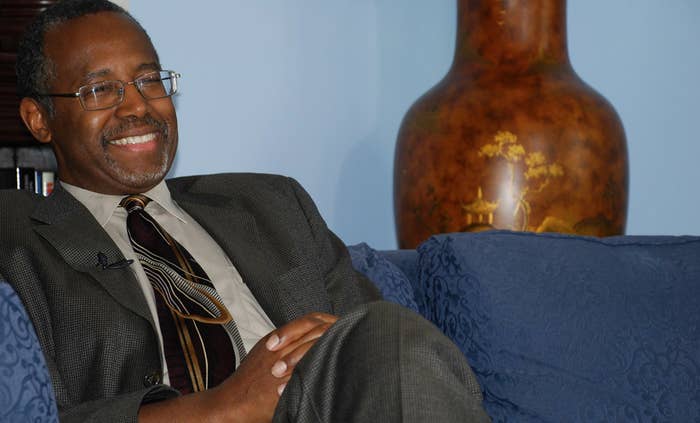 Dr. Ben Carson apologized Thursday for instances of plagiarism in his 2012 book, America the Beautiful, uncovered by BuzzFeed News. Zondervan, the HarperCollins Christian publishing division, added in a statement that updates would be made in future printings of the book.
"I attempted to appropriately cite and acknowledge all sources in America the Beautiful, but inadvertently missed some. I apologize, and I am working with my editors to rectify the situation," Carson said in a statement to BuzzFeed News.
BuzzFeed News detailed on Tuesday several sections of plagiarism in Carson's book, including an old website from the early 2000s, SocialismSucks.Net. Other sources plagiarized by Carson include a book by conservative historian W. Cleon Skousen, a Liberty Institute press release, several blog articles, and a CBS News article.
"It has become apparent that further source citation is appropriate in Dr. Carson's America the Beautiful," a Zondervan spokesman told BuzzFeed News. "Any necessary updates will be made in subsequent printings."
The book did not sell well initially, but after his speech at the 2013 National Prayer Breakfast went viral, the book's sales rapidly increased. As of this week, according to BookScan data, America the Beautiful has sold 60,000 hardcover copies and 280,000 paperback copies.
One author whose work Carson copied also put out a statement defending Carson — conservative historian Bill Federer, who said BuzzFeed News misrepresented the copied material.
"I feel grossly misrepresented in the BuzzFeed article," said Federer said in a statement provided to BuzzFeed News by Carson's attorney and literary agent. "Errata is not plagiarism. Any missing attributions were simply editor's oversight. It is disingenuous for the writer of the BuzzFeed article to level the accusation of plagiarism against Dr. Carson."
"I told him that I hoped he would find them interesting and that he had full permission to use any of the material in the books as he liked," Federer added in his statement on Thursday. "With 16 acknowledgments and citations, it is clear that Dr. Ben Carson made significant effort to make correct attribution. Indeed, his extensive acknowledgments have resulted in numerous people contacting me to purchase my book."
In the Tuesday post, BuzzFeed News noted that while Carson's book cited Federer, the book does not make clear that the words are copied. BuzzFeed News also noted on Tuesday that Federer was not concerned about the issue, and in his book grants permission to duplicate up to 10,000 words with acknowledgement.
Federer served on the board of Regent University with Carson and had previously told BuzzFeed News he had given Carson some of his books.