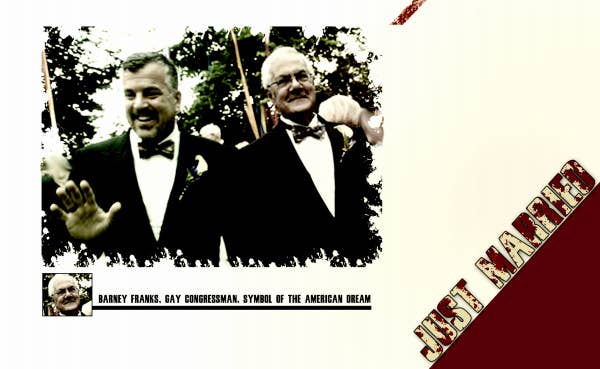 Former Congressman Barney Frank doesn't care that al-Qaeda attacked him in the latest issue of their Inspire magazine, which al-Qaeda publishes intermittently to inspire terrorist attacks in Western nations.
In fact, Frank said he finds it "ironic," comparing al-Qaeda's opposition to his marriage to a man to opposition he said he received from the American right wing.
"I thought there was an irony there," Frank told BuzzFeed when reached by phone Wednesday night. "It sounded like what the tea party said when I got married."
Frank married his partner of seven years, Jim Ready, last year in a ceremony in Newton, Massachusetts, that was officiated by Massachusetts Governor Deval Patrick. Newton was part of the district Frank represented as a congressman for more than 30 years. In 1987, Frank became the second member of Congress to say he was gay.
"I wonder how the right wing in America feels about being aligned with al-Qaeda," Frank continued. He later said, "There is an irony that the most active anti-gay [groups] are al-Qaeda and the American right-wing."
Frank noted that Islamic fundamentalism was very anti-gay as whole.
"Islamic fundamentalism is very anti-gay," he said. "Saudi Arabia is a very anti-gay place, al-Qaeda carries it to the violent extreme."