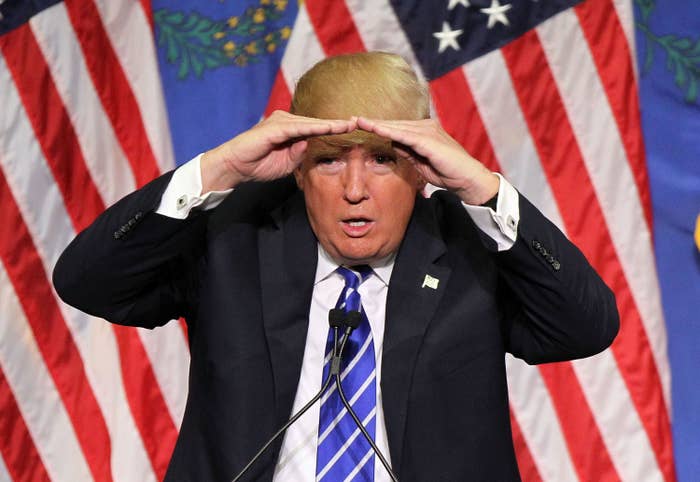 UPDATE
An Atlanta radio host who admitted to recycling an old interview with Donald Trump that was presented to his viewers as new has been let go from the station, according to the Atlanta Constitution Journal.
"For obvious reasons Steve McCoy no longer works at the station," program director for NewsRadio 106.7 Greg Tantum said in a statement to the Journal. "Cheryl White, Drew Nelson and Randy Wyles will continue to provide Atlanta with a high energy news product that accentuates breaking news as well as in depth coverage on the top stories."
McCoy, a morning radio host at the station, originally told BuzzFeed News and his listeners on Tuesday when the interview aired that the it occurred on Monday, and as a precondition for the interview, he couldn't ask Trump about his policies.
On Wednesday, a lawyer for the Trump campaign denied the interview took place, and told BuzzFeed News that McCoy admitted to them that he had repackaged an old interview.
In a phone interview with BuzzFeed News on Thursday, McCoy admitted to recycling the interview, but denied ever saying on air that the interview was new.
Here is what he said on air on Tuesday:
"Yesterday, I got a call of mine from a buddy of mine who is working with Trump on a phone call that we were going to get. We were hoping he'd call yesterday during the show but could not. It came with some restrictions, I couldn't ask anything about his current policies and that they had the right to x out any questions that I did ask and we got through about three minutes of it. So here it is now, my call with Donald Trump."
At the end of the interview, McCoy says "there's Donald Trump from yesterday our conversation with him."
He also claimed that Trump spokeswoman Hope Hicks was lying, saying he had an interview with Trump scheduled on Monday that was later cancelled.
"I had interview scheduled but it didn't come through so I used an old interview. I got suspended and I'm taking my punishment," McCoy said on Thursday.
McCoy said all further questions should be directed to the station.
McCoy sent and then later deleted a tweet Thursday saying he had recorded the interview for another station.
Here's the tweet: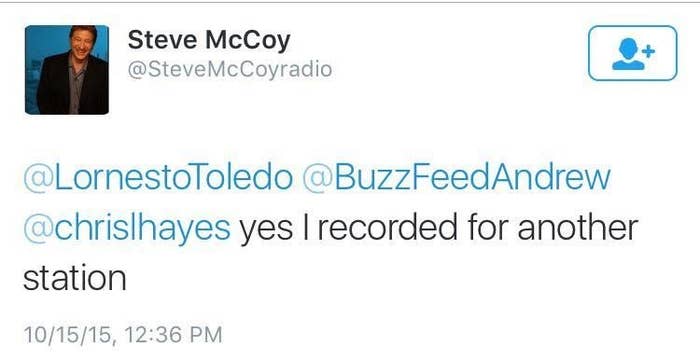 UPDATE
A lawyer for the Trump campaign disputes radio host Steve McCoy's account, telling BuzzFeed News that Trump did not do an interview with the Georgia radio host this week. The lawyer, Donald McGahn, says McCoy admitted to him the interview took place a year ago.
Hope Hicks, a spokeswoman for the Trump campaign slammed McCoy at length in a statement to BuzzFeed News.
"This interview did not take place," Hicks said. "It is a fraud and/or a spoof. The Trump campaign has never communicated with this man. He said Mr. Trump spoke to him yesterday prior to the debate, Mr. Trump never spoke to him yesterday or any day before that. The radio host admitted it was a fraud to our attorney, apologized and he is now hiding and not returning anyone's call. This is representative of the dishonesty Mr. Trump faces from the media."
McCoy, who confirmed to BuzzFeed News Tuesday evening in a phone call that the interview took place this week, has not returned a request by phone and email for clarification on the campaign's claims.
Greg Tantum, program director for the News Radio 106.7, told the Atlanta Journal Constitution that the station is "investigating" the interview. Meanwhile, the station has taken the interview off Soundcloud. BuzzFeed News has a longer version captured from the radio below.
McCoy was not on air Thursday morning, according to Atlanta Constitution Journal reporter Rodney Ho:
Original story:
Atlanta radio host Steve McCoy, who hosts The News Radio 106.7 Morning Show With Steve McCoy and Cheryl White, said on his radio program on Tuesday and confirmed to BuzzFeed News that the Trump campaign wouldn't let him ask about specific policies during a brief interview.
"They said they wouldn't take questions about his policy because his policies, they weren't set in stone," McCoy told BuzzFeed News.
Before his interview with Trump aired, McCoy said on his program that the Trump campaign restricted the interview to non-policy questions and reserved the right to nix any questions they didn't like.
"It came with some restrictions: I couldn't ask anything about his current policies," McCoy said. "And they had the right to X out any questions that I did ask, and we got through about three minutes of it."
After the interview, the conversation between McCoy and co-host Cheryl White turned to the Trump campaign refusing policy questions.
"So he wouldn't let you ask him anything about his platforms running for president," White said.
"No, 'cause he said those policies — well, he didn't say it, his handlers said — the policies aren't set in stone yet, and I guess we can kind of understand that, they got a year to go," replied McCoy.
"I guess, you would think he would want to get his message out there, but anyway, great job," said White.
"Kind of fluffy, but that's what I got from them," McCoy added.
In the interview, McCoy asks Trump about his presidential campaign and the Democratic presidential debate, but none of Trump's answers indicate when the interview occurred. Here's the full transcript of the interview:
McCoy: Now I remember years ago that you were looking at building here in Atlanta, I think at Atlanta Station but you never did. Do you have buildings here?

Trump: No, I don't.

M: And why not?

T: That's a good question, I should, it's a great place. I like it a lot. I'm there a lot and it really is, it's a really booming place it's great.

M: When you first announced that you were gonna run for the presidency this time around you made a pretty big deal about how much money you have. You said that you were not gonna take any campaign funds from anyone you were financing this whole thing by yourself but haven't you gone broke a couple of times in the past.

T: Well, I was in deep trouble. Around 1990, 1991 I was very very deeply in debt and you know friends of mine were going bankrupt all over the place. It was terrible timing, terrible markets but I fought back to a point and to point where now my company is much bigger much stronger than it ever was before. Like, not even close.

M: Well, Forbes has got you down at being worth $4 billion and you say you're much wealthier than that like around eight billion, I believed you said. Is there such a thing as being too wealthy do you think?

T: Well, I don't, you know, I've had a great period of time. This has been the best time I've ever heard in business. I'm the biggest developer in New York by far. My casinos are doing great. You know it's been an amazing period of time for me.

M: Hey, do you care if people ever really like you?

T: Well, I think I have a lot of good relationships. I mean, the people that like me are the people that know me. A lot of the people that don't know me don't like me, so I can't be upset about that. But I've had — over the years, I mean, I've had a lot of really great relationships. And I think I have really good relationship with the public.

M: "But I must be honest with you, because my audience would jump on me if I was not, those that listen every day know that I've joked about you, I've been critical a little bit of you, and your policies, and so forth. But here's the thing: Sometimes with richness, I think, comes a slight arrogance — it may be misunderstood arrogance. Do you think sometimes you come off as maybe a little mouthy, as my mom would like to say?"

T: Well I am mouthy, perhaps. I'm very honest, I really am a very truthful – and I like being truthful – but sometimes truthful can be arrogant, or seems to be arrogant. And, you know, I will say this: I think it sort of does show my real personality. I'm not sure people are gonna like it, but they're gonna learn from it, and they're gonna really learn how to be successful.

M: Okay, in our time remaining, a couple of quick questions that I have for you. Do you have plans to watch the debate tonight?

T: No, I don't.

M: Okay. Alright, that was quick. Prenup — you do believe in those, right?

T: Yes, I do. I think you have to have it, for certainty. You need the certainty of a prenup. If you're going to be successful, and if you have any money – now, you know, a lot of people don't have money, and I wouldn't recommend a prenup, necessarily. But if you have some money, or a lot of money – and especially if you're like me, and you have very complex businesses – you need the certainly of a prenup.

M: You were just in town this past weekend. Any plans to come back anytime soon?

T: I think I am, so maybe if I do I'll get together.

M: Okay, great! Well, we'd love to bring you into the radio station — it would be great to meet you face to face. There's Donald Trump from yesterday, our conversation with him.

Cheryl White: So he would't let you ask him anything about his platforms running for president?

M: No, uh-uh. Because he said those policies — well, he didn't say it, his handlers said policies aren't set in stone yet. And I guess we can kind of understand it, they've got a year to go, you know.

W: Well, yeah, I guess. I mean, you would think he would want to get his message out there. But anyway, great job.

M: Thank you.

W: Great job!

M: Kind of fluffy, but that's what I got from him, so, you know, it's what we could go with.