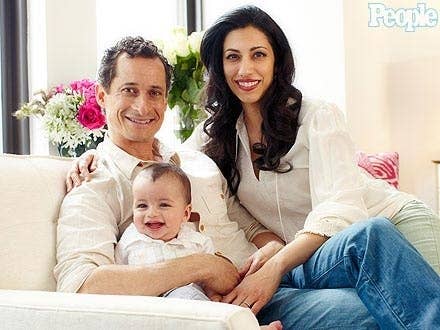 A high-profile interview with People Magazine seen as a first step in rehabilitating his tattered image came a week after Anthony Weiner allegedly stared an online relationship with a woman that quickly descended into dirty messages and pictures.
According to the gossip website The Dirty, Weiner and his alleged sexting partner began talking on July 12, 2012. One week later, Weiner's first interview with his wife Huma Abedin where he addressed the sexting scandal that brought down his career ran in People.
"I'm very happy in my present life," Weiner told People in the July 18th profile.
"Anthony has spent every day since [the scandal] trying to be the best dad and husband he can be," his wife said. "I'm proud to be married to him."
According to The Dirty, one day after the profile ran on July 19, Weiner found his alleged sexting partner on social Q&A site Formspring.
In a press conference Tuesday, Weiner acknowledged that the last time he sent an illicit message to a woman was after that interview.