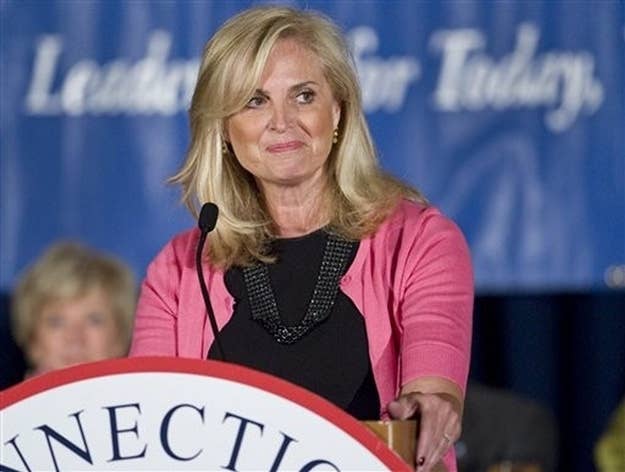 STAMFORD, Conn. — Ann Romney gave an emotional, personal speech to a Republican gathering in Stamford in her first solo engagement since she emerged as the star of her husband's campaign last week.
Romney told the audience at the Connecticut Republican Party's Prescott Bush Awards Dinner in Stamford of the exhausting nature of the campaign and the unfairness of the news cycle.
"It's such an emotionally draining thing that you go through. And the person that you're fighting for, that you love, that you cherish, you know that they are being maligned at times," Mrs. Romney said. "You know that they are being misrepresented at times and you know that they aren't getting the proper treatment at times. "
Mrs. Romney told the crowd while her husband campaigns she often goes to the rope line and asks women, "Why are you here? What made you come out of your house today to this event? And what do you think about the future?"
Many of those women "tell me how much they care for me and how much they are praying for me. And I so appreciate that," Mrs. Romney said.
"I can't tell you how much I appreciate that," she said, choking up. "The day is long. The road is hard. The trials are there and I never know when I have this little gray cloud over my head and it's going to start raining again. And I do need everyone's prayers."
Romney also recalled raising her boys solo until the birth of her fifth son.
"I didn't have help for many many years. As a matter of fact I didn't have help at all until the fifth baby was born and I had emergency surgery when he was four months old," Mrs. Romney said. "And I was in bed and realized I couldn't take care of five boys with Mitt working so hard and needed a little extra help. "
She offered more detail than usual about her life at home.
"I know what's like to finish the laundry and to look in the basket five minutes later and it's full again. I know what's like to pull all the groceries in and see the teenagers run through and all of a sudden all the groceries you just bought are gone," Romney said to the crowd. "And I know what's like to get up early in the morning and to get them off to school. And I know what's like to get up in the middle of the night when they're sick. And I know what's like to struggle and to have those concerns that all mothers have."
Romney alluded to the fact that not all women can stay at home saying, "I love the fact that there are women out there who don't have a choice and they must go to work and they still have to raise the kids. Thank goodness that we value those people too. And sometimes life isn't easy for any of us."
Mrs. Romney also sought to strike a balance between talking about her husband's success and speaking about her own strugles.
Speaking about her husband's time as head of the Salt Lake Olympics, Mrs. Romney mentioned her struggle with MS saying her disease's progress changed considerably for the better speaking emotionally of carrying the Olympic torch.
"I could barely walk when I went out. And Mitt, unbeknownst, chose me to be his hero and to run the torch into Salt Lake City," she said. "And what a moment that was with my children surrounding me. With my husband, with tears rolling down their faces because they knew what a long journey I had been on. For me to be able to run that torch and what a joyful moment it was for our family. For me to able have my husband pass that torch."
The speech, intense and personal, received a rapturous reception. It was, several members of the crowd told BuzzFeed, was "incredible."