Allen West Refuses To Comment On Homophobic Blog Post
"You can call the editor of my website and you can ask her," West said.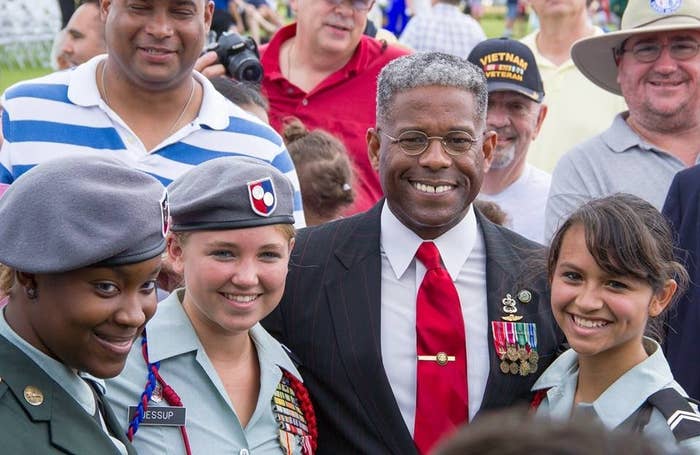 Former Republican Congressman Allen West wouldn't discuss a homophobic blog post on his website when called by BuzzFeed on Monday afternoon. The post on West's website, titled "While Russia invades Ukraine, our gay military dances in drag in Okinawa," slammed the Pentagon for worrying about "hair and makeup for our gay military" while Russia invades the Ukraine.
U.S. military troops held a fundraiser for LGBT troops Saturday at the Rocker NCO Club at Kadena Air Base in Okinawa, Japan. Six U.S. service members, gay, lesbian, and straight among them, dressed in drag and lip-synched songs to raise money for the Okinawa chapter of OutServe-SLDN, which is the largest nonprofit advocate for the military's LGBT community, according to Stars and Stripes.
In his blog post, West said he was "kinda at a loss for words" over the fundraiser for LGBT members of the U.S. military.
But in a brief phone call with BuzzFeed, West declined to discuss his post, instead directing BuzzFeed to talk to his press secretary.
BuzzFeed: "I'm calling about one of your recent posts on your website about the military. I think you called it "Our Gay Military Dances In Drag In Okinawa." I was wondering…"
Allen West: "You should go through my press secretary first."
BF: "Are you concerned your comments might be perceived as anti-gay?"
AW: "You can call the editor of my website and you can ask her."
BF: "OK, but you wrote the post."
AW: "I just told you who to speak to… Have a good day, my friend."
BF: "So you wrote it but you're not willing to discuss it?" (West hangs up)
Here's a screenshot of West's post: