7 Times Barack Obama Promised To Reform The VA
"It's time for comprehensive reform. When I am president, building a 21st century VA to serve our veterans will be an equal priority to building a 21st century military to fight our wars."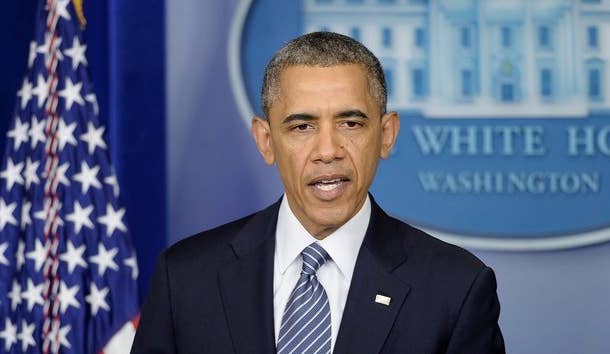 Speaking publicly last week after the presentation of an internal report that Veterans Affairs hospital officials doctored paperwork to cover long wait times for veterans seeking care, President Obama called the misconduct "unacceptable."
"They found is that the misconduct has not been limited to a few VA facilities, but many across the country," Obama said. "Totally unacceptable. Our veterans deserve the best. They've earned it. Last week I said that if we found misconduct, it would be punished, and I meant it."
Earlier in his first term as president and during his campaign and transition into office Obama repeatedly promised to make the VA a leader in health care reform promising "comprehensive reform" and to bring the department into the "21st century."
Here are seven times Obama spoke of transforming the VA:
In a March 2007 speech when running for president, Obama promised "comprehensive reform" and a "21st century" VA.
To keep our sacred trust, I will improve mental health screening and treatment at all levels: from enlistment, to deployment, to reentry into civilian life. No service-member should be kicked out of the military because they are struggling with untreated PTSD. No veteran should have to fill out a 23-page claim to get care, or wait months - even years - to get an appointment at the VA. We need more mental health professionals, more training to recognize signs and to reject the stigma of seeking care. And to treat a signature wound of these wars, we need clear standards of care for Traumatic Brain Injury.

We also need to provide more services to our military families. Let me thank the VFW for helping families with everything from repairs and errands to calling cards that bring a loved one nearer. Efforts like Operation Uplink make a huge difference. You are filling in some of the painful spaces in peoples' lives. And anyone who has visited our military hospitals has seen wonderful spouses who don't see visiting hours as part-time. That's why I passed a bill to provide family members with a year of job protection, so they never have to face a choice between caring for a loved one and keeping a job.

I have also fought to improve shameful care for wounded warriors. I led a bipartisan effort to improve outpatient facilities, slash red tape, and reform the disability review process - because recovering troops should always go to the front of the line, and they shouldn't have to fight to get there.

But we know that the sacred trust cannot expire when the uniform comes off. When we fail to keep faith with our veterans, the bond between our nation and our nation's heroes becomes frayed. When a veteran is denied care, we are all dishonored. It's not enough to lay a wreath on Memorial Day, or to pay tribute to our veterans in speeches. A proud and grateful nation owes more than ceremonial gestures and kind words.

Caring for those who serve - and for their families - is a fundamental responsibility of the Commander-in-Chief. It is not a separate cost. It is a cost of war. It is something I've fought for as a member of the Senate Committee on Veterans' Affairs. And it is something I will fight for as President of the United States.

It's time for comprehensive reform. When I am President, building a 21st century VA to serve our veterans will be an equal priority to building a 21st century military to fight our wars. My Secretary of Veteran's Affairs will be just as important as my Secretary of Defense. No more shortfalls - it's time to fully fund the VA medical center. No more delays - it's time to pass on-time VA budgets each and every year. No more means testing - it's time to allow all veterans back into the VA. I will immediately reverse a policy that led the VA to turn away nearly 1 million middle and low-income veterans since 2003.

The VA will also be at the cutting edge of my plan for universal health care, with better preventive care, more research and specialty treatment, and more Vet Centers, particularly in rural areas.
At a 2007 town hall event in Iowa:
As president, I won't stand for hundreds of thousands of veterans waiting for benefits. We'll hire additional claims workers. We'll bring together veterans groups and the VA to work out a claims process that is fair and fast. And instead of shutting veterans out, we'll make sure that our disabled vets receive the benefits they deserve, and we'll allow all veterans back into the VA health care system. And we'll have a simple policy when it comes to homeless veterans: zero tolerance. We'll expand housing vouchers. We'll set up a new supportive services program to prevent at-risk veterans and their families from sliding into homelessness. We'll stand with veterans in their hour of need, just as they have stood up for us.
In a May 2008 speech, then-Senator Obama called problems at the VA an "outrage" and a "betrayal."
We know that over the last eight years, we've already fallen short of meeting this test. We all learned about the deplorable conditions that were discovered at places like Fort Bragg and Walter Reed. We've all walked by a veteran whose home is now a cardboard box on a street corner in the richest nation on Earth. We've all heard about what it's like to navigate the broken bureaucracy of the VA - the impossibly long lines, or the repeated calls for help that get you nothing more than an answering machine. Just a few weeks ago, an 89-year-old World War II veteran from South Carolina told his family, "No matter what I apply for at the VA, they turn me down." The next day, he walked outside of an Outpatient Clinic in Greenville and took his own life.

How can we let this happen? How is that acceptable in the United States of America? The answer is, it's not. It's an outrage. And it's a betrayal - a betrayal - of the ideals that we ask our troops to risk their lives for.

That's why I've pledged to build a 21st century VA as President. It means no more red tape - it's time to give every service-member electronic copies of medical and service records upon discharge. It means no more shortfalls - we'll fully fund VA health care, and add more Vet Centers, particularly in rural areas. It means no more delays - we'll pass on-time budgets. It means no more means-testing - it's time to allow every veteran into the VA system. And it means we'll have a simple principle for veterans sleeping on our streets: zero tolerance. As President, I'll build on the work I started in the Senate and expand housing vouchers, and launch a new supportive services housing program to prevent at-risk veterans and their families from sliding into homelessness.
In Obama's 2008 "Fulfilling a Sacred Trust With Our Veterans" plan while he was running for president:
FIX THE VETERANS BENEFITS ADMINISTRATION
Reduce the Claims Backlog: There are currently over 400,000 claims pending within the Veterans Benefits Administration, and over 800,000 claims receipts are expected in 2008 alone. VA error rates have also grown unacceptably high: over 100,000 cases each year contain significant errors. In the Senate, Barack Obama has voted to increase funding to hire needed additional claims staff. As president, Obama will hire additional claims workers and convene our nation's leading veterans groups, employees and managers to develop an updated training and management model that will ensure that VA benefit decisions are rated fairly and consistently, and stem from adequate training and accountability for each claims adjudicator.
In a 2008 Meet the Press appearance as president-elect, Obama announced Eric Shinseki as his pick to lead the VA.
When I reflect on the sacrifices that have been made by our veterans and I think about how so many veterans around the country are struggling even more than those who have not served -- higher unemployment rates, higher homeless rates, higher substance-abuse rates, medical care that is inadequate -- it breaks my heart, and I think that General Shinseki is exactly the right person who is going to be able to make sure that we honor our troops when they come home.
In the Obama-Biden transition plan before taking office in 2008:
Strengthen VA Care: Make the VA a leader of national health care reform so that veterans get the best care possible. Improve care for polytrauma vision impairment, prosthetics, spinal cord injury, aging, and women's health.
In a March 2009 speech on the 20th anniversary of the Department of Veterans Affairs:
I intend to start that work by making good on my pledge to transform the Department of Veterans Affairs for the 21st century. That's an effort that, under Secretary Shinseki's leadership, all of you have already begun -- conducting a thorough review of your operations all across this agency. And I intend to support this effort not just with words of encouragement, but with resources. That's why the budget I sent to Congress increases funding for this department by $25 billion over the next five years.

With this budget, we don't just fully fund our VA health care program -- we expand it to serve an additional 500,000 veterans by 2013; to provide better health care in more places; and to dramatically improve services related to mental health and injuries like Post-Traumatic Stress Disorder and Traumatic Brain Injury. We also invest in the technology to cut red tape and ease the transition from active duty. And we provide new help for homeless veterans, because those heroes have a home -- it's the country they served, the United States of America. And until we reach a day when not a single veteran sleeps on our nation's streets, our work remains unfinished.