How Edward Snowden Inadvertently Helped Vladimir Putin's Internet Crackdown
Edward Snowden's exposés of the National Security Agency's global surveillance sparked calls to roll them back around the world. But in Russia, where he claimed asylum, Vladimir Putin's censors seized on his revelations to justify unprecedented control over the internet — and expand the Kremlin's surveillance state in the very manner he so feared.
What follows is an edited excerpt from Andrei Soldatov and Irina Borogan's new book, The Red Web, which hits bookstores Sept. 8.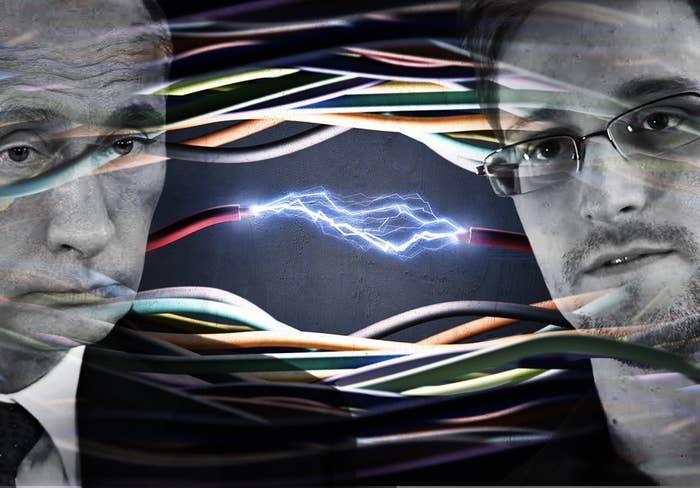 In the 1990s the global nature of the Internet meant wires. When a user got connected, he could send his e-mail or visit a website anywhere in the world. In the 2000s the Internet meant the rise of global platforms that allowed users to share the same social networks, email services, search engines, and clouds. The Internet became more of a common ground for people from Argentina to Russia — they used the same Facebook, the same Twitter. That also meant that the information users exchanged was stored inside systems located far from the users — systems that could not be readily controlled by nations, their leaders, or their secret services. Most of the servers were located in the United States.
For Russian President Vladimir Putin, this was intolerable. In his mind the solution was simple: force the platforms — Facebook, Google, Twitter, and Apple among them — to locate their servers on Russian soil so Russian authorities could control them.
The challenge was how to do it.
The Kremlin obviously needed a pretext to put pressure on the global platforms to relocate their servers, and Edward Snowden's revelations provided the perfect excuse to start the offensive. The members of the Russian parliament chosen by the Kremlin to define Internet legislation rushed to comment on his revelations. Legislation forcing global platforms to store Russians' personal data in Russia was soon adopted, and came into force on Tuesday, sending Western tech giants scrambling to comply. Russian censors announced plans to blacklist websites including Wikipedia, Github, the Wayback Machine, and BuzzFeed. Snowden had no say in the matter.

Since November 2012 Russia had censored and controlled the Internet extensively by using a nationwide system of filtering, but it was primitive. Rather than being based on keywords, as in China, it was based on a blacklist of Internet sites in various forms. The blacklist could block Internet protocol or IP addresses, a set of numbers, such as 70.226.194; URLs, an address of a particular page, like www.agentura.ru/english; or domain names, such as google.com. The Federal Agency for Supervision of Communications, or Roskomnadzor, maintained the blacklist, was instrumental in dealing with the digital companies in Russia, and was in charge of implementing the filtering.
The head of the agency was Alexander Zharov, 48, a soft-mannered but ambitious man. A physician by training who had worked as an anesthesiologist and doctor in Chelyabinsk, he then went into public relations, rising to become spokesman for a colorless Russian prime minister, Mikhail Fradkov. On May 3, 2012, Zharov was appointed chief of Roskomnadzor. He made the agency a powerful and semi-independent body, with three thousand employees and branches across the country. Zharov's agency effectively took over governing the Internet in Russia, which by 2012 meant controlling it.
Zharov dreamed of becoming communications minister, but he also was well aware that it would be risky for his career — and not so good for his chances to become minister —if he was seen as the chief Internet censor. He turned to a new deputy, Maxim Ksenzov, and handed over to him the task of dealing with filtering and censorship.
It was not long before Zharov and Ksenzov realized the incredible power of the instrument they possessed.
In September 2012, weeks before the blacklist was put in place, the agency tried to block Internet access to the video "The Innocence of Muslims," a low-budget self-styled "exposé" of the Prophet Muhammad that outraged many Muslims worldwide — the General Prosecutor's Office deemed it extremist. A court was to rule on it in October, but before the ruling, on Sept. 17, Roskomnadzor "recommended" that Internet operators and media not disseminate the video. In a few days three major Russian telecom operators — VimpelCom, MegaFon, and MTS — all blocked access to the video on YouTube in the southern, mostly Muslim region of the North Caucasus. Only MTS was able to block access to the specific page where the video was available; the first two operators blocked the entire YouTube service.
This prompted not only Russian ISPs but also global platforms like Google to rush to Roskomnadzor for consultations. They were frightened that the primitive Russian system of filtering could end up blocking their entire service. Three days after Zharov gave a conciliatory interview to the opposition-minded TV channel Dozhd, on Nov. 24, Roskomnadzor added the Internet protocol address of Blogspot, a Google blogging platform, to the blacklist. Although it was soon removed, in that time Google users complained about the loss of some Gmail, Google Drive, and Google Play functionality. However crude an instrument, the power of the blacklist was becoming more visible.

In March 2013 Roskomnadzor made its first direct assault on global social networks. The agency sent a warning to Twitter when it asked the social media site to block access to five tweets and close an account, saying the offending messages were advertising narcotics and promoting suicide, banned under a recently passed law. On March 15 Twitter reported that the company agreed to block the tweets and deleted the account. Roskomnadzor issued a special statement expressing satisfaction with Twitter's "constructive position." Then, on March 28, Roskomnadzor notified Facebook that it would be blocked unless it removed a page called "Suicide School," which contained mostly humorous information about suicide. The site was added to Russia's blacklist. Facebook took down the offending page.
Gradually the Russian authorities were exerting control over the Internet. Zharov and Ksenzov at Roskomnadzor issued warnings. Meanwhile the presidential administration, a separate government body directly under Putin, held private discussions with the leaders of the digital companies, attended by Russian lawmakers who were in charge of writing repressive laws for controlling the Internet.
On May 15, 2013, Ksenzov presented a report outlining the activities of the previous year, making it clear that he felt the government was gaining ground in its efforts to impose its will. There had been little resistance from ISPs or users. At the same time, Ksenzov expressed a worry—what if people figured out how to bypass the censorship? What if they could fool the filtering? There were methods to do this, he said, "that are relatively easy to use. . . . But the fact that it's technically possible to bypass the blocking does not mean that in practice it will be done by everybody and everywhere."
Zharov was even more cheerful. He noted that "among the thousands of owners of the blocked sites," only a "very few" spoke out in public against the blacklisting. There had been only one court appeal, he boasted, adding that public opinion polls showed that 82 percent of those questioned in Russia supported the law that permitted the blacklisting.
Zharov and Ksenzov had found a way to put pressure on the Internet companies, and the companies did not fight back.

As Putin tightened the screws on Internet freedom, an event occurred in Russia he could not have predicted.
On June 23, 2013, Edward Snowden flew into Moscow's Sheremetyevo Airport. Snowden, a former contractor for the National Security Agency, who had once worked in information technology for the CIA, had at this point exposed the NSA's bulk collection of telephone and Internet metadata of millions of Americans and people around the world.
Snowden's revelations touched off a campaign around the globe to reexamine the issues of digital freedoms and surveillance. But just as he made the disclosures, Snowden landed in a country with a long tradition of secrecy and suppressing freedom of speech, a landscape roiled by the secret control and surveillance he claimed to despise.
At first Snowden was stuck in the airport terminal because his passport had already been revoked by the United States and he did not have valid documents. He was supposed to be in a special transit zone, but no one could find him. What at first looked like a bad joke turned into long, dreadful weeks as Russian and international journalists scoured the airport looking for him. Many of the journalists came to believe that Snowden was well protected. Unlike other Moscow airports, Sheremetyevo had a special FSB detachment, established there in Soviet times when it was the only international airport in the country.

On July 11, Tanya Lokshina, the head of the Moscow office of Human Rights Watch, was at her office in Moscow, when her assistant, Masha, opened the door and said, "Tanya, you have a phone call from Snowden."18 Lokshina for a moment thought it had to be some sort of joke, but Masha insisted that a man on the phone said he is calling from Sheremetyevo, represents Snowden, and that Snowden wanted to meet her. In five minutes she got an e-mail from ed.snowden@lavabit.com inviting human rights organizations and "other respected individuals" to join Snowden the next day at the airport, promising a discussion about "the next steps forward in my situation."
The next day Lokshina took with her a tape recorder she had been given by Ellen Barry, a correspondent at the New York Times. When she arrived at Terminal F, they saw hundreds of journalists. She had plenty of experience with herds of reporters, but this one was larger than she had ever seen, like a "herd of mammoths that were going to trample me," she recalled.
Lokshina and several other human rights activists were shown into a room in the secure area of the terminal and eventually led onto the airfield. At this moment Lokshina suddenly remembered that Snowden wanted to fly to Venezuela, and she thought maybe the plan was to fly Snowden there and to take the human rights activists along to guarantee his safety. She panicked and called her husband with instructions for how to feed the baby if she were flown to Venezuela. Then everyone was put on a bus.
The bus made a circle and stopped near an unmarked door of the same terminal, but on the far side of the building. They were shown into a room. When they walked in, Snowden was sitting there, along with a translator and Sarah Harrison, a member of the WikiLeaks group, who had been with Snowden since he fled Hong Kong.
Snowden used the moment to appeal for "guarantees of safe passage from the relevant nations in securing my travel to Latin America" and announced that he would also seek asylum in Russia. "I will be submitting my request to Russia today, and hope it will be accepted favorably."
The meeting participants were shown out of the room, back to the terminal, and Snowden disappeared with Harrison. Lokshina instantly remembered that she forgot her tape recorder and asked the security men to retrieve it. In thirty minutes they brought Lokshina the tape recorder, but the recording had been erased; the meeting had lasted forty-five minutes. Lokshina told journalists in the terminal that they supported Snowden's appeal for asylum. Anatoly Kucherena, a lawyer with close connections to the FSB, said he would provide legal support for Snowden.
Did the Russian authorities stage a meeting so the human rights groups would endorse Snowden's appeal for asylum, just as Putin wanted? If there was a script, the activists had not written it. They heard Snowden talk, and then he disappeared. It was a clever manipulation. Snowden's revelations about mass surveillance had outraged people around the world, and their anger was directed against the US government. Now Putin was presenting himself as a defender of freedoms and the only world leader strong enough to stand up to the United States. The human rights organizations, which Putin had been suppressing for years, were made props in Putin's show. The meeting was a sign that Putin was not going to keep his distance from Snowden but rather would attempt to co-opt him for his own purposes.

Snowden may not have known or realized it, but his disclosures emboldened those in Russia who wanted more control over the Internet. Parliament debated Snowden's revelations of mass surveillance in special hearings. Sergei Zheleznyak, deputy speaker of the lower house, suggested that the Snowden disclosures meant citizens should be forbidden from keeping their personal data on foreign servers. "We should provide digital sovereignty for our country," he said. Ruslan Gattarov, chairman of one of the pro-Kremlin youth organizations and a member of the upper house of parliament, invited Snowden to "investigate" what he described as the surrender of Russian citizens' data to American intelligence agencies.

This "digital sovereignty" claim was cover for something the Kremlin wanted all along — to force Facebook, Twitter, and Google's services, Gmail and YouTube, to be subject to Russian legislation, which meant providing backdoor access to the Russian security services. Since the spring of 2011 the FSB had been lamenting it had no means to intercept chats and email exchanges on Facebook and Gmail, and now the chances appeared to be improved. The pretext of protecting Russian personal data — the notion of "digital sovereignty" — was raised in order to impose new controls on the Internet, bring the global platforms to heel, and put their servers on the Russian soil. Snowden's name was being invoked by those who wanted to carry out new repressive measures in Russia.
On August 1, 2013, Snowden was granted one year of asylum in Russia, and the next day he left Sheremetyevo, still evading reporters. For months to come, Snowden refused to talk to Russian and Moscow-based foreign journalists. To us, the silence seemed odd and unpleasant. After all, Snowden wasn't afraid of journalists—he had used them to leak the thousands of pages of secret documents. He also spoke to American journalists coming from the United States. Snowden was, in theory, in favor of openness. So why did he refuse to talk to those of us in Russia who, in our journalism, fought every day for openness and freedom of information? Was he being manipulated again? And if so, by whom?

While Snowden remained out of sight, Russia's security services achieved another dramatic leap in their capability to eavesdrop on the Internet. In the autumn of 2013 new technical guidelines for SORM — the nation wide system of surveillance over all kinds of communications from phones to the Internet — were announced that would require phone operators and Internet providers to store information for twelve hours at a time until it could be retrieved by the authorities. The guidelines also made it possible for the security services to intercept correspondence that users send through services such as Gmail, Yahoo, and ICQ. The goal of the updated requirements was very clear: to expand surveillance capabilities to intercept messages and information passed through foreign Internet providers.
Two of Russia's largest telecom companies, VimpelCom and Mail.ru, publicly—and courageously—denounced the government's plans to expand the SORM capabilities. Russian internet pioneer Anton Nossik wrote that the "FSB wants to know about every one of our moves on the Internet: Who and what we sent, and from whom they received, what sites come in, what we have there, name and password."
But the protests did not stop the Kremlin from doing what it wanted to do. The decree implementing the new SORM requirements was signed by the minister of communications on April 16, 2014, and required all operators to install the equipment by March 31, 2015. The requirement to keep twelve hours of data remained in the decree. The Ministry of Communications officials also admitted that the new SORM black boxes are strengthened by DPI, as the devices can monitor the Internet traffic on the application level. The two most intrusive surveillance technologies were finally combined, to be used by the Russian security services all over the country.
When all this was happening, Snowden was silent. Although he gave some interviews to American journalists, he refused to comment on Russian affairs and dropped off the radar until April 17, 2014.
On that day Putin held another of his annual question-and-answer sessions in which citizens call in on a direct line. Much had changed since 2013; the success of the Sochi Olympics and the annexation of Crimea had generated a mood of intense patriotism and anti-Western sentiment. Putin's approval ratings had soared.
After Putin fielded hours of flattering calls, a host turned to the audience to announce a "surprise."
"Mr. President, you have a question from former intelligence agent Edward Snowden!"
Putin grinned: "Do I really?"
Then Snowden's Skype call appeared on the screen. His first word was in Russian: "Zdravstvuyte" — Hello.
Then he proceeded in English: "Does Russia intercept, store, or analyze in any way the communications of millions of individuals, and do you believe that simply increasing the effectiveness of intelligence or law enforcement investigations can justify placing societies — rather than subjects — under surveillance?"
Putin's answer was a classic obfuscation. He insisted that Russian laws strictly regulate the use of special equipment by the security services, including for the tapping of private conversations and for the surveillance of online communications. Putin emphasized that a court warrant is needed to use the equipment in each particular case.
"Yes, we do surveillance on the Internet," Putin allowed, "but not on such a large scale and not arbitrarily. Besides," — and here he smiled slyly — "we do not have such technical capabilities and funds as the United States."
Snowden was heavily criticized for taking part in a Putin show, and the next day he published an op-ed in the Guardian answering his critics. "I was surprised that people who witnessed me risk my life to expose the surveillance practices of my own country could not believe that I might also criticize the surveillance policies of Russia, a country to which I have sworn no allegiance, without ulterior motive," he wrote. "I regret that my question could be misinterpreted, and that it enabled many to ignore the substance of the question — and Putin's evasive response — in order to speculate, wildly and incorrectly, about my motives for asking it."
In the end Snowden's question didn't provoke a debate in Russia over surveillance. Nor did it stop the Kremlin.
On May 5 Putin signed a new law aimed at tightening the controls over the many popular online bloggers in Russia who carried out lively and relatively free debates on the Internet. Widely known as the "Bloggers Law," it was a part of a broader rewrite of Russia's anti-terrorism statute, started in January 2014, which expanded the already-vast clout of the country's Federal Security Service and altered penalties for terrorism and extremism crimes. The new law required bloggers with more than three thousand followers — which was many of them — to register with the government. Registration was more than a mere formality; it would give the security services a way to track them, intimidate them, or close them down. The law marked a first legislative step to force the global social media to relocate their servers to Russia. At their headquarters in California, both Twitter and Facebook said they were studying the law but would not comment further.
Russia's annexation of Crimea in 2014 presaged still more efforts to control the Internet. Ksenzov, the chief censor at Roskomnadzor, became more and more aggressive against the demonstrators in Ukraine, whose Maidan uprising, named after the square in Kiev, had touched off the crisis. Then, on May 16, he attacked Twitter itself, and this time it was much more serious. In an interview with Izvestia, the largest pro-Kremlin daily newspaper, Ksenzov claimed that Twitter promotes the interests of the United States and then added, "We can tomorrow block Twitter or Facebook in Russia. It will take few minutes. We do not see this as a big risk. If at any point we decide that the impact of disabling of social networks will be less significant compared to the harm caused by the unconstructive position of management of international companies for Russian society, we will do what is required to do by law." The threat was the most categorical yet made in public.
Twitter got the message. A few days later it blocked accounts of the radical Ukrainian group Pravy Sector for Russian users, saying the action was in response to a Russian court order.
On July 4, parliament passed another law prohibiting the storage of Russians' personal data anywhere but in Russia. Once again members of parliament pointed to Snowden's revelations of mass surveillance to justify the action. A member of Putin's United Russia party suggested nominating Snowden for a Nobel Prize. In effect, Russian security agencies received expanded powers over the Internet under the pretext of protecting the personal data of Russian citizens from the menace that Snowden had described.
The law stipulated that global platforms would relocate their servers to Russia by September 1, 2015. After this, all three global platforms — Google, Twitter, and Facebook — sent high-ranking representatives to Moscow. Details of their talks were kept secret. The pressure on the global platforms became enormous. In March 2015, the Ministry of Communications convened a gathering of the biggest Russian data centers to discuss the relocation of servers. A representative of Rostelecom, a state-controlled Russian operator, stepped in to announce that Google had already relocated its servers to the operator's data center, adding, "The Company [Google] is our client now, and we are the restricted access, semi-government facility."
On November 14, 2014, just after 7:00 p.m. and already dark, dozens of people, mostly in their twenties and thirties, were searching for a small red-brick building in Moscow. It was not easy, as the tiny structure was in the yard of a derelict factory, with no signs to help the visitors find it. The visitors, most of them journalists working for Russian online news media, seemed to be lost, searching for the modest venue for a ceremony of the national Internet media awards named after Edward Snowden.
The Russian Association for Electronic Communications, the only organization the Ministry of Communications and Internet companies trusted as a negotiator, had announced in April the establishment of the new award and claimed they had secured agreement from Snowden. But many of the journalists knew it was Alexey Venediktov who was behind the idea. Venediktov positioned himself as a quiet intermediary between the digital news and social media and his own high-placed contacts in the Kremlin. His personal assistant had secured the agreement of Snowden for the award. The assistant was also inserted by Venediktov into a team of experts to work on the controversial Bloggers Law. Venediktov was the editor-in-chief of Ekho Moskvy, the radio station that had been a champion of liberal democracy since the last days of the Soviet Union, but he also maintained good contacts in the Kremlin, including, periodically, Putin himself.
On the cold day in November chosen to award the prizes, the mood was cheerless. Once they found the building, the journalists encountered a band that tried to raise their spirits, to no avail. Two of the show's hosts, Tatyana Felgenhauer and Alexander Plushev, both of them journalists from Ekho Moskvy, wore long faces—the fate of the station was increasingly in doubt, in part because of some indiscreet tweets by Plushev that drew the ire of Putin's team. The chairman of the board of directors of the station, Mikhail Lesin, who had tried to seize control of the internet for the state at a 1999 meeting with Putin, warned it was "entirely possible" to fire Venediktov. Everyone at Ekho was on edge.
Plushev and Felgenhauer tried their best while giving the awards, making some jokes, but when Plushev read a gag about his possible firing, he laughed bitterly. The show itself was sad and confused. Ilya Klishin, now the editor of TV Dozhd's website, was clearly shocked when he got his award, shared with an editor of the website of LifeNews, a shameless pro-Kremlin tabloid-style TV channel that was preparing to take up occupancy of TV Dozhd's premises after TV Dozhd had been expelled from the Red October complex.
One of those in the crowd was Stas Kozlovsky, leader of the Wikipedia community in Russia and a professor in the psychology department at Moscow State University. Kozlovsky, 38, began reading Wikipedia in 2003, when its Russian version had only a few hundred articles. He gave up his blog and started to write for Wikipedia. Though he looked a bit like a Cheshire cat, Kozlovsky was famous for being a fierce fighter for Internet freedom. He had put Russian Wikipedia into a blackout in the summer of 2012 to protest Internet filtering and battled on behalf of Wikipedia when the authorities tried to block the online encyclopedia last month.
At the Snowden ceremony there was no sign of the man who had loaned it his name. When Andrei pointed that out to Kozlovsky, he replied with a sad smile, "Well, Snowden could have done good things globally, but for Russia he was a disaster."
***
Andrei Soldatov and Irina Borogan are co-founders of Agentura.ru and authors of The New Nobility. Their work has been featured in the New York Times, Moscow Times, Washington Post, Online Journalism Review, Le Monde, Christian Science Monitor, CNN, and the BBC. The New York Times has called Agentura.ru "a website that came in from the cold to unveil Russian secrets." Soldatov and Borogan live in Moscow.
To learn more about The Red Web, click here.